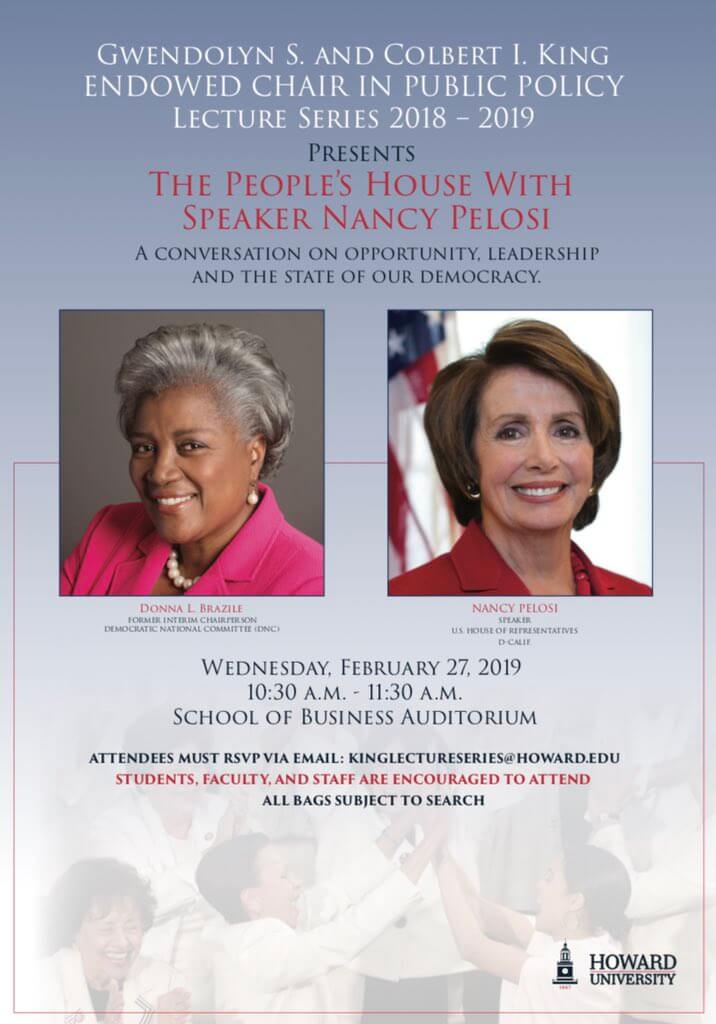 WASHINGTON (February 25, 2019) – The 2018-2019 Gwendolyn S. and Colbert I. King Endowed Chair in Public Policy Lecture Series, chaired by political strategist and author Donna Brazile, continues this week with The People's House with Speaker Nancy Pelosi, on Wednesday, Feb. 27, at the Howard University School of Business Auditorium, beginning at 10:30 a.m. Speaker of the House of Representatives Nancy Pelosi will join Brazile for a conversation on opportunity, leadership and the state of our democracy.
"We are pleased to host Speaker Nancy Pelosi for what will be a historic visit to Howard University," says President Wayne A. I. Frederick. "The King Lecture Series traditionally offers a wealth of opportunities for our students to hear from leaders of the political arena and Howard is known for standing at the epicenter of thoughtful dialogue around national discourse.  Hosting Speaker Pelosi at this time in our country's history will be an incredible educational experience for everyone involved."
Speaker Pelosi joins the King Lecture Series as the 52ndSpeaker of the House of Representatives, having made history in 2007 when she was elected as the first woman to serve as Speaker of the House. Now, in her third term as Speaker, Pelosi made history again in January 2019 when she regained her position second-in-line to the presidency, the first person to do so in more than 60 years.  As Speaker, Pelosi is fighting for the people, working to lower health care costs, increase workers' pay through strong economic growth and rebuilding America, and cleaning up corruption for make Washington work for all.  For 31 years, Speaker Pelosi has represented San Francisco, California's 12th Congressional District, in Congress. She has led House Democrats for 16 years, having previously served as House Democratic Whip.  
"Speaker Pelosi is heading up the most diverse House of Representatives in history—one that she helped to get elected. As the first, and still only woman to helm a house of Congress, she's already an historic figure," Brazile explains. "This will truly be a memorable moment that Howard University students should not miss." 
Among the topics expected to be discussed, are the importance of the youth vote, campaign finance reform and the 116thCongress. Howard University students are encouraged to attend and take advantage of a question and answer period that will be offered exclusively to students, following the conversation. 
The People's House with Speaker Nancy Pelosi is the latest installation of the 2018-2019 Gwendolyn S. and Colbert I. King Endowed Chair in Public Policy Lecture Series, which provides students access to experienced, senior public service executives who have developed and advanced public policy initiatives. Since 2008, six prominent public leaders have engaged students on issues related to the public interest.
This event is free and open to the Howard community via RSVP to KingLectureSeries@Howard.edu. Due to limited seating, guests are asked to arrive early. All bags will be subject to search. WHUT-Howard University Television will stream the program live on www.whut.organd www.whur.org.
###
ABOUT HOWARD UNIVERSITY
Founded in 1867, Howard University is a private, research university that is comprised of 13 schools and colleges. Students pursue studies in more than 120 areas leading to undergraduate, graduate and professional degrees. The University operates with a commitment to Excellence in Truth and Service and has produced four Rhodes Scholars, 11 Truman Scholars, two Marshall Scholars, one Schwarzman Scholar, over 70 Fulbright Scholars and 22 Pickering Fellows. Howard also produces more on-campus African-American Ph.D. recipients than any other university in the United States.  For more information on Howard University visit www.howard.edu.
Media Note: All media outlets must pre-register for event. RSVP to Ramzey Smith, Office of University Communications, ramzey.smith@howard.edu. Additionally, all broadcast media will be required to use pool camera footage being provided by WHUT-Howard University.