As students, faculty and staff settle into the Fall semester, many concerns and questions still linger as news and updates about COVID-19 continue to shift and change. Howard remains proactive, staying a step ahead to maintain the safety of the community's health while ensuring a cohesive learning environment and supportive atmosphere.
Staggered move-in process
To avoid a crunch of people coming to campus all at the same time from all parts of the country and the world, Howard stretched out its move-in time over 10 days this August. Students were welcomed to their dorm rooms with sealed stickers to indicate their space had been cleaned and sanitized. Each individual had their temperature checked at the entrance of residence halls, and students were limited to two guests to accompany their move-in. Elevator capacity was restricted, and mask-wearing was enforced as well as three-foot social distancing rules
"The staggered move-in was one way to help families feel safe and welcome, especially as so many of them are arriving on campus for the first time," says Cynthia Evers, Ed.D., vice president of student affairs. "We're striking a balance by taking measures to ensure everyone's health and safety while also coordinating an effective and efficient move-in process. But everyone I've encountered understands the complexity of the environment we're in, and they appreciate the mechanisms we've put in place."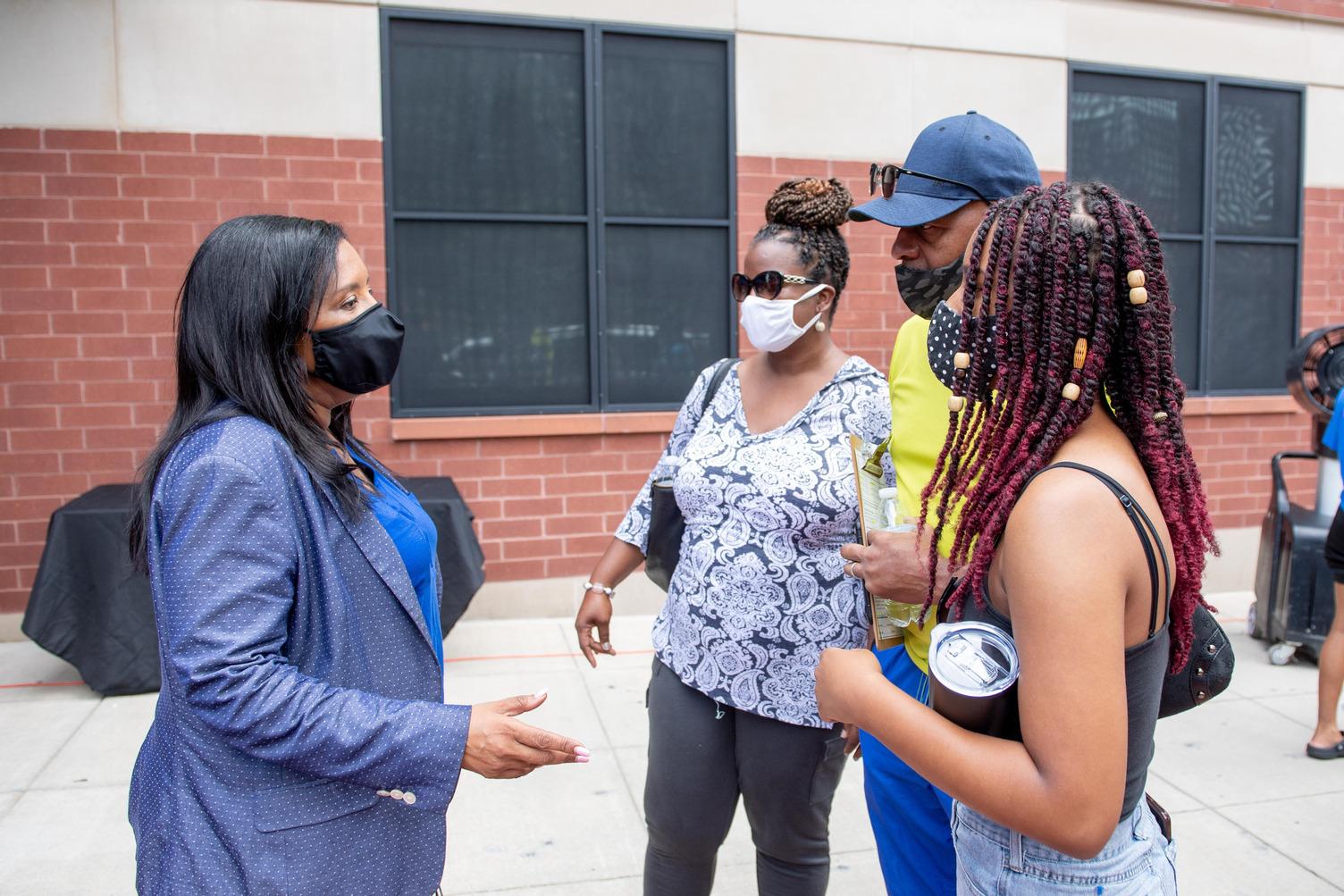 Testing and vaccination
All students on campus are required to be vaccinated and to submit proof of vaccination prior to coming on campus. Over the Summer, Howard received feedback from faculty, staff, parents and students and extended the requirement to include faculty and staff who work on campus
The reasons for this requirement were several. Data indicate that the majority of those entering hospitals for COVID-19 are unvaccinated, and nearly all COVID-19 deaths in the United States are among unvaccinated individuals. The safety record for vaccines have also been highly encouraging. In addition, the spread of variants also framed the decision. Based on this data, the University saw that the best way to fully protect the Howard community was through vaccination. Those with medical and/or religious exemptions were required to submit a form and granted in accordance with federal and local law.
Dr. Frederick has offered to have a conversation with students, faculty or staff, or anyone's family members or friends, who might have hesitancy or concerns about the vaccine as well.
The University also opened several COVID-19 testing locations outside the Student Health Center as well as in dormitories, the Blackburn Center, the Undergraduate Library and the Louis Stokes Health Sciences Library. All faculty, staff and students are required to be tested at least once a week and as soon as possible after a potential exposure to someone who has COVID-19.
Masking
Everyone on campus is required to wear a mask indoors and outdoors regardless of vaccination status. Masking not only protects the mask wearer but also the people around them. Masks are a simple barrier that prevent respiratory droplets (released when a person talks, coughs or sneezes) from traveling into the air and to other people. Masking is a part of the process known as source control. Students are still allowed to gather in groups under 50, so long as they adhere to the masking requirement.
"The mask is a tool to protect yourself, so we don't want to be afraid of our masks. We want to use our masks liberally," said Rodger Mitchell Jr., M.D., chair of pathology at Howard University College of Medicine, on a recent episode of "The Journey."
Larger classes have been reassigned to provide greater physical distancing, and portable air purifiers have been added to various classrooms. Sanitizing stations are available throughout campus buildings as well.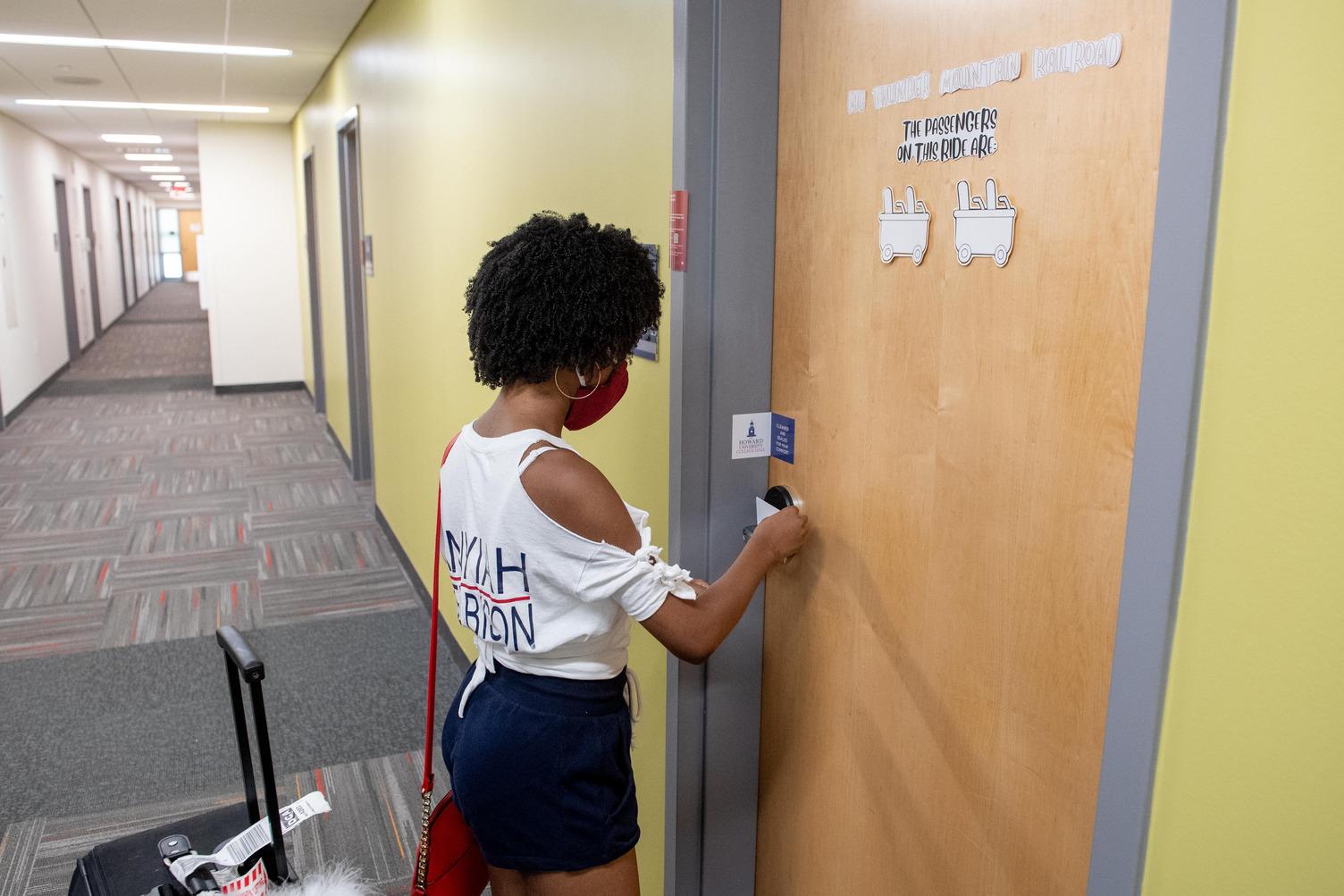 Bison SAFE app and Student Safety Ambassadors
The Bison SAFE app has been expanded to include COVID-19 related information. All who come to campus need to fill out the self-assessment on the app daily. The self-assessment requires people to monitor themselves for symptoms and is upheld by the honor code. People are expected to provide truthful and complete information. If any student who refuses or fails to comply may be in violation of the University's Student Code of Conduct.
The "approved to enter" indicator must be displayed to access buildings, and faculty may also request that students display the indicator before entering classrooms.
In partnership with HUSA, the University is creating a corps of Student Safety Ambassadors who will help implement public health guidance and assist in monitoring for compliance with safety measures. Students are also looking out for one another, Evers says. "Their peers are the ones that are just really on them to make sure that they are doing what [they are] supposed to do as it relates to safety," she said on a recent episode of "The Journey."
If someone has been exposed to someone diagnosed with COVID-19, the University has outlined a specific protocol that they should follow. This includes, but is not limited to, instructions on quarantining, when to test, and the process for contact tracing. It also details what a student may do during quarantine, such as where they can quarantine, where to order food and resources they may need during this time.
Evers says students have expressed wishing things were different. "They talk to us about how they miss the time that they can do a lot of close proximity, face-to-face activities and so forth," she noted. "But right now, they understand."