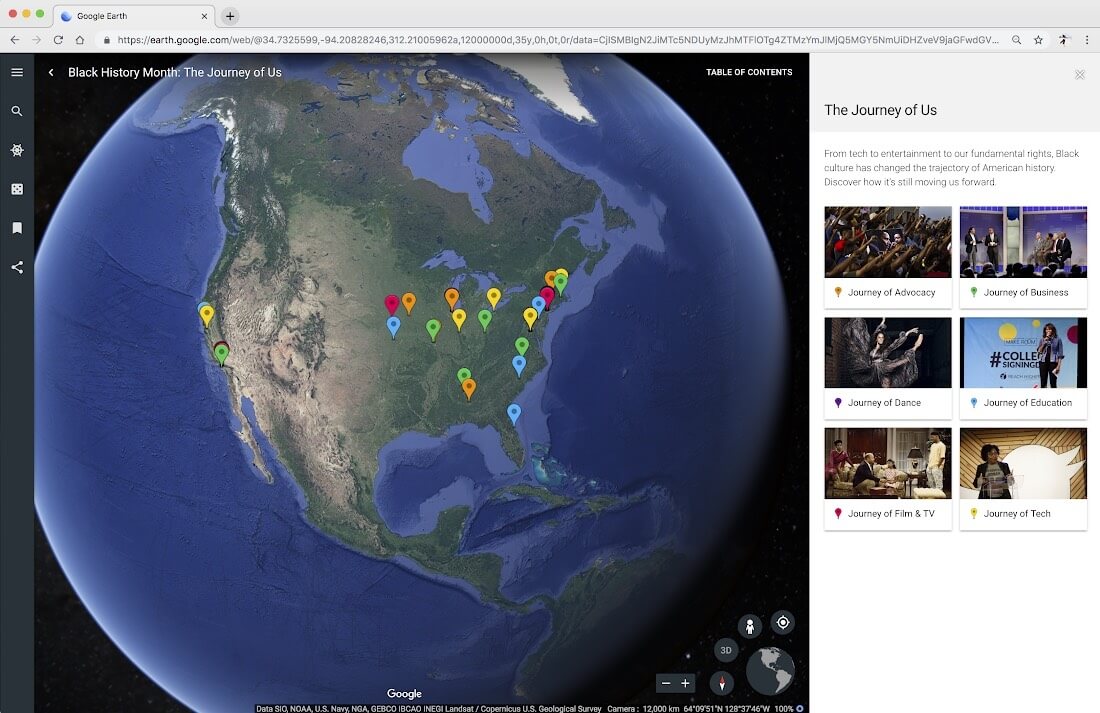 WASHINGTON (February 28, 2019) – Google is extending its relationship with Howard University through a new collaboration for Black History Month, titled, The Journey of Us: A Voyage Through Black History. In coordination with the Howard University Moorland-Spingarn Research Center and the New York Public Library's Schomburg Center for Research in Black Culture, Google utilized its Google Earth platform to create a series of virtual tours exploring key moments and iconic places throughout Black History. The Journey of Us: A Voyage Through Black History celebrates how Black History has shaped the American experience through a guided virtual tour.
"Part of the mission of the Moorland-Spingarn Research Center is to make available information related to the African American experience.  Collaborations with organizations such as Google help support that mission," says University Archivist Clifford L. Muse, Jr., Ph.D., associate director of the Moorland-Spingarn Research Center. 
Here at Howard, The Moorland-Spingarn team worked with Google to research and develop data points highlighting the efforts of African Americans seeking a traditional education. Through a lengthy selection process, the team settled on eight points that are undoubtedly significant to African Americans' generations-long quest for quality education. An example of one of the eight points chosen for the project is the Rosenwald Schools. Spearheaded by Booker T. Washington, of the Tuskegee Institute (now Tuskegee University) and Julius Rosenwald, president of Sears Roebuck, the Rosenwald Schools were state-of-the art structures built for African American children across the south during the early 20thcentury. According to the National Trust for Historic Preservation, attending a Rosenwald School put a student at the vanguard of education for southern African American children, going on to acknowledge the architecture of the schools as a tangible statement of equality among all children. 
"The Rosenwald Schools are extremely important because it brought quality school buildings to black neighborhoods. Prior to this, if they even had a school, many black children studied in what can nicely be described as dilapidated shacks," explains Lopez Matthews, Ph.D., digital production librarian and history subject specialist with Howard University Libraries and The Moorland-Spingarn Research Center."The Rosenwald program brought standards to the construction of schools for black children."
In an announcement blog post, written by Marian Croak, vice president of Engineering at Google, the Journey of Us dives into six different cultural themes, including education, business, technology, advocacy, dance and television/film. Croak describes the collection as the stories including generations or people who pushed boundaries and resisted limiting ideologies, while paving the way for the next generation. 
Journey of Us: A Voyage Through Black History is now available to view via Google Earth.
###
Featured photo: Screenshot of Google Earth's Journey of Us collection, which dives into six different cultural themes
About Howard University
Founded in 1867, Howard University is a private, research university that is comprised of 13 schools and colleges. Students pursue studies in more than 120 areas leading to undergraduate, graduate and professional degrees. The University operates with a commitment to Excellence in Truth and Service and has produced four Rhodes Scholars, 11 Truman Scholars, two Marshall Scholars, one Schwarzman Scholar, over 70 Fulbright Scholars and 22 Pickering Fellows. Howard also produces more on-campus African-American Ph.D. recipients than any other university in the United States.  For more information on Howard University visit www.howard.edu
Media contact: Ramzey Smith, Office of University Communications, Ramzey.smith@howard.edu