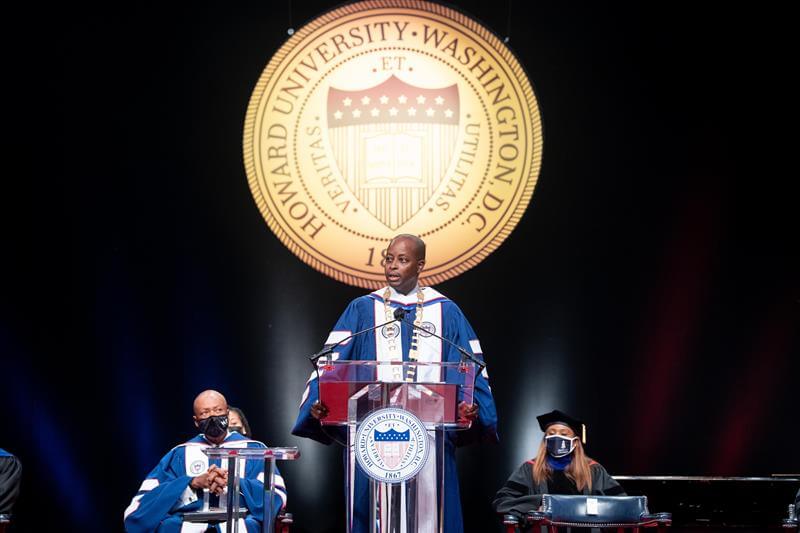 WASHINGTON – During the 2021 Opening Convocation, Howard University President Wayne A. I. Frederick, accompanied by Chairman of the Howard University Board of Trustees Larry Morse, challenged the institution to reexamine the definition of "normal" while embracing a new academic year.
"Throughout this crisis, Howard has been a beacon in the night, shining a light on the wrongs perpetrated upon the Black community and illuminating how those wrongs could be made right," said President Frederick during Howard University's 154th Opening Convocation. "Right now, we must reckon with where we have returned from and determine what we have returned in order to do." 
Opening Convocation is a time-honored tradition that officially signals the beginning of the academic year. The address welcomed the Class of 2025 and acknowledged recent achievements of the University during the adversity of the COVID-19 pandemic.
President Fredrick shared that returning to campus should be a joyous occasion, not because it feels normal but because Howard has triumphed over incredibly trying circumstances to fulfill a mission and uphold core values. The duty and devotion to educate and enlighten students and others did not cease because the world encountered adversity. On the contrary, the pandemic only served to reinforce Howard's steadfast determination. 
"Transformations, evolutions and revolutions – they can only take place when the 'normal' is disrupted," said President Frederick. "The pandemic has reinforced the responsibility we have at Howard University to question the norms that govern our way of life and to insist on the regular remediation and rehabilitation of our social order."
Chairman Morse reflected on Howard's crisis management throughout the past year. He deems Howard University's duty unique as an institution born into existence to educate freed slaves and vice presidents alike, to shine a light on the wrongs that plague our country and blaze the trail that will set our society on a better path forward.
"New discoveries are illuminating, not because they reveal new information, but because they provide fresh perspective to familiar words and ideas," said Chairman Morse. "I am excited to see what else we can dig up to discover who we were, who we have been, who we are and who we will continue to be."
During the online Convocation ceremony, President Frederick pointed to significant recent accomplishments at the institution, including new records in fundraising and enrollment. Howard brought in more research dollars, won more research grants than ever before, and achieved its highest rankings in the U.S. News & World Report. Howard also watched as one of our own Bison shattered multiple glass ceilings en route to being named madame vice president of the United States.
"Thank you to our vast community of friends and supporters who understood how instrumental Howard is to our society and provided us with the resources we needed to persevere through these challenging moments," said President Frederick.
View the entire Convocation 2021 ceremony here :  whur.com/opening-convocation-2021
###
About Howard University
Founded in 1867, Howard University is a private, research university that is comprised of 14 schools and colleges in Washington D.C. Students pursue more than 140 programs of study leading to undergraduate, graduate and professional degrees. Howard University operates with a commitment to Excellence in Truth and Service and has produced one Schwarzman Scholar, three Marshall Scholars, four Rhodes Scholars, 12 Truman Scholars, 25 Pickering Fellows and more than 165 Fulbright recipients. Howard also produces more on-campus African American Ph.D. recipients than any other university in the United States. For more information on Howard University, visit www.howard.edu.
Media Contact: Aaliyah Butler; aaliyah.butler@howard.edu