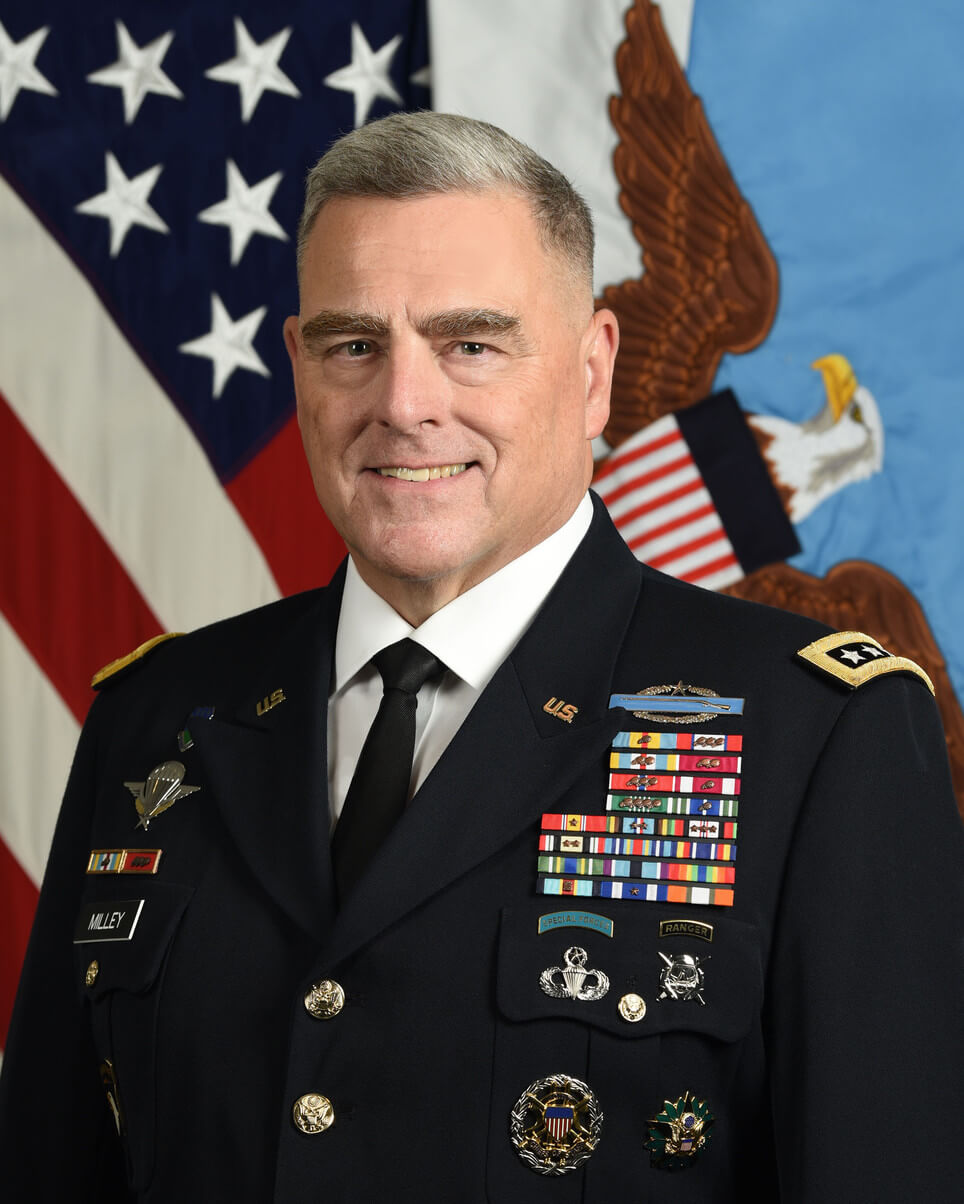 WASHINGTON – Howard University is pleased to announce that Chairman of the Joint Chiefs of Staff, General Mark A. Milley, will serve as the keynote speaker for the ROTC Joint Commissioning Address on Wednesday, May 5th at 9 a.m. EDT. Due to the pandemic and safety requirements, he will address the graduates in a private ceremony. The event will be livestreamed for family, friends and the viewing public. To view please click here.
"It is a great honor to host the Chairman of the Joint Chiefs of Staff for the first time at Howard University," said President Wayne A. I. Frederick. "With his years of dedicated service to our country, General Milley will share a message of inspiration that our cadets will cherish fondly among the milestone moments of their time on campus. The students who participate in our Army and Air Force ROTC programs have dedicated their lives in service to our country. We salute them on reaching this incredible achievement and we thank them for their service."
General Milley is the 20th Chairman of the Joint Chiefs of Staff, the nation's highest-ranking military officer, and the principal military advisor to the President, Secretary of Defense, and National Security Council. Prior to becoming chairman on October 1, 2019, General Milley served as the 39th Chief of Staff of the U.S. Army.
A native of Massachusetts, General Milley graduated from Princeton University in 1980, where he received his commission from Army ROTC.
General Milley has had multiple command and staff positions in eight divisions and Special Forces throughout the last 39 years to include command of the 1st Battalion, 506th Infantry, 2nd Infantry Division; the 2nd Brigade, 10th Mountain Division; Deputy Commanding General, 101st Airborne Division (Air Assault); Commanding General, 10th Mountain Division; Commanding General, III Corps; and Commanding General, U.S. Army Forces Command.
While serving as the Commanding General, III Corps, General Milley deployed as the Commanding General, International Security Assistance Force Joint Command and Deputy Commanding General, U.S. Forces Afghanistan. General Milley's joint assignments also include the Joint Staff operations directorate and as a Military Assistant to the Secretary of Defense.
General Milley's operational deployments include the Multi-National Force and Observers, Sinai, Egypt; Operation Just Cause, Panama; Operation Uphold Democracy, Haiti; Operation Joint Endeavor, Bosnia-Herzegovina; Operation Iraqi Freedom, Iraq; and three tours during Operation Enduring Freedom, Afghanistan. He also deployed to Somalia and Colombia.
In addition to his bachelor's degree in political science from Princeton University, General Milley has a master's degree in international relations from Columbia University and one from the U.S. Naval War College in national security and strategic studies. He is also a graduate of the MIT Seminar XXI National Security Studies Program.
For more information on Howard University's graduation events, please visit commencement.howard.edu.
# # #
About Howard University
Founded in 1867, Howard University is a private, research university that is comprised of 13 schools and colleges. Students pursue more than 140 programs of study leading to undergraduate, graduate and professional degrees. The University operates with a commitment to Excellence in Truth and Service and has produced one Schwarzman Scholar, three Marshall Scholars, four Rhodes Scholars, 12 Truman Scholars, 25 Pickering Fellows and more than 165 Fulbright recipients. Howard also produces more on-campus African-American Ph.D. recipients than any other university in the United States. For more information on Howard University, visit www.howard.edu.
Media Contact: Alonda Thomas, Alonda.Thomas@Howard.edu