Since its founding in 2017, the Howard University Karsh STEM Scholars Program (KSSP) has developed a strong reputation in the world of higher education STEM workforce initiatives. It continues to attract high-achieving minority students interested in science, technology, engineering and math. And it has already established a record of cultivating exceptional graduates who have moved on to some of the most preeminent institutions to pursue a STEM-based PhD or a combined MD-PhD. It is no wonder that the program's classes and seminars cover subjects such as calculus and chemistry – and African American studies.
According to Ron Smith, the executive director of KSSP, it is just as important for the students to learn about Black culture and history as it is for them to receive a robust education grounded in the sciences. The primary objective of the program is to send more Black students into PhD or combined MD-PhD programs in a STEM discipline in order to increase diversity in scientific academic programs and in critical, society-shaping industries and fields. But for these students of color to succeed in spaces where they have been historically, and where they are still, underrepresented, they need to understand the context of the fields they are striving to be a part of, and they need to find an environment that will be welcoming and supportive.
"Sometimes the students are not steeped in Black American culture, African culture" because they attended primarily white secondary institutions, Smith says. "Some of the feedback that I've gotten unsolicited from these students is the sense of comfort and confidence that they get … from [learning] what it means to be Black in America. We've had students that say things like, 'I'm so happy to be around a group of students who are very similar in terms of their goals and their aspirations, their intellectual ability, their intellectual interests."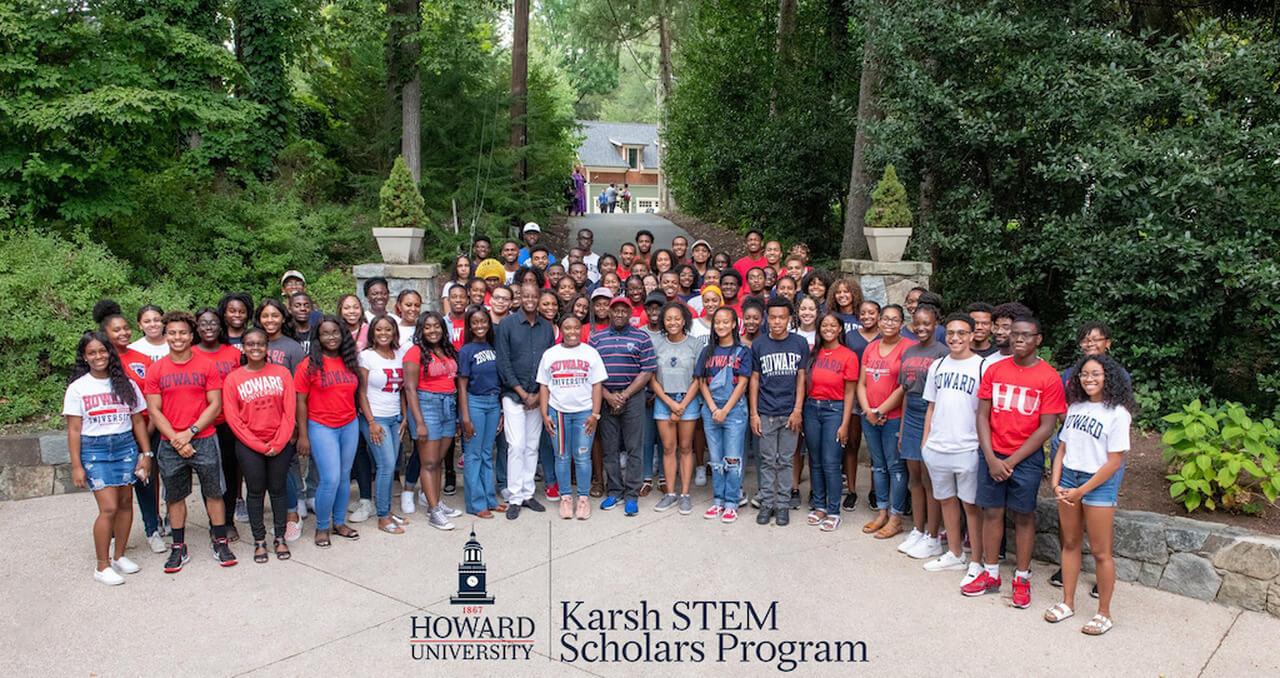 One of his students remarked to him that, in high school, she was rarely called by her name. Instead, she was often referred to as "the smart Black girl in physics."
To Smith, what makes this program so valuable is not just what they teach their students, but where.
"What we've found is that many of these students come running, not just to our program, but to Howard," Smith says.
The Model
In 1988, the University of Maryland, Baltimore County (UMBC) launched the Meyerhoff Scholarship Program, an initiative to help more Black students earn PhDs in science, math and engineering. The program was co-founded by Freeman Hrabowski III, who would go on to serve as UMBC president from 1992-2022. Under Hrabowski's leadership and direction, the program proved impactful, not only because of the minority students who were helping to diversify STEM academia and professional industries, but because of the similar programs it inspired at other universities.
When Dr. Wayne A. I. Frederick became interim president of Howard in 2013, the University was already sending more Black students to STEM PhD programs than any other institution of higher education in the country. But Dr. Frederick was still interested in how Howard could improve its STEM academic offerings and how it could better support students to advance to doctoral programs, especially if and when they might encounter setbacks, like a bad grade, early in their educational careers.
So, in February 2015, Dr. Frederick sent three administrators, including Calvin Hadley, senior advisor to the president and 12 faculty members across state lines to visit UMBC and meet with President Hrabowski.
"The goal of going to UMBC was to see what we could learn," Hadley says. During the course of that initial visit, the Howard contingent learned about the Meyerhoff Scholarship Program. "The faculty were really enamored with this concept. It was really just a unique idea."
What we've found is that many of these students come running, not just to our program, but to Howard."
The Howard team of administrators and faculty members put together a proposal for how to improve STEM at Howard. One of the recommendations was to create what was then called the Bison STEM Scholars.
"Dr. Hrabowski believed that the experience that he had at what was then Hampton Institute when he was an undergrad … made all the difference in the world in terms of getting him started in higher ed and contributing to his success. He tried to replicate some of those things at UMBC in the Meyerhoff Scholars Program," Smith says.
Hadley says that Dr. Frederick's eagerness to send a contingent of staff and faculty to learn from UMBC and to replicate their program demonstrates Howard's humility to learn from other colleges and universities as well as its confidence as an institution in what it is uniquely able to provide.
Howard doesn't have to be completely original in its ideas because any program offered on its campus will be unlike any other in higher education.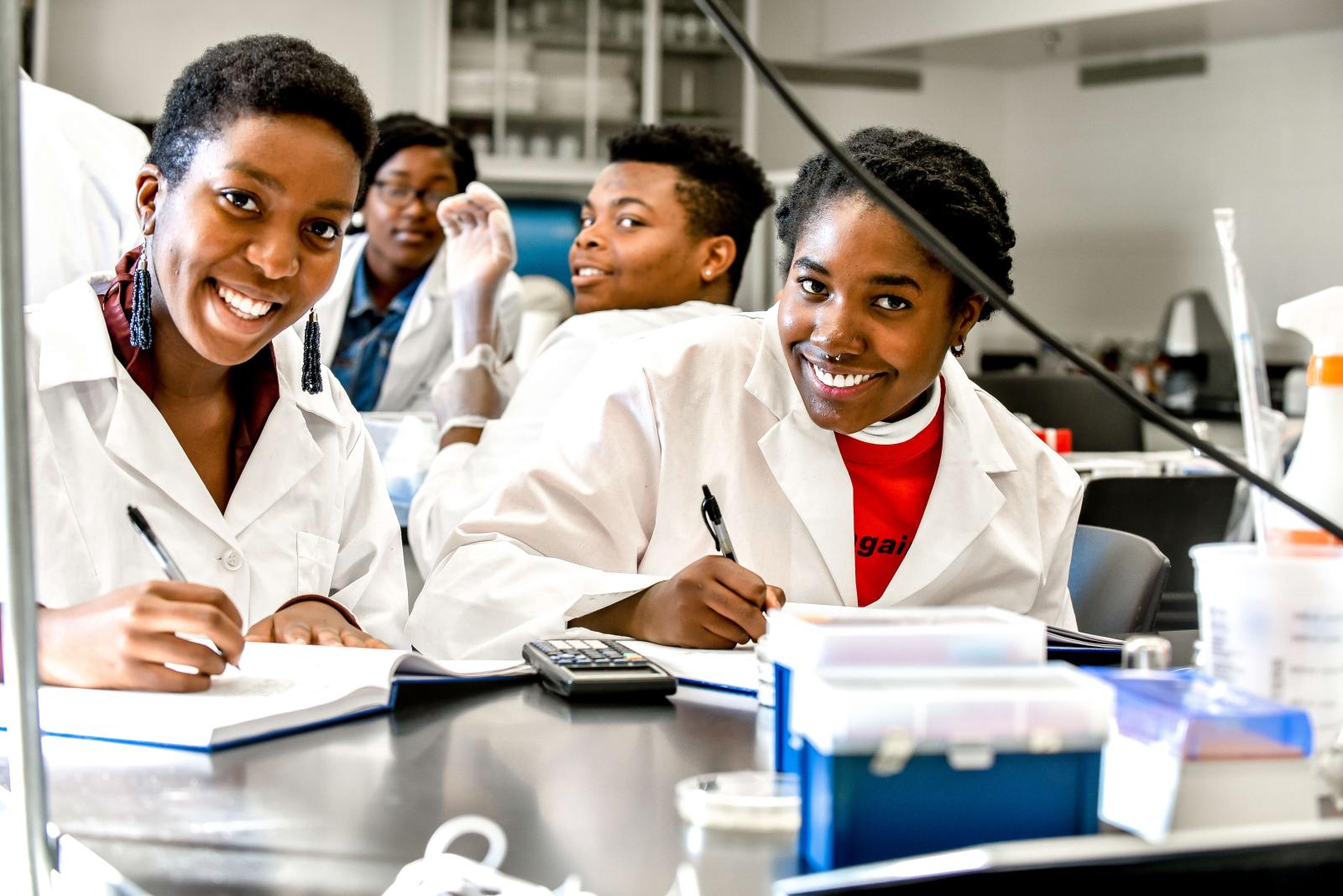 Supporting the Whole Student
UMBC and Howard sought to create programs that would provide comprehensive student support to eliminate or help students overcome many of the barriers that often prevent or hinder minority STEM students from attaining academic or professional success. KSSP provides scholarships to students that cover the gap between the cost of tuition and fees and what the students receive in financial aid, ensuring students graduate debt free.
Smith says also that he meets regularly with KSSP students to ensure not only that they're doing well academically, but socially and mentally. He has each student prepare a color-coded calendar that shows how they spend the 168 hours every week. Before he approves it, he ensures that there's a healthy balance between studying, socializing and sleeping.
"Sometimes, students don't get individual attention until they get to college," Smith says. Because they have excelled academically, those in their lives often assume they are doing just as well socially and might overlook some of the struggles they have. "[We're] willing to listen and ask if [they're OK], which we do a lot. [When] we recognize issues and problems, [we] intervene."
Smith recalls reaching out to the vice president of student affairs to advocate for a senior KSSP student to stay in the residence halls; the student had fulfilled most of their requirements and was only taking nine credits during their final semester, meaning they were not considered a full-time student and ordinarily would not have been eligible to live on campus. He also said that the program encouraged three students to temporarily withdraw from the program for a year to take care of their mental health needs.
Being at Howard helps them to develop a level of confidence that has an impact in terms of how they go about exploiting their own intellectual ability. And that can make all the difference in the world."
"We've said to them, 'You need to take a break. You need to go and get counseling, address your mental health. This will wait, and we will wait for you; your scholarship will be there when you come back, and all that support that we've promised you will be there when you come back, but we want you to get healthy first," Smith says. "Every one of them [came] back more fortified than they were before they left."
Before the start of freshman year, each new cohort comes to Howard's campus for the six-week Summer Bridge Program, which Smith says is necessary to ensure a "smooth transition" from high school to higher education. They learn vital academic skills like how to effectively manage their time and navigate difficult decisions. They are introduced to the standards and expectations of Karsh STEM Scholars. But just as importantly, they meet Howard faculty, take classes, and begin to learn about the history of the Black community in STEM – and how significant they can be as individuals who will help to add diversity to these critical, society-shaping industries and fields. At the end of the bridge program, the students also travel to Berlin, Germany, where they discover STEM from a global perspective and learn to appreciate cultural differences.
"Being at Howard helps them to develop a level of confidence that has an impact in terms of how they go about exploiting their own intellectual ability. And that can make all the difference in the world, particularly after they leave us, because many of them are going to then go back to institutions and environments that are more like where they came from," Smith says. "They go with a whole different sense of confidence and an understanding about who they are and how they operate in the world and how they demand to be seen and respected. And that creates the opportunity for them to be their best."