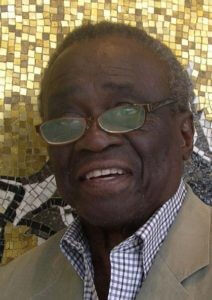 WASHINGTON - Architecture Alumnus James E. Silcott (B.Arch. '57) has been elevated to the 2020 College of Fellows of the American Institute of Architects (FAIA). Silcott was selected for his notable contributions to the advancement of architecture education and the profession through his philanthropy and as a role model and leader in public service.
Silcott is one of 13 members of the AIA Los Angeles chapter who were elevated to fellowship in 2020. The AIA California website states that Silcott's "dedication to diversifying the practice has made him the largest individual donor to African-American architecture students in the United States. He saw a need and filled it in a direct and effective way, and what he has made possible will continue to influence the future of the profession."
Silcott has been an avid supporter of Howard University's architecture program for three decades. His contributions total $3 million, making him the largest donor to architecture programs at historically Black colleges and universities in the nation. His desire to support his Alma Mater was inspired by the difficulties he and other Black students faced when they pursued professional careers.
He was the first African-American project architect for both Los Angeles County and the University of California-Los Angeles (UCLA). A map that features 53 projects designed by African-American architects in Los Angeles includes the Jules Stein Eye Institute at UCLA, for which Silcott was the project architect. 
Alumnus and Dean Emeritus Harry G. Robinson III, FAIA (B.Arch. '66; MCP '70) mentions in his letter of support for Silcott's fellowship nomination that "from the time that he was a student under the mentorship of the widely respected Howard H. Mackey, FAIA, James has had an allegiance to architecture education at Howard University that equals all and exceeds most."
Silcott's first donation to the Howard architecture program was for the establishment of the James E. Silcott Fund in 1991. Architecture students who needed financial assistance were encouraged to apply for the fund. Silcott recalled his student days when at times he had to choose between buying food and buying books. In many cases, this assistance determined whether a student would make it to graduation. 
In 2002, Silcott established the James E. Silcott Endowed Chair program to advance architecture education at Howard University. Through this program, our students have benefitted from the knowledge and experience of nine distinguished architects, including Sir David Adjaye; the late Philip Freelon, FAIA; Jack Travis, FAIA; and Roberta Washington, FAIA. Silcott also provided funding to support the creation of the T. George Silcott Gallery, now a venue where our students, faculty, alumni and the local architecture community come together for various academic and social events. Over 500 students have been impacted by Silcott's generosity and leadership.
"The contributions of the Silcott chairs to the school have been invaluable and reinforced our position in the University as the only degree program with an endowed chair supported by an alumnus," Robinson said.
Also, in 2002, Silcott's distinguished achievements and contributions were recognized through the Howard University Alumni Achievement Award for Architecture and Public Service. Subsequently, he served a six-year term as a member of Howard University's Board of Trustees. He also received the Centennial Professional Excellence Award from the SoAD in 2011.
"Mr. Silcott has always been unsparing in his time, counsel and financial support to Howard," said Melvin L. Mitchell, FAIA, 2016-2018 Silcott chair. "For more than three decades he has been a quiet and consistent financial contributor to Howard's architecture program. Over the past three decades, Mr. Silcott has maintained a concurrent active presence in both Los Angeles and Washington, D.C."
About Howard University
Founded in 1867, Howard University is a private, research university that is comprised of 13 schools and colleges. Students pursue studies in more than 120 areas leading to undergraduate, graduate and professional degrees. The University operates with a commitment to Excellence in Truth and Service and has produced one Schwarzman Scholar, three Marshall Scholars, four Rhodes Scholars, 11 Truman Scholars, 25 Pickering Fellows and more than 165 Fulbright recipients. Howard also produces more on-campus African-American Ph.D. recipients than any other university in the United States. For more information on Howard University, visit www.howard.edu.
Media Contact: Sholnn Freeman, sholnn.freeman@howard.edu