Wednesday night, lavender filled the Armor J. Blackburn Ballroom as Howard University hosted its eighth annual LGBTQ+ Lavender Reception as part of the 2023 Homecoming festivities.  
"We have welcomed students from all walks of life, all backgrounds: race, gender, sexual orientation, and our commitment to fostering an inclusive community, this is something that is unwavering," said Ben Vinson, Ph.D., Howard University's 18th president during the reception. "It is only fitting that we have this Lavender Reception during Homecoming to embrace and celebrate our LGBTQ+ members of our community and celebrate everything that you bring to this community." 
There's nothing that brings me more joy than you see kids voguing and alums are like , 'That could not have happened when I was here.'"
The Lavender Reception's attendees sported splashes of lavender, the color associated with resistance and empowerment in the queer community.  
Chaz Clarke, who came to support Mr. College of Fine Arts Da'Quan Cooney, wore lavender gloves with his black-tie suit. KP Patrick, a nonbinary, pansexual student and member of Howard's oldest queer student organization CASCADE, wore a lavender beret and a lavender-lilac pattern sweater vest.
A senior political science major from St. Louis and member of CASCADE since her freshman year, Patrick attended her final Lavender Reception as a student, calling it a full circle moment of appreciation. 
"I met some of the first openly queer adults in my life. I'm from Missouri and it's a red state," said Patrick. "When I was able to talk to other adults who know my experience, who are also Black, it completely changed my world." 
Patrick continued: "It really helped me figure out who I am as myself, and I have people who are encouraging me. It made me more confident being on Howard University's campus."  
Cooney and Danielle Jones served as the reception hosts. This was the first Lavender Reception after Howard received its title of the most LGBTQ+-inclusive HBCU earlier this year from BestCollege.com in conjunction with Campus Pride.  
The University earned the honor with its events such as the Lavender Reception and the Lavender Fund, created by Christopher Cross (M.S. '14, Ph.D. '19), the first openly gay elected student trustee on Howard's Board of Trustees.  
Cross attended this year's reception, citing a need for community as his main reason to begin his works. After completing his undergraduate studies at Georgia Tech, Cross' vibrant sense of queer community prompted him to build something similar at Howard.  This year's Lavender Reception was a moment to recognize his efforts going beyond his intentions.  
"The predominant emotion is gratitude," Cross said on the night. "If it wasn't me, it was going to be someone else, so I don't feel a deep level of ownership. It's just wonderful." 
During his time at Howard, Cross mentioned the University was "trapped in the nexus of apathy," which prolonged queer community's invisibility.  
Now, in the middle of the University's eighth Lavender Reception, with the LGBTQ+ pride flag hanging proudly outside of the Blackburn Center, Cross' hopes for an inclusive campus is now a reality.  
"To now see the reception in this way, where people are dancing and in community, it's just a dream come true," Cross said. "Seeing it here at my alma mater twice over, it's just next level."  
Cross also addressed the reception, sharing his gratitude and amplifying the need to continue donating to the University's Lavender Fund. Since its inception in 2015, the Lavender Fund has raised over $83,000 in scholarship funding for LGBTQ-identifying students and $22,000 in 2023 from 33 donors.  
Eight students were awarded the Lavender Scholarship this year: Zoe Coker, Tyhlana Tomlin, Joshua John-Louis, Nok'khanya Edwards, Aniyah Genama, Jesiah Allen, Jordan Richardson, and Murphy Jones, the vice president of the Howard University Student Association.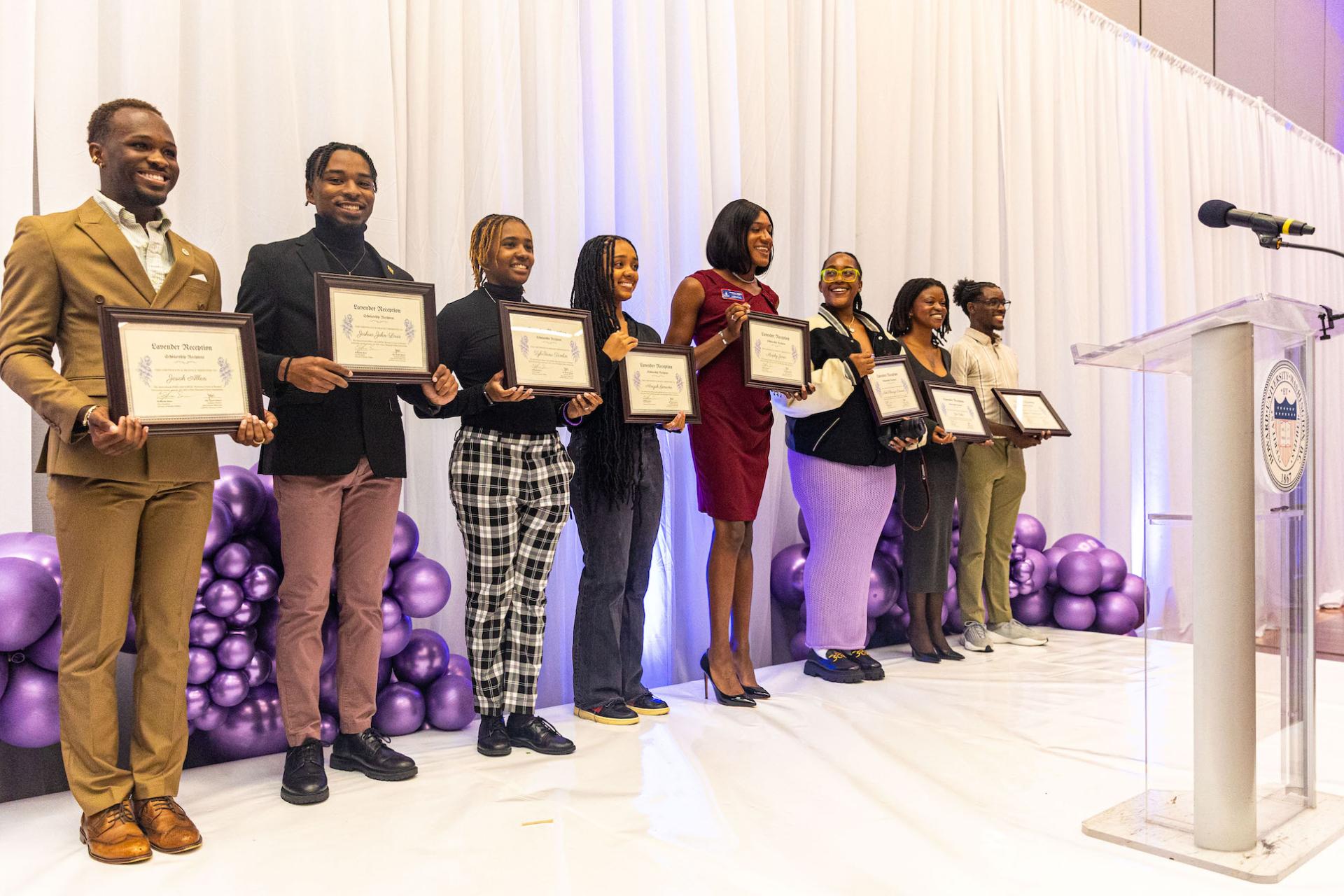 In his application, John-Louis, a member of the HUSA Senate, discussed how his decision to advocate for the rights of Howard's LGBTQ+ community is a testament to his loyalty of moving Howard forward.  
John Lewis was once against the Lavender Bill. "Then I talked to my constituents, the authors of the bill and I really found out this bill was bigger than I thought it was. I completely did a 180° and advocated for it on the floor," he said. "With this fund, we are telling the truth about our experiences and our time at Howard University, and how we have been widely underrepresented on this campus, and this is just one of the first steps to changing that narrative." 
Once students received their scholarships, faculty members of the Intercultural Affairs and LGBTQ+ Resource Center Jenelle Howard and JaQuwan Ward addressed the reception.  
"I think it's a large effort to support these spaces and make sure they're inclusive and the Howard community is being pushed forward in this space," said Ward, who works as the center's program director. 
As the night concluded, Howard students vogued to Beyonce's PURE/HONEY, a song from her latest album "Renaissance," dedicated to her gay uncle Johnny, and the queer community at-large. The impromptu performance was a testament to Howard's queer community's bright future, a reflection of the hard work, representation, and recognition the queer icons of Howard deserve, said Timea Webster, associate director of Howard's alumni engagement team. 
"Alumni relations is planting seeds for these students to see themselves and for alums to come back to," Webster said. "There's nothing that brings me more joy than you see kids voguing and alums are like , 'That could not have happened when I was here.' That tells me that we're doing something right."