There is an effortless display of gender fluidity that oozes from Murphy Jones' aura. 
 When referring to Jones, all pronouns are game: he/him, she/her, and, according to Jones, that/girl too. He floats throughout campus with poise and a posh wardrobe to match: milky white press-on nails complement the pink undertones of his supple, unblemished flawless face where an eye-catching silver nose ring grabs your attention.
The wardrobe palette is powder pinks, neutrals, cremes and Bison blue and red. A fan favorite is the vintage, creme two-piece skirt suit with black glasses and kitten heels that he wore on The Yard during the election results party for student government roles.  
Jones will begin his journey as Howard University's Student Association (HUSA) vice president during the 2023-2024 academic year.  
"The queer student body and queer students of Howard University are continuously growing," Jones says. "We are no longer at a place, no longer in a culture where we can say 'We don't see you.'"  
I want me to be a reminder that it's your chance to dance, because the world is waiting for you." 
During his Greensboro, North Carolina upbringing, Jones remembers questioning his sexuality early on as his Christian parents viewed homosexuality as a sin.  
After attempts to assimilate into America's heteronormative society, Jones recognized the freedom that came with their queer identity. Jones' first tastes of self-acceptance were during student government association in middle school. 
"One of the most influential people in my life was one of my mentors, Mr. Alfred Wilson, and the thing I will never forget that he ended up teaching me, was that, if you're not yourself, there's nobody else you can be, so you might as well just be," he says. "That simple lesson that he engrained in me helped shape me."  
Jones' bubbly spirit and influential leadership resonated with the fellow eighth graders, but began an inner dilemma of authenticity beyond his parents' wishes.  
 "Leadership taught me to be authentic. You can't be an effective leader if you're not authentic with yourself first," Jones recalls. "My eighth-grade year, I was faced with this kind of moral conundrum. Like I even tried to date girls, but something in me was telling me, 'that's not who you are as a person'."  
Jones recognizes the events and initiatives that embrace and highlight the queer student body population but looks to transform the Black, queer experience at Howard at a policy level.
As the '22-'23 Mr. College of Arts and Sciences, Jones has seen first-hand the prolonging and additions to Howard's queer history. In his pursuit as HUSA's vice president, Jones championed additional resources for the queer community and is set to become a prominent, queer voice within the student body.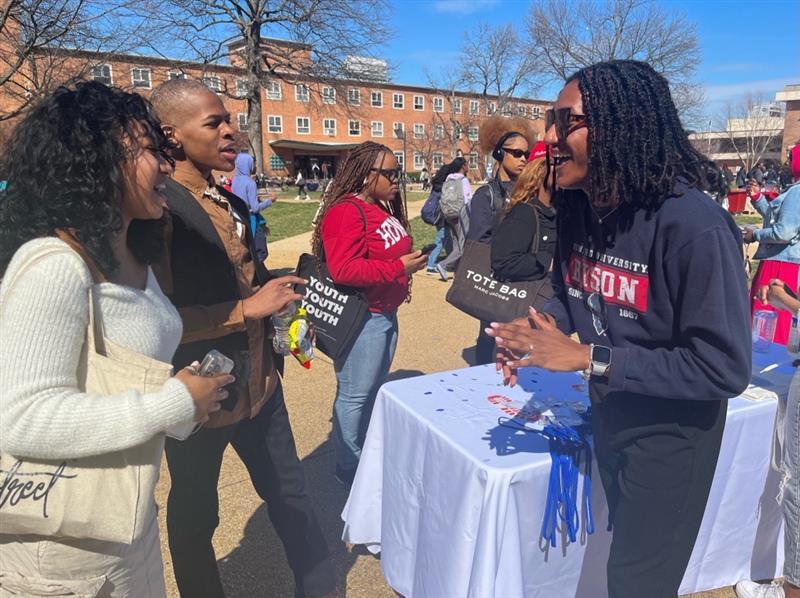 "I talked to [LGBTQ+ Resource Center founding director Jose Cadiz] about this as well: programming is good, but means nothing if we don't have policy changes [as] support," Jones says. "I want the same kind of implementation on the administration level, whether that be the ability to teach more queer classes, [or] ensuring we have working, accessible gender-neutral bathrooms in every single office or every building." 
Jones will begin the vice president term in the wake of the U.S. Senate's assault on trans and queer rights. But Jones' mere existence, and the ability to thrive and advocate for Howard's Black queer community, is filled with hope, self-love, and the simplistic example of what many Black queer children struggling with their identities need to hear: It can be done.  
"I do this for all the little gay boys down south who haven't gotten a chance to dance," he says. "I want me to be a reminder that it's your chance to dance, because the world is waiting for you."