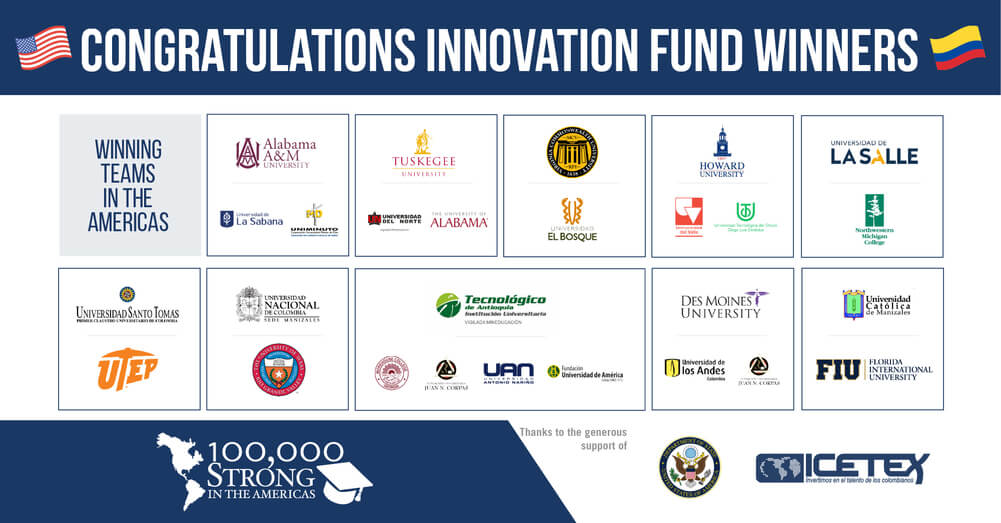 WASHINGTON – Howard University is amongst 10 grant-winning teams in the most recent 100K Innovation Fund competition, which is sponsored by the Colombian Institute of Educational Loans and Studies Abroad (ICETEX) and the U.S. Department of State, Bureau of Western Hemisphere Affairs. The 100K competition will provide a grant of $26,175 to support partnerships between higher education institutions in Colombia and Howard University starting in Fall 2021.
The 100K Innovation Fund is a public-private sector collaboration among the U.S. Department of State and Partners of the Americas working with foundations and academic institutions to support ground-breaking partnerships and training programs between the United States and the rest of the Western Hemisphere. U.S. universities are encouraged to partner with higher education institutions in Latin America and the Caribbean to strategize and present new models of academic training and exchange courses throughout the Americas. Students have the opportunity to solve real-world problems and gain technical and linguistic skills critical for today's workforce.
"We are thrilled to be awarded this 100K Strong in the Americas Innovation Fund grant to develop the Diaspora Connect program. Diaspora Connect will be a key part of our HU/COL Avanza initiative, and the funding will facilitate a truly bilateral exchange of students from Howard, Universidad del Valle (UniValle) and Universidad Tecnologica del Choco (UTCH)," said Tonija Hope, director of the Ralph J. Bunche International Affairs Center. "To date, Howard students have been able to travel to Colombia, but students from our Colombian partner schools have not been able to travel here. This will change that and provide a more equitable exchange experience."
"Diaspora Connect" reflects the aspirations of Howard University, Universidad del Valle and Universidad Tecnológica del Chocó to support and uplift students of African descent in both countries who are pursuing and completing higher education to strengthen foreign language skills. Through dialogue and recognition of various historical backgrounds, students will be able to explore the spectrum of Black identities and realities beyond their own. These elements will strengthen their leadership skills and build bridges across the diaspora. 
The Government of Colombia is the leading regional government to collaborate with the 100K Innovation Fund. Colombia is the second top-ranked country in this hemisphere-wide education initiative to collaborate with U.S. universities to build partnerships and implement exchange and training programs. As of June 2021,the 100K Fund has awarded 253 grants to over 500 higher education institutions across 25 countries and 49 U.S. states. Each grant is valued at $25,000 to $35,000.
To learn more about the 100K Innovation Fund, visit www.100kstrongamericas.org.
Media Contact: Aaliyah Butler, aaliyah.butler@howard.edu