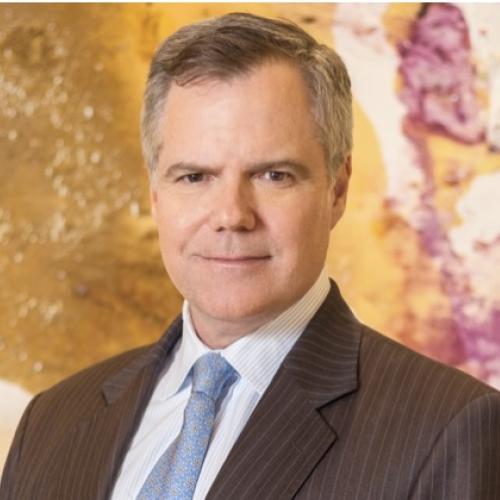 James J. Murren
Board of Trustees
American Businessman, Crisis Response Specialist
Affiliation

Trustee, Howard University Board of Trustees
Biography
Mr. James J. Murren, a member since 2016, is an American businessman, crisis response specialist, and active member of the Nevada community.
Mr. Murren led Nevada's COVID-19 Response, Relief, and Recovery Task Force as its gubernatorial-appointed chairman.  At the outset of the pandemic, Mr. Murren recognized that Nevada lacked the essential equipment necessary to protect frontline workers and citizens alike.  He worked closely with the state's local government leaders and the private sector to secure a personal protective equipment (PPE) stockpile of over 4 million pieces.  Just as critically, Mr. Murren also led the development of a robust statewide testing system that has helped increase Nevada's testing capabilities tenfold.
As part of the task force's mission, Mr. Murren led a campaign to make sure all kids in Nevada have reliable internet and a device to connect to school remotely.  Like many kids around the country, most students in Nevada began the 2020- 2021 school year engaged in virtual distance learning.  But as recently as late July 2021, 107,000 kids (nearly 3 in 10) in the Clark County School District (CCSD), the fifth largest district in the nation and home to 70% of Nevada's students, were missing from their virtual classrooms.  Thanks to Connecting Kids - a task force, developed and funded program, and a great example of how states can overcome the digital divide when government, the private sector, and community leaders come together - 93% of students in Nevada are now connected to the internet.
Prior to his government service during the pandemic, Mr. Murren employed thousands of workers and drove tourism to Nevada as the Chairman and CEO of MGM Resorts International. In this role, Mr. Murren constantly adapted to rapidly changing technological advances to keep MGM on the forefront of innovation. MGM would not be the titan it is today without Mr. Murren's leadership in the wake of the Great Recession.  While companies all around the country folded, Mr. Murren navigated MGM through the financial crisis - maintaining its position as a top hospitality employer.
Mr. Murren has a long track record of protecting Nevadans's health by harnessing technological innovation.  MGM's initial health care was often difficult to access, creating delays and frustration with its employees.  In response, Mr. Murren created MGM Resorts' Direct Care Health Plan as an alternative option. Employees were given the opportunity to continue the pre-existing plan or to try the new plan, which was much more effective and offered better health outcomes for its families.  The new plan was a huge success and employee health care enrollment increased by 40% - allowing workers to have vastly improved access to health care at a lower cost.
Throughout his career, Mr. Murren has been lauded for leading diversity and inclusion initiatives.  Black Enterprise Magazine included MGM as one of the 40 best Companies for Diversity; Diversity Inc. Magazine named MGM a top 10 company for Latinos; The Human Rights Campaign Foundation named MGM one of the best places to work for LGBT Equality; and Women's Business Enterprise National Council named it a Top Corporation for Women's Business Enterprises.
Separate from his tenure with MGM, Mr. Murren has been an integral figure in bringing professional sports to Las Vegas - giving a major American city the premier sports teams it deserves.  He led the construction of T-Mobile Arena, is a founding partner of the Vegas Golden Knights, organized the purchase and relocation of the Las Vegas Aces, facilitated the growth of the NBA Summer League, and made MGM the official gaming partner of the Las Vegas Raiders.
Mr. Murren refined his financial acumen on Wall Street, where he was a leading analyst in the hotel and gaming industries.  During this time, Mr. Murren served as the director of U.S. equity research for Deutsche Bank and became the youngest member ever of the Cyrus J. Lawrence Board of Directors.
Mr. Murren is a former member of the National Infrastructure Advisory Council, and the US Travel Association.  He has chaired the Leadership Board of the University of Southern California's Keck School of Medicine and is currently a member of the board of trustees for Howard University.
Mr. Murren graduated from Trinity College and is a father of two young men, one of whom served in the U.S. Air Force.