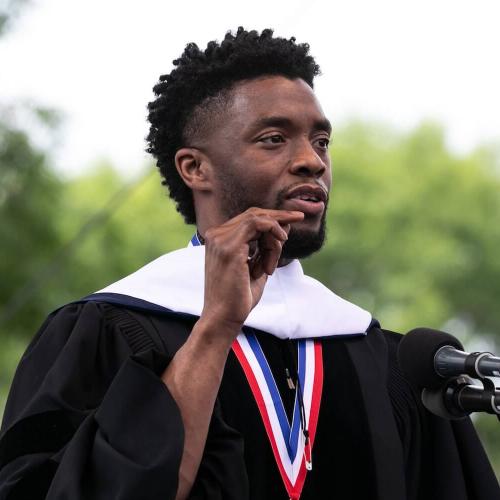 Chadwick A. Boseman
Alumni
Award-winning actor and producer
Field of Study

Bachelor of Fine Arts

Year Graduated

2000

Affiliation

Alumnus

Hometown

Anderson, South Carolina
Quote
Purpose is the essential element of you. It is the reason you are on the planet at this particular time in history. Your very existence is wrapped up in the things you are here to fulfill.
Whatever you choose for a career path, remember the struggles along the way are only meant to shape you for your purpose.
Biography
A native of South Carolina, Chadwick Boseman graduated from Howard University and attended the British American Dramatic Academy at Oxford, after which he began his career as an actor, director and writer. Boseman starred as T'Challa/Black Panther in the worldwide phenomenon Marvel Studios' "Black Panther," which has shattered box-office records both domestically and internationally. Boseman made his debut as the African superhero Black Panther in Marvel Studios' "Captain America: Civil War," in May 2016. He reprised the role for Marvel's "Avengers: Infinity War" in 2019.Boseman's breakout performance came in 2013 when he received rave reviews for his portrayal of the legendary Jackie Robinson in Warner Bros' "42." He previously starred in the title role of Open Road Films' "Marshall," which tells the story of Thurgood Marshall, the first African American Supreme Court Justice, as he battles through one of his career-defining cases as the Chief Counsel to the NAACP. His other feature film credits include: the revenge thriller "Message from the King," Summit Entertainment's "Draft Day," the independent psychological post-war drama, "The Kill Hole" and Gary Fleders' drama, "The Express."Boseman was diagnosed with stage III colon cancer in 2016. During his four-year battle with cancer, he continued his work, persevering through the production of several films between countless surgeries and chemotherapy. Boseman passed away in August of 2020, surrounded by his wife and family.