Howard students celebrate Valentine's Day with exclusive dining at The Restaurant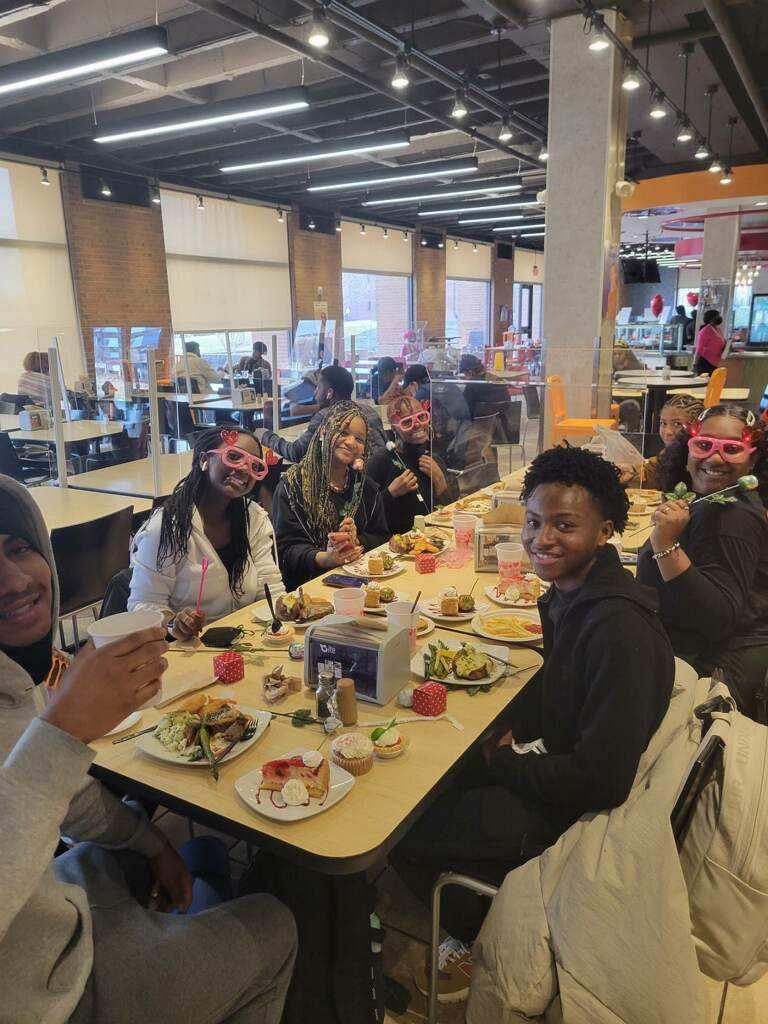 Valentine's Day in Washington, D.C.'s world-renowned dining scene can be a frustrating hunt for scarce seating and pricey menus — less than ideal for college students living and loving on a budget. But a handful of Bison got a campus cheat code for chivalry this week, courtesy of the Armour J. Blackburn Center and the University's dining program.
Diners at the Blackburn Cafe were treated to special fine dining menus for lunch and dinner, along with handcrafted desserts, decorations, and giveaways throughout the day.
Couples and groups seeking a more intimate experience made exclusive reservations at The Restaurant through Sodexo's DTXT dining app. The venue was sold-out with 20 groups who, for just $50, received a full-service three-course meal by candlelight with mocktails.
"Valentine's is a day that people want to spend with loved ones. So why not use the meal plans they are paying for and see the value of their meal plan go beyond a normal day in the cafeteria," said Aisha Brown, general manager of Sodexo Dining Services at Howard University.
Brown, who has worked with HU for two years, says that diners did not realize just how elegant dinner in The Restaurant could be, complete with complimentary photo booths and gift bags.
"A lot of them came dressed up, and it tied into them having a great dinner that they weren't expecting to have," she says. "There is so much more that we can do with the program to support students and show them a good time."
Brandy Jamison, marketing manager in the University's Office of Auxiliary Enterprises, says that this special event and the foodservice program at large plays a prominent role in students' life on campus and beyond.
"We were very pleased to offer our students a special Valentine's Day-themed experience this week," Jamison says. "We know that relationship building is a key part of the student experience at Howard, and many students turn these relationships into lifelong partnerships and marriage. We're happy to play a unique role in students creating positive memories in a safe and supportive environment."
Brown says that more celebration-themed dining days are on the way for the Bison community, with a Mardi Gras Fat Tuesday event scheduled for March 1.
Students were greeted by a hostess to take their reservations
Tables were laid out in Valentine's colors, with flowers and napkins
The Restaurant was decked out in tablecloths and vases with flowers for Valentine's Day
Students posed for a photo by the giant balloon display
Chocolate-covered strawberries were among the handmade desserts on the menu
A selection of handmade pastries were available for dessert