Research on students' attitudes and knowledge about the environment will shape Howard's and other HBCUs' environmental studies curricula.
What are some attitudes and awareness about the environment and sustainability among university students? This is what Ayana Albertini-Fleurant, research assistant in the department of sociology and anthropology, is looking to find out.
Concerned about the growth and engagement rate of the Environmental Studies program among Howard University undergraduate students, she sought to understand what Generation Z students at Howard and among HBCUs knew when it came to the environment. Powered with this information, she would be able to better model a curriculum for the HBCU student body.
"Knowing the disparities in inclusion within the mainstream environmental field and the disproportionate access to comprehensive environmental education in secondary school, I wanted to know the extent, if any, that those factors have impacted HU's current undergraduate student population," she says.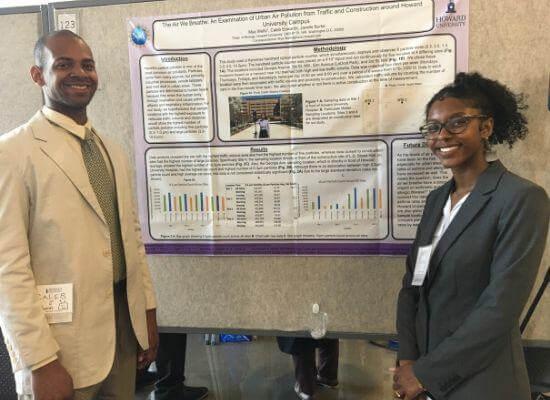 Howard is one of the first HBCUs to establish an environmental studies program. The interdisciplinary program engages faculty and research across the arts, social sciences, humanities, natural sciences, engineering, law and medicine, among others. It was developed in response to the growing demand by students for training in the environmental area. Students follow one of four concentrations: conservation, health and culture, policy and pollution. Students can pursue a capstone experience, which allows for internship and research opportunities.
Albertini-Fleurant developed a survey to assess the factors that shaped the current curriculum. The targeted survey respondents, currently, are Howard students. The purpose, overall, was to help Howard and other HBCUs tailor curriculum content that would be more intersectional and engaging to fit the interests of the student populations.
Some of the questions include awareness about the campus Office of Sustainability; the environmental studies programs; and the student-run Sustainability Council. It also asks about students' level of knowledge with climate change and environmental issues, and whether they feel that conservation and environmental justice represents them well. 
"We seek to understand how this may implicate students' perception of inclusivity in various movements associated with environmentalism along with their existing levels of environmental education," she wrote in the survey introduction. "We hope that gathering this data will bring attention to this larger problem of representation in the field and support efforts at Howard University to introduce students to the incredible relevancy, diversity and interdisciplinary nature of environmental studies, especially within our program."
The underlying theme is that the current student population is poised to be in charge of the direction that sustainability takes, and sustainability's success depends on their participation and inclusion.
Though results are still preliminary, Albertini-Fleurant has learned two interesting trends: Twitter seem to be the popular method for students to receive their news and information, and nearly all of the respondents have identified as female. She says that was "somewhat surprising, given that the survey's messaging and outreach tactics have remained neutral."
"It is an interesting outcome so far, and it might speak to the need for reshaping the program's recruitment strategy to reach individuals who identify in a way other than 'female' in order to reach a more diverse population of students," she says.
Albertini-Fleurant hopes that the survey findings will eventually be published so that other HBCUs can shape their environmental studies curricula appropriately for their student populations, rather than follow a mainstream approach. The mainstream approach, she says, is marked by a historical lack of inclusivity and access, which has impeded its ability to reach and retain individuals across cultural, racial and socioeconomic backgrounds. "We are hoping that we as a program will benefit, and that publishing these results could support the environmental studies programs and departments of other HBCUs," she says.
Take the survey here.