This Women's History Month, we recognized trailblazing alumnae who forged paths of progress in a range of fields; from activism, medicine and global change, Howard women represent a legacy of monumental impact. While we continue to honor women during March and throughout the year, we create space to recognize those within our campus community whose impact may not always be publicized but hold equal significance and value on the lives of all they encounter. 
Meet Alana I. Smith, a sophomore television and film major, marketing minor, from Sacramento, California. She has a background in film and loves to document the compelling everyday stories in and around her community. As a storyteller, Smith uses film to capture content that tells the stories that often go untold.
With this in mind, Smith ventured across campus to spotlight women who have impacted her experiences at the Mecca.  
Check it out here!
We also sat down with Smith to learn more about her creative process and the significance of storytelling that motivated her to complete this project – and others. 
Tell us a little about yourself.  
Before college, I graduated from Natomas Charter School Performing Fine Arts Academy with a renaissance distinction and acting emphasis. Currently, on campus I am involved in Undergraduate Student Assembly 48, 1867 Undergraduate Assistantship Program, and [I] serve as a project coordinator for the Internal Communications Division. Since freshman year, I have written, directed and produced three short films. Using my talents to showcase creative work, [I] garnered recognition from the National Black Movie Association as the 2021 "HBCU Filmmaker of the Year."  
Outside of school, I serve as a volunteer at Horton's Kids in D.C. and recently joined the Newark, New Jersey site for Howard University Alternative Spring Break (HUASB) program to empower youth. Additionally, I have interned for Media Studio Res [and] National Black Movie Association and completed the Gyrl Leadership Academy.  
Finding my artistic voice has been a lifelong journey, and I plan to own a production company to be a film director, writer and producer. 
How long have you been telling stories through film? 
I tapped into film production nearly two years ago during the pandemic.  My filmmaking journey officially began on October 18, 2020. 
What interested you in documenting stories through film? 
In 2020, my creativity catapulted because I was infuriated yet inspired to speak my truth about the social injustices existing in our country. During the summer, I discovered a local student film festival, which challenged applicants to submit any genre of work.  
As a young artist, I felt it was my duty to reflect on the current times, so I decided to participate. This led me to write, direct and produce my first award-winning short film, "Wake Up."  
The ability to create original narratives and write dialogue is an invigorating feeling; I can control releasing the type of work that is authentic to me. With that being said, I seek to make a difference with the art of storytelling by exposing people to different walks of life [and] the problems that plague our society as well as providing inspiration.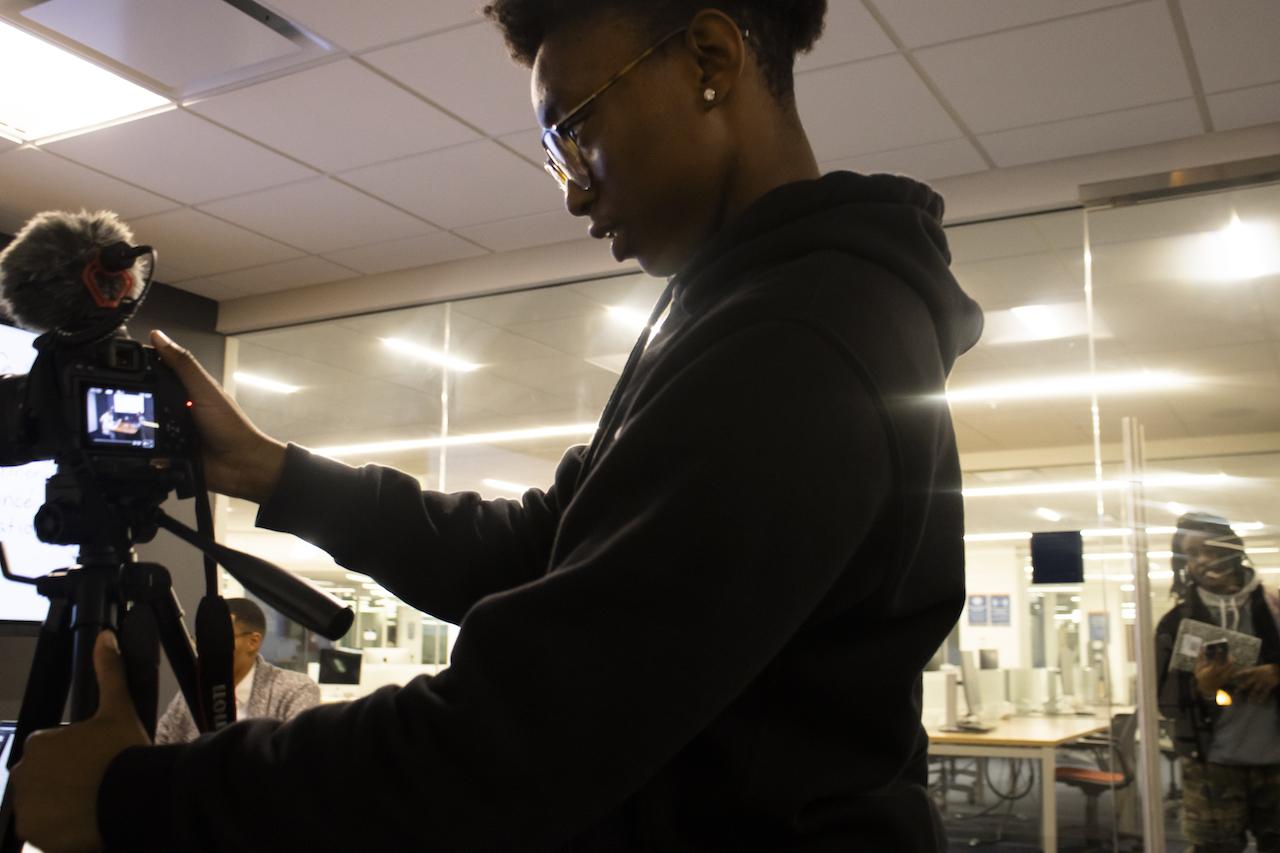 How has your experience at the University thus far developed or deepened your passion for film? 
Under the tutelage of Howard University, my creativity has developed through collaboration with the Bison community. Although my freshman year was in a virtual environment, I was afforded the time and creative space to concentrate on my craft and discover character types that are relatable to my audience.  
Since this year was my first time stepping foot on campus, I was able to craft a set for my latest short film, "Too Fresh 4 School" and network among the student body to appoint crew and cast members in acting, graphic design, audio and cinematography.  
This step toward innovative creation allowed me to practice inclusion, inspire new conversations and revive culture with an inspirational story. Experiences like these motivate me to become the next rising filmmaker and dream of going from Howard to Hollywood.  
What would you like the readers to know about you and how to view your work? 
I aim to become a renowned filmmaker who is creating change in the world with my artistry, activism and influence. 
For more information, check out my website www.alanaismith.com and view my work @AlanaISmith on all platforms.