As an undergraduate, Rev. Bernard L. Richardson, Ph.D. (B.A. '75) says he and his classmates viewed the Andrew Memorial Rankin Chapel as the nucleus of Howard University, a gathering space for both their social activism and spiritual renewal.
Upon becoming its dean in 1993, he quickly recognized that newer generations of Bison viewed the Chapel and its purpose in much the same way.
Richardson has now witnessed firsthand the impact of Rankin Chapel on the University community for more than 50 years.
"Even Chadwick Boseman (B.F.A. '00) [and his classmates], when they were working to keep [the College of] Fine Arts open, they met in the Chapel," Richardson fondly recalls, referencing Boseman's revered leadership as he and fellow students protested the College of Fine Arts' closure in 1997. "The Chapel has always been that centering place at Howard."
With the aid of modern technology, Howard alumni worldwide can now access the Chapel's Sunday services; Richardson says that, across in-person and virtual churchgoers, the Chapel has drawn upwards of one million attendees at its peak. Nonetheless, for many alumni, the University's Homecoming exercises represent a rare opportunity to physically reconnect with the campus, making the Sunday to conclude Homecoming among the highest attended Chapel services each year.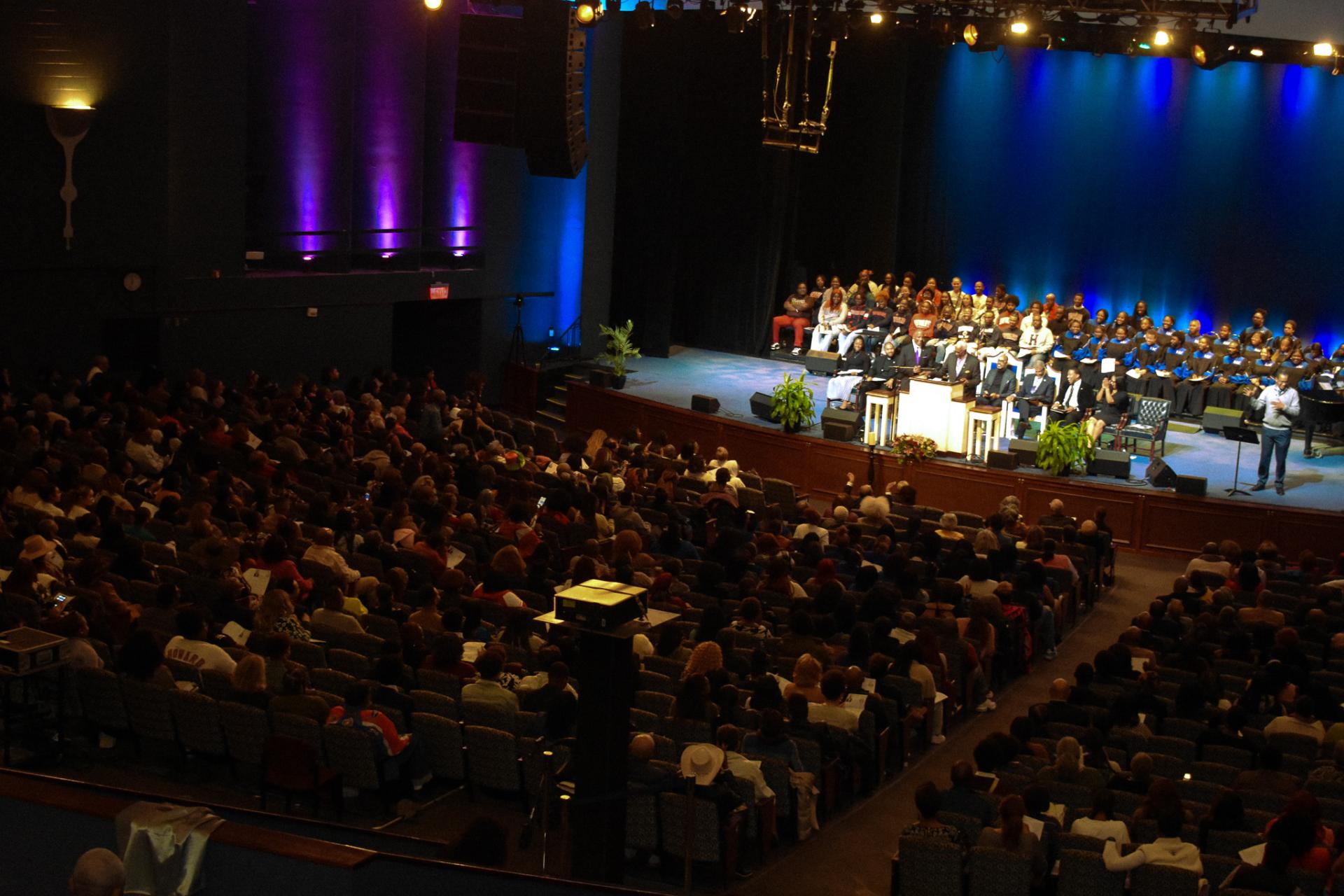 "Homecoming is always special," Richardson continues. "[Alums] can feel the enthusiasm of the students, and they really love hearing about how students are involved in the community. I think that really resonates with our alumni."
As Richardson speaks to the essence of Homecoming Sunday, he receives a telephone call from Chauncey Manson, III (B.A. '74), vice chair and membership chair of the Friends of the Andrew Rankin Memorial Chapel. Through the University's Division of Development and Alumni Relations, Manson organized a Homecoming fundraising challenge this year for Howard's 1973 Divine Nine initiates, in which all proceeds directly benefitted the Office of the Dean of the Chapel. (Richardson and Manson are 1973 Alpha chapter initiates of Omega Psi Phi Fraternity, Inc.) "For most alums, we come back to the Chapel because when we were at Howard, it was the center of the Mecca," Manson explains.
"[The Chapel] was where we went when we needed things, when we needed spiritual uplift, when we needed counseling, or when we just needed a place to sit and talk to people. That's why we continue to come back to Chapel: because it gives the same feeling we got when we were [students]," Manson concludes.
That's why we continue to come back to Chapel: because it gives the same feeling we got when we were [students]."
Nostalgia certainly inspires countless returning alumni to attend Chapel during their Homecoming visit. Likewise, Rev. Frederick D. Haynes, III, D.Min., the occasion's featured speaker, has made his own indelible imprint on the proceedings and become synonymous with the yearly service in the process.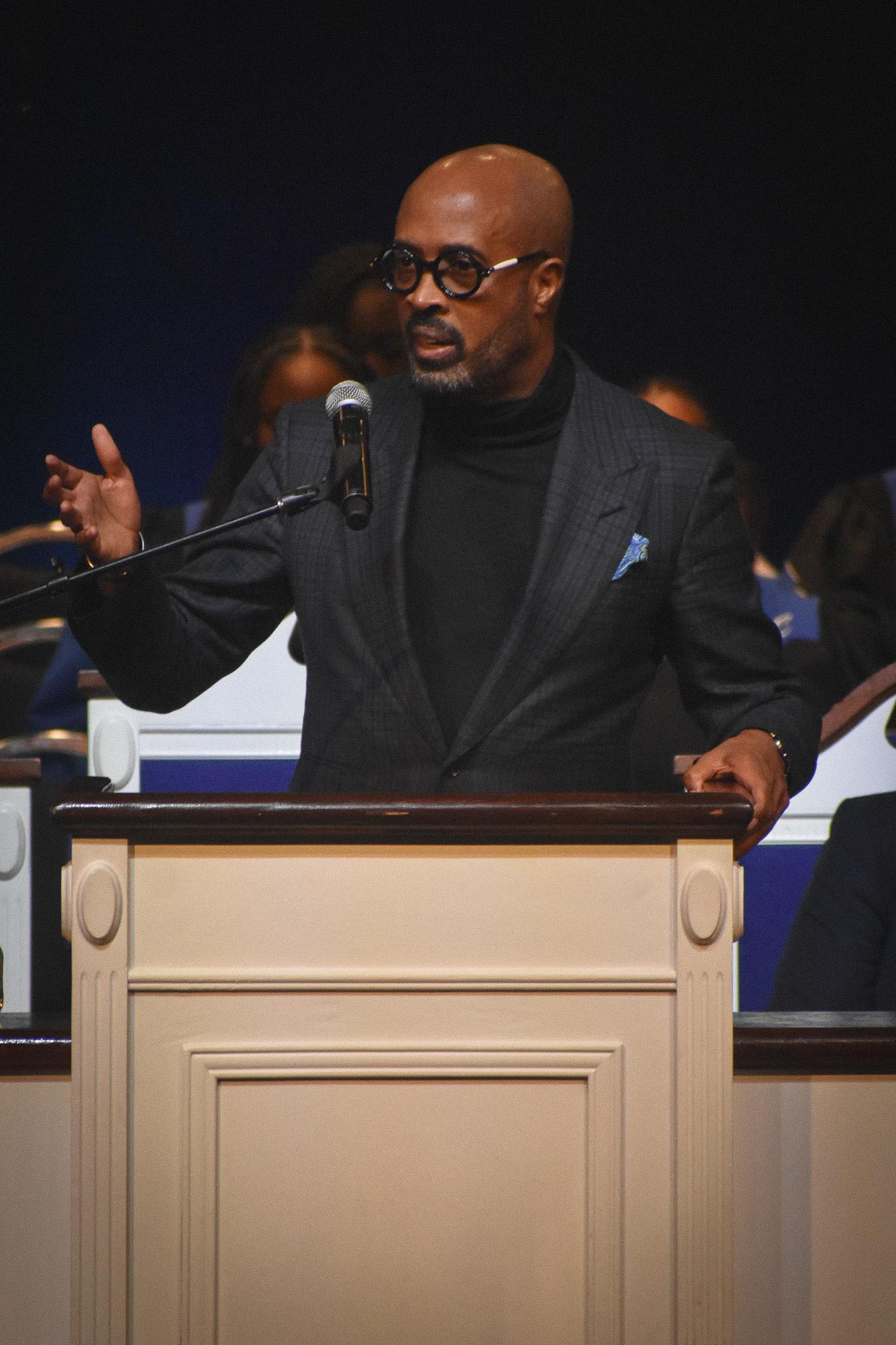 Haynes remembers delivering his first Sunday sermon at Howard University nearly three decades ago. "Dean [Emeritus of Rankin Chapel, Evans] Crawford brought me here in the '90s!" Haynes reminisces, smiling. "When Dean Crawford brought me, it was for something else, but then Dean Richardson [invited] me to do Homecoming all these years."
This year, Haynes celebrates his 40th anniversary as senior pastor of Friendship-West Baptist Church in Dallas, Texas, where his brand of Black liberation theology has facilitated his rise as one of America's most renowned ministers; in July 2023, he was designated Jesse Jackson's successor as president and CEO of the historic Rainbow PUSH Coalition. Despite his demanding schedule, Haynes prioritizes returning to Howard whenever possible.
"I love the students, the energy, the history," Haynes declares. "I feel like I've walked into a space where Black excellence is expected, applauded, and part of the environment. I get a whole lot out of that – just being in the environment – that reenergizes me every time I come."
Adept at blending the biblical with contemporary current events – this year's sermon, punnily titled "Fade in the Water," referenced the August 5 Alabama riverfront brawl and Detroit rapper Gmac Cash's song about the melee – Haynes' personality and preaching style have proven just as popular with the Howard community as his Dallas audience or anywhere else he ministers.
"Rev. Haynes brings forth a word that speaks to the mind and the spirit," says Monica Moore, a senior health science major and chemistry minor at the University and the immediate past president of the Chapel Assistants. "He incorporates the issues of today, providing a historical context of Black radicalism and the importance of never letting this history lose its power in the face of active erasure. He has the special ability to speak and reach across generations with his utilization of past, present, and the word."
Joseph Dillard (B.A. '13, J.D. '16), coordinator of the University's Alternative Spring Break program, agrees with Moore's assessment. "Dr. Haynes creates a space that invokes intergenerational conversations surrounding faith, service, and justice," Dillard states. "I've always enjoyed his sermons as both a student and an alum. However, as an alum, his messages resonate more because of my work with Alternative Spring Break program students."
"[Haynes'] presence at Homecoming every year reminds the students and myself that serving the underserved is a lifetime commitment and a call to action that you must answer each day," Dillard says.
Haynes acknowledges that the verve around Homecoming Sunday is particularly dynamic. "Aw man, ain't nothing like it," he says matter-of-factly. "Because you have the alumni here, you have the students here, it's Homecoming! Everybody's come home. And so, the energy is electric." For him, that energy only enhances the experience with each subsequent visit. "It's hard to say which [Homecoming] is best because it only builds upon itself every year," he affirms.
A 1982 graduate of the historically Black Bishop College, Haynes has all but officially adopted Howard as his honorary alma mater: his daughter Abeni is a 2015 School of Communications graduate and, in January 2023, Richardson and Rankin Chapel named him the inaugural Jeremiah A. Wright Jr. Spiritual Leader-in-Residence at the University. As for his Howard legacy, Haynes hopes to be remembered by students for his loving spirit and his relatable approach to ministry.
"What blessed me today was to hear someone who had been here years ago, and they said that they had not really been a church person, they heard me, and they said that it just kind of transformed their lives," Haynes testifies.
"They felt like I fit into the Howard experience, and it caused them to reset their lives with the spiritual dimension to what they were doing socially and politically. That blessed me."