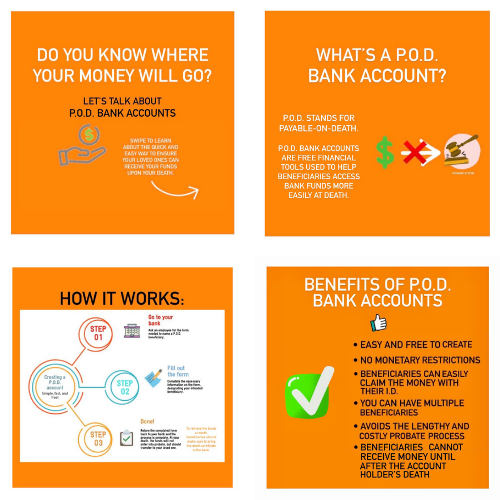 WASHINGTON – Howard University School of Law professor Keeva Terry drove the need to protect family wealth home with her Wills, Trusts and Estates class students this past Fall semester by discussing the ins and outs of payable on death bank accounts.
A payable on death bank account, or POD, is essentially an account with a named beneficiary. People who opt for POD accounts do so to keep their money out of probate court in the event that they pass away. Many of Professor Terry's students had never heard about this kind of account.
"I was shocked and also confused," said Howard Law alumna Megan Moffett (J.D. '21)."I wondered, 'Why wouldn't my bank tell me about this when I signed up? This could be a great asset to my family if something were to happen to me.' The shock continued when, after class, I reached out to some very educated people, who also had no idea about the POD option for their accounts."
Howard Law alumna Christy Bonner (J.D. '21) echoed Moffett's sentiments. "The fact that this financial tool is quick and free to create was even more shocking, because one would think they would be more widely known and utilized," Bonner said.
Because of the general lack of knowledge surrounding POD accounts, people sometimes find themselves fighting for a deceased loved one's funds in court.
"Preliminary research findings indicate that many pro se litigants (parties without legal counsel) file a petition in probate court to access the funds in the bank account of a loved one," Professor Terry said. "As a result, consumers face unnecessary hardships because they must endure the estate administration process to access sometimes relatively small amounts in bank accounts that are nevertheless significant to them. Additionally, due to the legal fees … often associated with the probate process, many consumers simply forego estate administration and, therefore, lose any of the family wealth that has accumulated in the bank account."
This unfortunate situation can be avoided via a simple "payable on death" form at a local bank, which allows bank account owners to designate account beneficiaries who will have access to the funds in the bank account immediately upon the death of the owner without having to endure the estate administration process, Professor Terry said. The account beneficiary only needs to show an ID and death certificate to the bank, and the funds will be released to them immediately. 
"Regrettably, many consumers are unaware of these forms," Professor Terry said. "Reform efforts are underway that would strongly suggest and encourage banks to present and discuss these forms with each and every customer at the time a bank account is opened."
In an effort to do their part, a handful of Professor Terry's students – Megan Moffett, Christy Bonner, Donald Fryar and Asena Tui'one – stepped in to conduct thorough research and create public service announcement materials to get the word out faster.
"As we've seen recently during this pandemic, people can pass away unexpectedly, and there can be lots of expenses for family members to cover during that time," Bonner said. "Having a POD account could greatly assist a person's loved ones in covering those unexpected costs without having to wait for the funds to pass through the probate court system, possibly avoiding further financial hardships after a family tragedy."
For Fryar, educating families about POD accounts is about making the process easier for those who have lost a loved one.
"Life after the death of a loved one can be a very challenging time for many families," Fryar said. "Financial and legal obligations only add to these challenges, especially during probate. Easing the grieving process for family members can be accomplished through the use of a POD account rather than the probate process. Thus, my exposure to POD accounts is something that I have promoted within my family since becoming more familiar with [them], and I hope to continue to build upon this trend in my community."
###
About Howard University
Founded in 1867, Howard University is a private, research university that is comprised of 13 schools and colleges. Students pursue more than 140 programs of study leading to undergraduate, graduate and professional degrees. The University operates with a commitment to Excellence in Truth and Service and has produced one Schwarzman Scholar, three Marshall Scholars, four Rhodes Scholars, 12 Truman Scholars, 25 Pickering Fellows and more than 165 Fulbright recipients. Howard also produces more on-campus African-American Ph.D. recipients than any other university in the United States. For more information on Howard University, visit www.howard.edu.