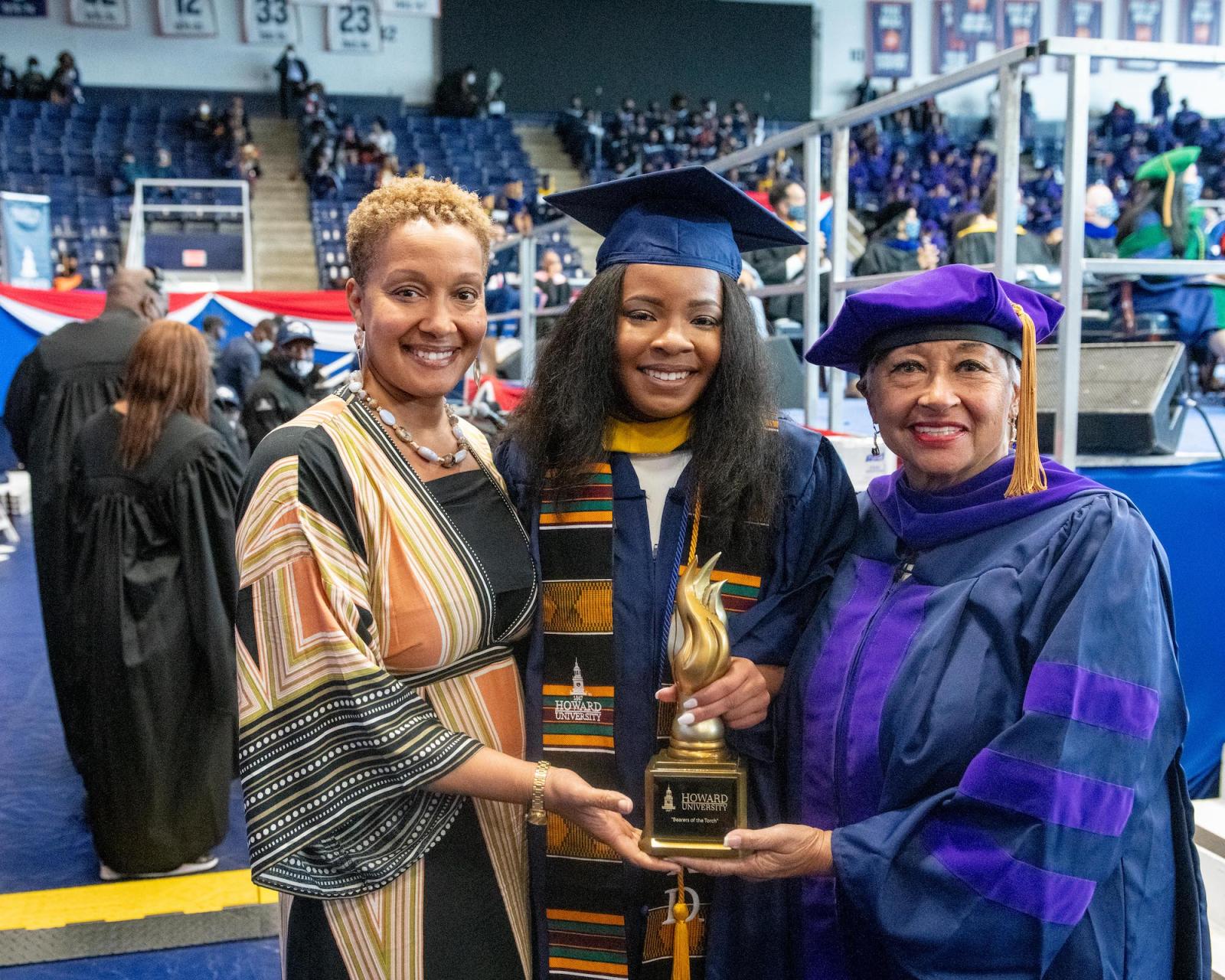 Margo Bouchet (B.A. '69, J.D. '72) arrived at Howard University at a momentous time in Black history. Two years earlier, Dr. Martin Luther King, Jr. had delivered his "I Have a Dream" speech 3 miles down the road at the Lincoln Memorial. Bouchet was among just a handful of women in the Howard freshman class in the Fall of 1965. She went on to Howard law school and an esteemed career in private practice.
This year, approximately 70% of Howard's Class of 2022 graduates are women and one of them is Bouchet's granddaughter, Dominique Jackson. In a moving ceremony at Howard's 154th Commencement Convocation, Bouchet passed the torch to her granddaughter — almost 50 years to the day after she herself received her Howard law degree.
When I got to Howard and saw so many professional black people, it helped me set my sights higher for myself."
Jackson is the third generation of Bison women to graduate from Howard. Her mother and fellow alumna, Judge Rahkel Bouchet (B.A. '94, J.D. '97), also once taught at Howard law school. When asked if her mother pressured her to attend Howard, Judge Bouchet  quipped, "You must know my mother! She was wise enough to bring me to Howard homecoming when I was considering colleges. And then she sealed the deal by saying, 'You can go to Howard, and I'll pay for it. And you can go anywhere else, and you'll have to pay for it.'"
Judge Bouchet has never once regretted her decision and later got her law degree from Howard. When she began practicing law, she had the chance to support the law school by serving as the supervising attorney for students gaining experience with Howard University's Child Welfare Justice Clinic. Today, as a magistrate judge for the D.C. Superior Court, Judge Bouchet continues to change lives for the better.
By the time Jackson was ready to choose her university, Howard was on the top of the list. "I wasn't impressed by anything else," she remembers. "My mom and my grandma are my biggest role models and I had seen what Howard did for them, [so] I knew that's what I wanted for myself." Graduating this year, Jackson is planning to spend time in Texas teaching tennis and learning about her father's family's real estate business before heading on to dental school.
Margo Bouchet served the HUAA as an officer, chairs the Class of 1966 50th Reunion Committee, regularly supports Howard's recruitment efforts in California, and co-founded Bison on the Vineyard. In her law practice, Bouchet has represented hundreds of people including well-known celebrities. She has provided countless hours of free legal services through various legal clinics including FAME Renaissance, Messereau and Harriet Buhai. She was recently recognized for her many contributions as an inductee into the Hall of Fame for the Los Angeles Langston Bar Association.
A common theme for all three of these Bison women is the power of Howard's commitment to Black excellence. "Growing up, I didn't have many African American teachers," Margo Bouchet says. "When I got to Howard and saw so many professional black people, it helped me set my sights higher for myself." Fifty years later, her granddaughter experienced the same thing. "In high school, I was always the Black girl from the suburbs or the Black tennis player who played well. When I got to Howard, I was just Dominique."
The senior Bouchet has a special message for her granddaughter as she graduates: "I am so unbelievably proud of the young leader you are becoming. Keep fighting on, remember you're a Bison and always remember Howard."