The Howard University Cancer Center serves as headquarters in a full-scale war to fight cancer in underserved communities all over the world.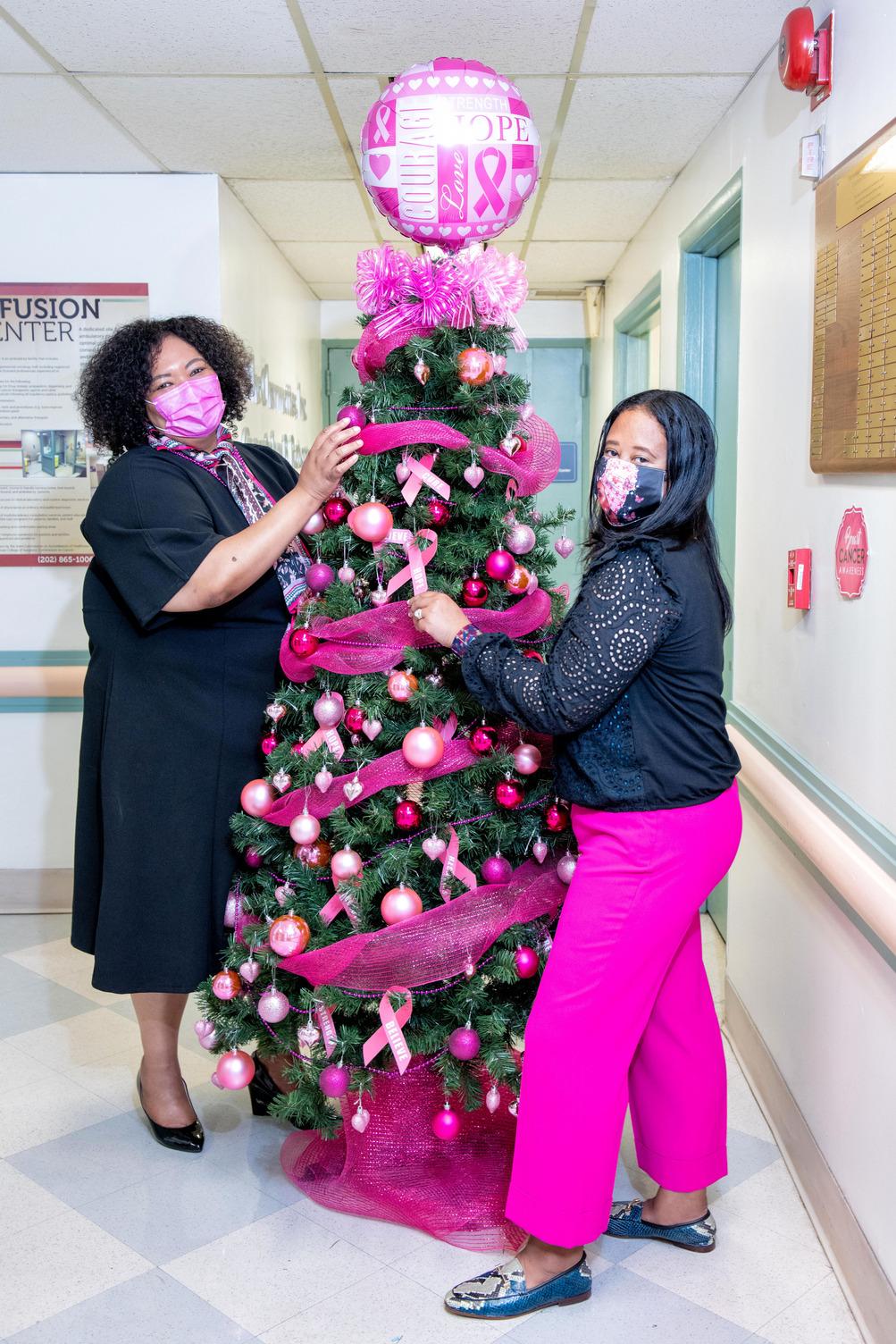 As a Howard student, Kimberly Higginbotham (MPT '99) had never heard of the Howard University Cancer Center – until she felt a lump in her breast. She was 23 years old, in her last year of school and in her final physical therapy rotation, when she entered the cancer center for the first time. Her breast cancer diagnosis initiated a lifelong relationship with the cancer center – first as a patient and then as a vital member of the staff. 
Today, Higginbotham serves as the Howard University Cancer Center's patient navigation coordinator, a role she feels perfectly suited for considering her own personal experience.  
"I'm a two-time cancer survivor, so I know what [my patients] are going through," says Higginbotham, who was treated for cancer at the center in 1999 and again in 2015, when she was diagnosed in the other breast. "I try to let them know, 'Yes, I understand this is overwhelming, but I'm here to help you in any way that I can.'"  
It is Higginbotham's responsibility to help patients navigate "any barriers" that might get in the way of their treatment – and she means any barrier. She helps patients schedule follow-up appointments on the same day to avoid having to come back to the center more frequently than their schedules allow. She sits in on patients' appointments with the cancer surgeons, genetic counselors, radiation oncologists and other specialists so she can answer their questions afterward. She helps patients secure transportation to make their appointments (the center has patient assistance funds that can be used toward the purchase of Metro cards and taxi vouchers). She helps ensure food insecure patients get the nutrition they need (the center operates a food pantry called the Howard University Cancer Center Hope Chest). She will even literally help patients navigate their way to appointments – she has fielded calls from patients who are in the building but unsure where they are supposed to go. 
Higginbotham's method to fulfilling her own responsibilities is reflective of the comprehensive approach the cancer center takes to fighting cancer – on an individual level and on a communal one.  
"We are still operating out of our founding mission, which is to conduct research, education and service with a focus on Black communities," says Carla Williams, Ph.D., interim director of the center. Under the direction of Dr. Lassall D. Leffall, world-renown cancer surgeon and former chair of Howard's Department of Surgery, who helped found the center almost 50 years ago, in January 1972, and continued under the leadership of Howard University President Dr. Wayne A. I. Frederick, who formerly served as director of the cancer center, the institution was designed to examine the social determinants of health and reduce health inequities.  
As the only full-service cancer center based within an HBCU (historically Black college and university), the center is devoted to helping individual patients who are predominately African-American and to improving cancer care outcomes, and reducing disparities, for the Black community – locally, nationally and even globally. 
Recent data from the Centers for Disease Control and Prevention indicate that Black women are 40 percent more likely to die from breast cancer. African-Americans have higher morbidity and mortality rates for other cancers as well, and they are also more likely to be diagnosed at more aggressive stages that are more difficult to treat and cure.  
The reasons for these disparities, however, are complex; they defy simple explanations – and require comprehensive solutions. 
The center does not start its fight against cancer in the operating room or the doctor's office. It begins in laboratories and classrooms and in our communities, before a patient ever sits down on the doctor's table or puts on a hospital robe. 
Phase 1: Conducting Research, Enhancing Knowledge 
The cancer center maintains a robust research enterprise to find the causes of cancer, the reasons for cancer outcome disparities, and the most promising treatments and cures.  
The institution has conducted groundbreaking research to identify social, environmental and biologic risk factors for developing cancer. For example, the center has found genetic links for triple negative breast cancer (a type of cancer that tests negative for three types of hormones and proteins) and created novel therapies to treat it. The center also helped to pioneer the method of intraoperative radiation therapy, where radiation is administered on cancer patients during surgery. 
Researchers at the center have also found links between discrimination and incidents of cancer. Black women who struggle to access safe and affordable housing, for instance, are at greater risk for developing breast cancer. 
"Until recent national attention to COVID disparities and other health and social injustices, the kind of unique questions that we would ask may not necessarily be asked elsewhere," Williams says.   
Phase 2: Engaging and Educating the Community   
Knowing African-Americans can be at greater risk for a variety of cancers, the center works to educate the community about their risk factors, actions they should take and the resources available to them.  
Dr. Lori Wilson, professor of surgery, chief of surgical oncology program and director of the general surgery residency at Howard University School of Medicine, believes that she has participated in more than 200 community talks about cancer care. These talks may take place in church basements or senior centers or at health care fairs, with anywhere from a handful to thousands of people. 
However, the center realizes that, to engage everyone in the community who needs help and could benefit from its services, they need assistance reaching hard-to-reach people and communities.  
"In this work, we are aware enough to realize that we can't do everything. If we're really trying to drive down disparities and drive down mortality rates, it has to be a collective effort," Williams says. "We've had long-standing partnerships with organizations that have direct reach into communities." 
Williams specifically mentions the African Women's Cancer Awareness Organization and Nueva Vida, two organizations that reach immigrant communities who may have language barriers and may be unsure how to navigate the American health care system. With Nueva Vida, the center is reaching out to Latina women who may be at greater risk of breast cancer. 
The center's community outreach extends beyond the greater Washington, D.C. area – far beyond it. Representatives from the center have gone to Nigeria, Ethiopia and other African countries to provide educational services and help stand up programs to help African men and women treat beat their cancer diagnoses.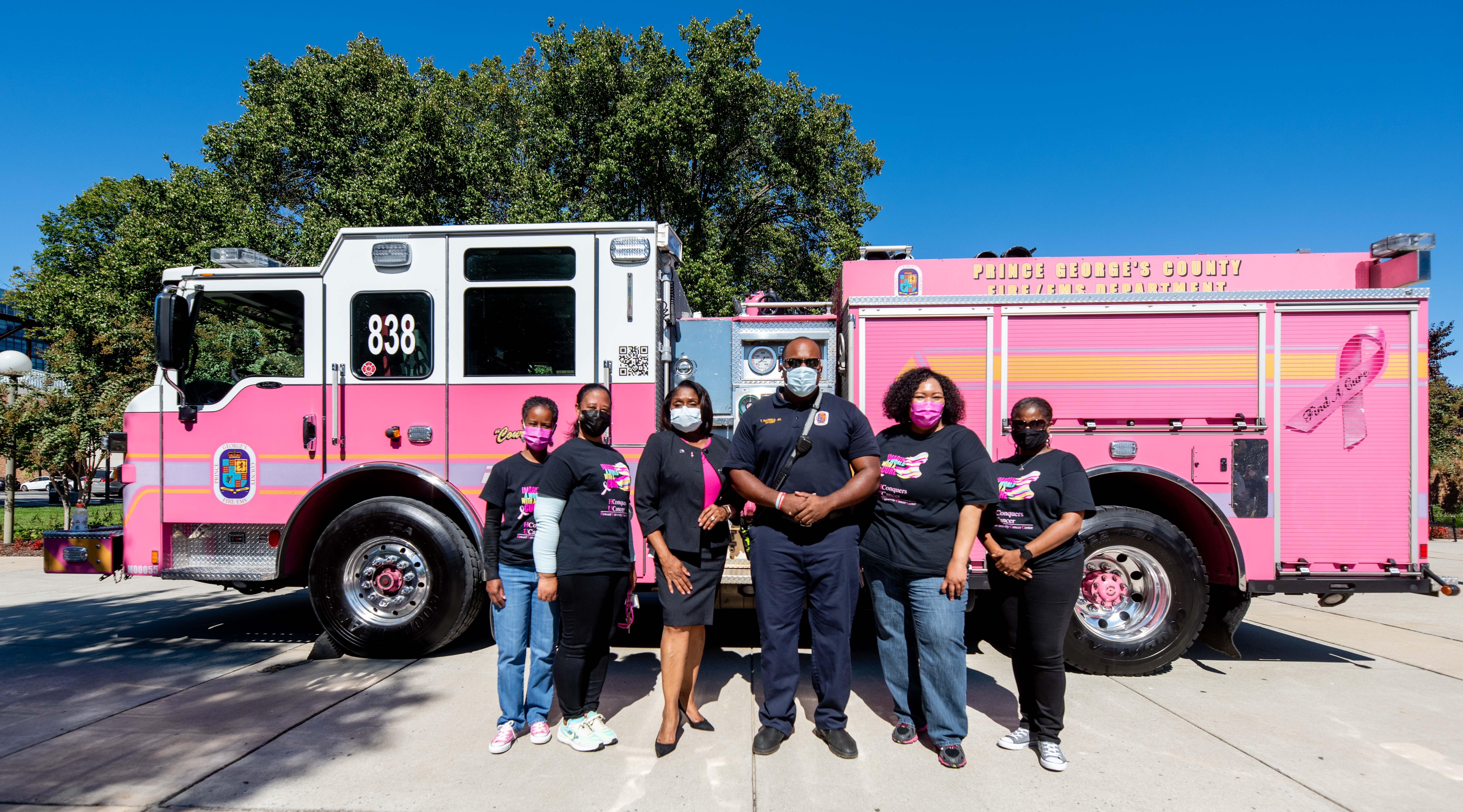 Phase 3: Providing Screenings and Preventive Care 
At the end of community education event, "we always try to leave a good amount of time for women to ask questions [after] we present the information," says Cherie Spencer, the center's director of community engagement. "The other thing that we always do at any community event is we have a screening survey. So everyone fills out a survey, and then that way, we can follow up and make sure that they get scheduled to come in for services."
 A critical component of the center's efforts to fighting cancer is early detection. One of the center's signature features, the Rosemary Williams Mammoday Breast Cancer Screening Program, provides free and low-cost breast cancer screening and diagnostic services for uninsured women. 
The center screens around 200 women a year for breast cancer. And its dedicated efforts in the community have helped reduce the gap in screenings and preventive services experienced by under-resourced and often overlooked communities. The center's lost-to-follow-up rate, a term used to describe individuals who are screened but never return for follow-up appointments, is also significantly less than is typical due to patient navigation. Through intensive patient navigation, the total lost-to-follow-up rate for the center was only 3 percent from 2010-2017, and the no-show rate for screening was less than 5 percent.
These efforts to close the gap are critical in helping women and fighting breast cancer, but alone, they're not enough to close the gap. "Even though we've caught up [in many areas], we still see that there [are] a significant cancer care outcome disparities," says Wilson.
That demonstrates why the cancer center must remain a full-service, multidisciplinary operation. No one area will be enough to eliminate cancer care outcome disparities once and for all. Increased screenings must be pursued in conjunction with aggressive patient navigation as well as groundbreaking research into the social determinants of health and robust educational community outreach programming.  
Above it all, what distinguishes the cancer center from other institutions is the way it centers its operations around the needs of its patients. A cancer diagnosis requires more than medical solutions, but social and emotional ones, too. 
 Higginbotham believes that patients at the center are treated as people – not just names on a list or numbers in a file. "I put my life in these doctors' and nurses' hands," she says. "They really care about the patient. I know that they want me to get better and they really care about me as a person. Other places need to be [more] like us."  
 Taking Care of Yourself This Breast Cancer Awareness Month 
 Every October, the Howard University Cancer Center emphasizes the importance of self-care. Women must take necessary precautions against the risk of breast cancer. Here are some key pieces of guidance.   
Know what's normal for your breast. Skin changes, redness, breast pain that doesn't go away – these should all be brought to the concern of your primary care doctor or breast specialist. 
Know your family history. Black women in particular should be aware of their family histories and their risk factors for developing breast cancer. High incidence of breast cancer in your family means that you should start self-monitoring and receiving regular screening earlier. 
Know your risk of breast cancer. The approach you should take to screening and preventive care depends largely on your predisposition to developing breast cancer. The center has resources to help you determine your individual risk. 
Start your screening for mammograms at age 40. The cancer center provides numerous opportunities for screenings in the community because of how important it is to diagnose breast cancer early. The center is devoted to providing these services regardless of women's personal wealth or insurance status. 
Make healthy lifestyle choices to reduce your risk of breast cancer. Increased incidents of breast cancer have been linked to numerous social determinants of health, including nutrition and housing. Take care of yourself, familiarize yourself with your community's resources and get the help you need to safe, healthy and well.