Dating back to its very first anniversary, Howard University commemorates its chartering with a series of annual celebrations: a Friday morning convocation and Saturday evening banquet scheduled for the first weekend of March. The events are historically dual-purposed.
They serve as birthday celebrations for Howard University, an opportunity to honor the university's charter and its commitment to providing high-quality education to African Americans and other marginalized populations, a mission that remains core to its identity.
They are also designed specifically to engage the alumni community, many who are eager to return home and give back to a place central to their personal and professional foundations.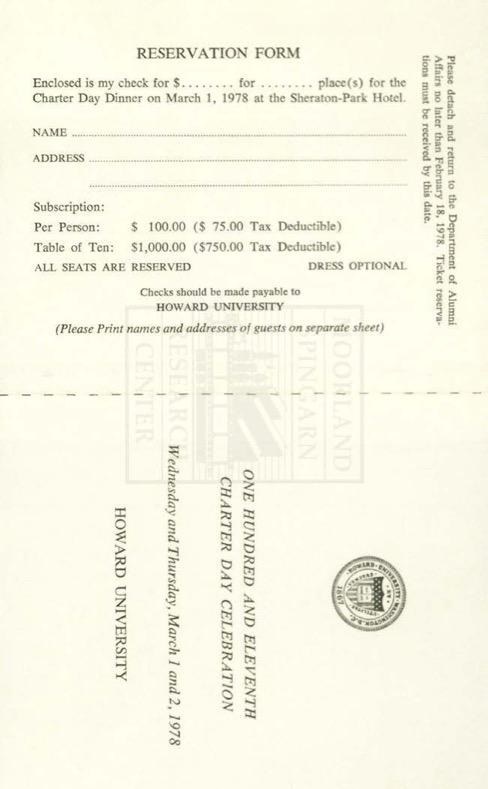 The first of the Charter Day dinners have been largely credited to Mrs. Alma J. Scott. In "Howard University: The First Hundred Years, 1867-1967," distinguished historian Dr. Rayford W. Logan notes Scott as a "prominent Washington Alumni" of the University. Scott graduated from Miner Teachers College in 1908 and almost immediately became a prominent social activist. Despite her busy professional career, Scott prioritized building stronger bonds between the University and its alumni, and the Alumni-Senior Charter Day Dinner was conceived to bridge that gap.
According to Logan, Scott launched the first dinner in 1924 and served as Chairman of the second dinner's committee in 1925. Scott would later continue her education at Howard, mobilizing the alumni in support of the University's first Black president Mordecai Wyatt Johnson before earning her bachelor's degree in 1939. She would remain active around Howard and in the D.C. community until her death in 1957 at age 82.
The University began issuing Distinguished Alumni Awards during Charter Day 1943, aiming to boost alumni interest in the annual proceedings. Legendary author Zora Neale Hurston was among the first three recipients.
"These Alumni Achievement Awards laid the foundation for the later establishment of more friendly relations between Alumni and the University," Logan wrote. "The morning convocations at which the [awards] were read and presented have attracted representative gatherings of Administrative Officers, Faculty members, students, and 'The Wider University Community.' The Charter Day dinners have become even more popular–indeed, in recent years, the most popular of all University exercises except Commencement."
In the intervening years, the bulk of the University's largest events, including Charter Day, were planned inside the Office of the Secretary. In 2014, Dr. Wayne A. I. Frederick, M.D., MBA, sought to modernize these celebrations during his presidential tenure, personally appointing Mr. Andrew Rivers as Senior Director of Protocol and Events to manage the behind-the-scenes production. The chief of staff to former Howard president Sidney A. Ribeau, Rivers recalls that Dr. Frederick valued the existing relationship between Rivers and the events staff and was consequently asked to pivot into his current role.
"For Dr. Frederick, it has always been about tradition, no matter what we do, how we do it. We may add a modern twist to it, but the tradition remains, and that's the importance."
Rivers credits Howard's sesquicentennial in 2017 as a turning point for this era's Charter Day celebrations. A first-time reception at the Smithsonian National Museum of African American History and Culture, in conjunction with the University's 150th birthday, spurred unprecedented interest in Charter Day weekend. The University netted close to $1 million in donations.
At the time, it was near-impossible to secure tickets to the new museum, giving the University's "private showing" an appeal even for VIPs. "That kind of redefined how Charter Day was," Rivers says.
Yet, pageantry, formality, and scholarship remain at the forefront of these events.
"Black folk like to dress up," Rivers quipped, "and if you give them that opportunity to put on a tuxedo or a black dress, they'll do it."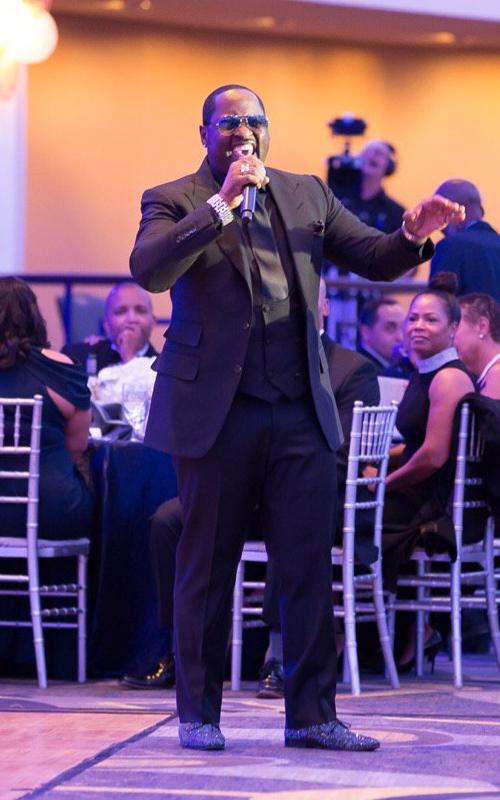 Dr. Frederick and his administration have openly embraced the "birthday party" aspect of Charter Day proceedings in new and exciting ways. 2017's Charter Day Dinner was the first to feature a dance party after the ceremony, and Rivers acknowledged the increased emphasis on the evening's entertainment in the years since. Artists from Johnny Gill to Regina Belle to even Yolanda Adams have been asked to perform at recent dinners. At this year's Charter Day Dinner, Loni Love, En Vogue, and DJ D-Nice were the entertainers on program. Rivers says his team is always looking to incorporate Howard alumni within media and entertainment whenever possible.
"Now that we've added the dance party, [the question is] always, 'Who's going to be the DJ?'" Rivers laughed. "So when we had D-Nice, that's one of Dr. Frederick's favorites. Again, it was a matter of making sure this year's ceremonies were sticking definitely to not only protocol, to tradition, but then also making sure that they also had a little touch of those things that Dr. Frederick likes."
Howard's Charter Day has always celebrated the past, present, and future of the University, but Rivers believes Dr. Frederick's vision provided it with a new purpose for this generation of attendees.
"For Dr. Frederick, it has always been about tradition, no matter what we do, how we do it," Rivers said. "We may add a modern twist to it, but the tradition remains, and that's the importance."
After years of lagging numbers, Charter Day now regularly fundraises over $500,000 annually, all of which goes towards subsidizing student scholarships and costs.
"When I look at the evolution, I think we have found a structure that people have come to enjoy and appreciate," Rivers shared. "What Dr. Frederick really did is help us refine the purpose, but making sure, as we refine it, that people are still getting a very significant impact from Charter Day."