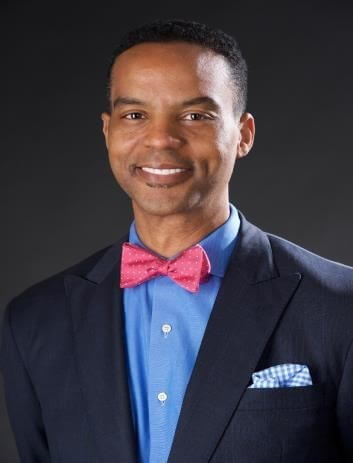 WASHINGTON (October 8, 2018) – Michael K. Fauntroy, Ph.D., associate professor of political science within the College of Arts and Sciences, is now Acting Director of the Ronald W. Walters Leadership and Public Policy Center. Fauntroy's appointment fills the temporary void left by Elsie L. Scott, Ph.D., director of the Walters Center, who is on sabbatical through the end of the 2018-2019 academic year. 
The Walters Center was established in 2012 as an interdisciplinary center for research, policy discussions and leadership development. The center is named after Ronald Walters, Ph.D., a political science scholar-activist, writer and political commentator known for conducting research and providing strategic direction to students and political leaders. Fauntroy earned his masters and doctoral degrees in political science from Howard University during a time when Walters was professor and chair of the political science department.  
"I took courses from Dr. Walters and had the honor of his service on my dissertation committee," says Fauntroy. "An even bigger honor for me was contributing a chapter to his 2010 co-edited book, Democratic Destiny and the District of Columbia: Federal Politics and Public Policy. Three years later, I joined the Howard political science faculty after 11 years as a public policy professor at George Mason University. I am very proud to be affiliated with the Center."
As acting director, Fauntroy will continue Scott's work to position the Walters Center as the premier academic center for research and publications on policy issues directly impacting the global black community. The Department of Political Science, where Fauntroy teaches undergraduate and graduate level courses, is partnering with the Walters Center for two upcoming events. 
"Our events are intended to continue to establish the Walters Center as a premier venue for the creation and dissemination of research concerning critical issues facing people of African descent in America," explained Fauntroy. "We seek to take full advantage of our Washington, DC location and leverage Howard University's and Dr. Walters' reputation to reach our goals."
The first event, happening Wednesday, October 10, will feature a lecture by Sharon D. Wright Austin, associate professor of political science at the University of Florida and author of The Caribbeanization of Black Politics: Race, Group Consciousness, and Political Participation in America. The lecture begins at 10:00 a.m. The second event will serve as a post-election roundtable discussion with Nia-Malika Henderson, senior political reporter for CNN, on Wednesday, November 13. She will moderate "Sisters in the Struggle: Black Women and the November 2018 Elections,"a discussion featuring three political science department faculty members, Niambi Carter, Ph.D., Keneshia Grant, Ph.D., and Keesha Middlemass, Ph.D. The event begins at 3:00 p.m.
Both events will be held inside the Founders Library Browsing Room. Howard students, faculty and staff are invited to attend. For more information on the Ronald W. Walters Leadership and Public Policy Center, contact Carolyn Smith at (202) 865-8550 or by email at crsmith2@howard.edu.
###
About Howard University
Founded in 1867, Howard University is a private, research university that is comprised of 13 schools and colleges. Students pursue studies in more than 120 areas leading to undergraduate, graduate and professional degrees. The University operates with a commitment to Excellence in Truth and Service and has produced four Rhodes Scholars, 11 Truman Scholars, two Marshall Scholars, one Schwarzman Scholar, over 70 Fulbright Scholars and 22 Pickering Fellows. Howard also produces more on-campus African-American Ph.D. recipients than any other university in the United States. For more information on Howard University, visit www.howard.edu.
Media contact: Ramzey Smith, ramzey.smith@howard.edu