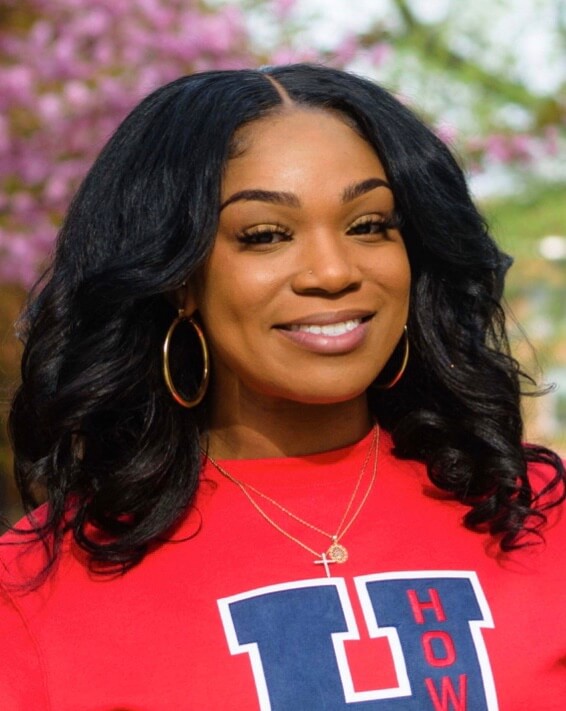 WASHINGTON – Kayla Copeland, a 2019 graduate of the College of Arts and Sciences, is the recipient of Howard University's annual Reginald F. Lewis Prize. First introduced in 1990, the Reginald F. Lewis prize is awarded annually to one student graduating during the current academic school year. During Copeland's completion of her undergraduate studies within the Department of Political Science, she increased her GPA from 2.34 to 3.06. As this year's award recipient, Copeland receives $5,000 from the University.
"We are pleased to award the Reginald Lewis Prize to Ms. Kayla Copeland. During her academic career, she has exemplified Mr. Lewis' notable characteristics of tenacity, and commitment in finishing strong to complete her degree," says Provost and Chief Academic Officer Anthony K. Wutoh, Ph.D.
Before receiving the honor as a graduating senior, Copeland says, the dynamics of her matriculation through Howard stimulated growth and celebrated change. Copeland sat down with the Office of University Communications after being announced as the prize winner to discuss how her life has changed since leaving Newport News, Virginia, and what ultimately lead to her being the change she wanted to see. 
Explain your journey at Howard; through COAS & the Department of Political Science.
I began my Howard career as an undecided freshman, and when I saw the various choices of majors and minors, I started to feel a little overwhelmed. I didn't want to rush into making a choice. Should I pick the right major for me? What if it isn't interesting? What's my passion and what major reflected that? I decided that my first real decision I would make at Howard University would be not making one at all, and I believe that is what helped me in the long run. In life, we must reflect on ourselves, what we want, where we're trying to go, and what our true passion is. I realized that before I could confidently confirm a major, I first had to do some searching within myself. Who is Kayla and who does she want to be? During my time at Howard, I became more aware of the injustices around me, which is what encouraged me to become a political science major. I know for a fact that all of the faculty in the political science department have shaped me into the woman that I am today. I firmly believe that in order for us to change the system, we must first learn the system.
What motivated your GPA increase?
My first year at Howard was tough. I struggled to find my myself and my passion. I became extremely unfocused because I didn't quite know what my purpose was. When my priorities shifted, my grades began to drop tremendously. After a tough freshman year, my sophomore year at Howard was a turning point. When I began taking my education and myself seriously, my academic career improved. I fought to stay at Howard because I knew being at the Mecca was the only thing I was sure of. I learned to balance my social life with my studies, and I received a 4.0 GPA for the fall semester of my sophomore year. When I received that 4.0, I knew I was capable. My ultimate goal for each semester was a 4.0, or at least a 3.0. 
Describe the moment you were notified about being the recipient of the 2019 Reginald F. Lewis Prize.
I heard my last name during Commencement and thought nothing of it. I was like, "oh somebody else has my last name, that's cool." I don't usually meet a lot of people with my last name. But, my aunt, who was watching the commencement ceremony at home, sent me a congratulatory text on my accomplishments. I had no idea what she was talking about and I figured she just heard my last name as I did. The following day, I found out that the name President Frederick mentioned during the commencement ceremony was actually me! I was elated to know that my hard work paid off, and that all of the work I put in did not go unnoticed. Because of this, I am honored to be the recipient of the Reginald F. Lewis Prize.
Now that you've graduated from Howard, where are you headed next?
Post Howard, I plan on taking a gap year to become a licensed cosmetologist, which is something that I've wanted to do since being a little girl. After receiving my cosmetology license, I plan on obtaining a joint law degree and masters of business administration. My goal is to open a hair salon that specializes in braids and extensions. Additionally, I plan to start a law practice that caters to civil rights cases. 
###
ABOUT HOWARD UNIVERSITY
Founded in 1867, Howard University is a private, research university that is comprised of 13 schools and colleges. Students pursue studies in more than 120 areas leading to undergraduate, graduate and professional degrees. The University operates with a commitment to Excellence in Truth and Service and has produced four Rhodes Scholars, 11 Truman Scholars, two Marshall Scholars, one Schwarzman Scholar, over 70 Fulbright Scholars and 22 Pickering Fellows. Howard also produces more on-campus African-American Ph.D. recipients than any other university in the United States.  For more information on Howard University visit www.howard.edu.
MEDIA CONTACT
Ramzey Smith, Office of University Communications, ramzey.smith@howard.edu