In 2018, landfills received 11.3 million tons of textile municipal solid waste, most of which was discarded clothing. As the environmental impact of waste grows more evident, pockets of the fashion industry are making strides to decongest these landfills by intercepting and upcycling potential waste to create art. Centering his brand on this mission is Kenzell Munroe, a Howard University senior who recently partnered with Atmos in a workshop showcasing the intersection of fashion and sustainability.
In anticipation of the upcoming release of the Jordan 11 Retro Varsity Red, sneaker and streetwear boutique Atmos, and Colorway Agency took notice of Munroe's brand, asking him to construct one of his signature upcycled tote bags live in front of an audience. The collaboration provided 12 guests with Munroe's one-of-one totes and, in the spirit of upcycling, encouraged them to manipulate the product and create something new.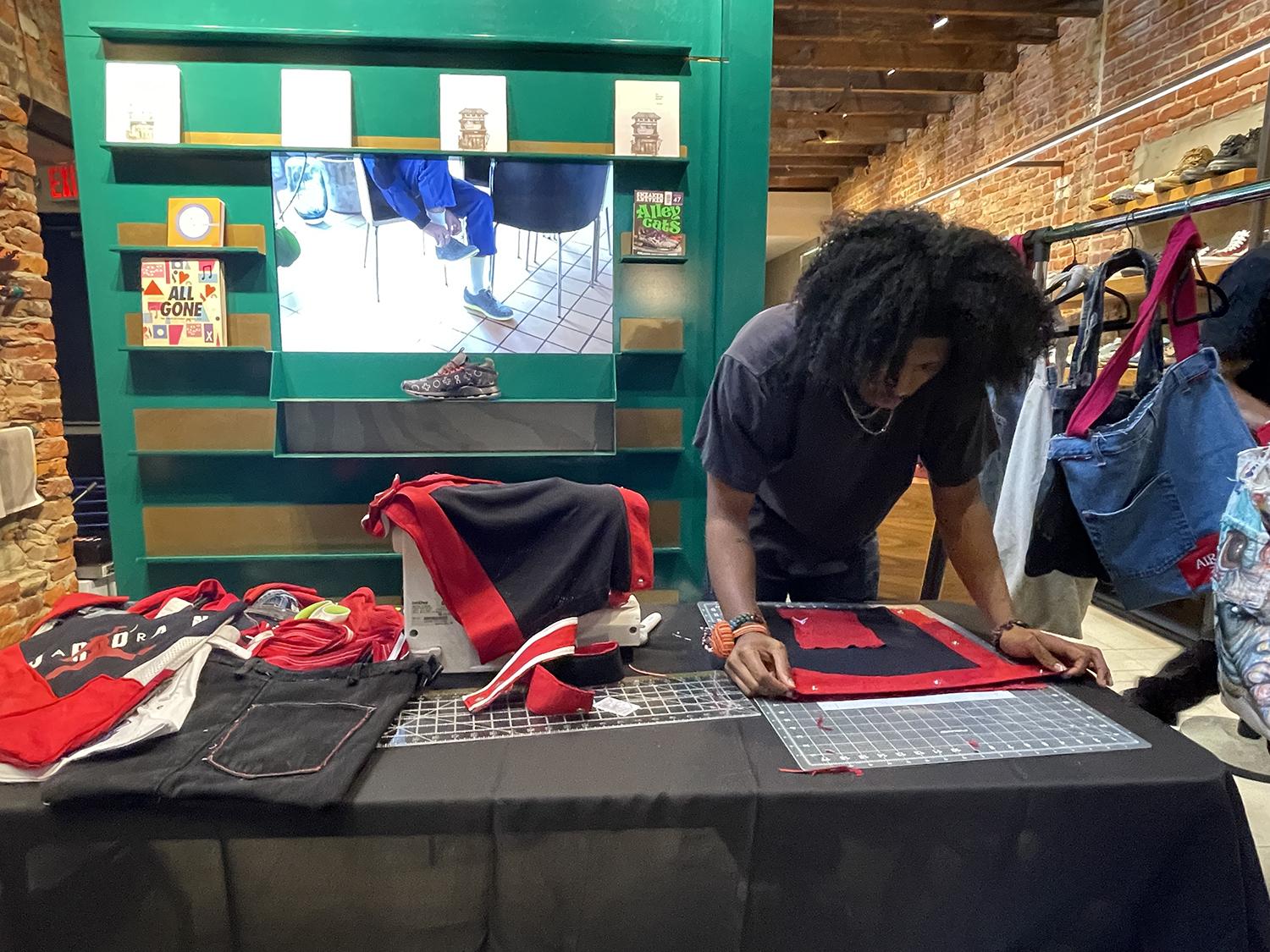 Growing up in Philadelphia, Munroe recalls being especially perceptive to the harmful environmental practices that would lead to his dutiful connection to nature.
"I like nature, I love the earth….Why are we polluting where we live – where our future generations have to live? I just think it's important to preserve our Earth and preserve our home." 
Given his background, when confronted with the dilemma of sourcing fabric to complete his coursework at Howard, upcycling was the obvious choice. By scouring thrift stores, utilizing donations from friends and family, and preserving some of his own well-loved garments, Munroe was able to rework denim and cargo materials to create original, cohesive, and functional pieces
"Being at Howard, I just learned how to sew not so long ago in my sophomore year… Dr. [Barbara] Gause was a fashion professor in the department. She taught me how to sew and for my very first project I made a tote. I still use it and it's still intact, it's just really raw and I love it," explained Munroe.
"​​That just kind of got me in the groove of a sewing machine, just learning the ins and outs. That was the Fall semester. So that Christmas, I got [a] sewing machine and on winter break I made another bag, and it just kept stacking."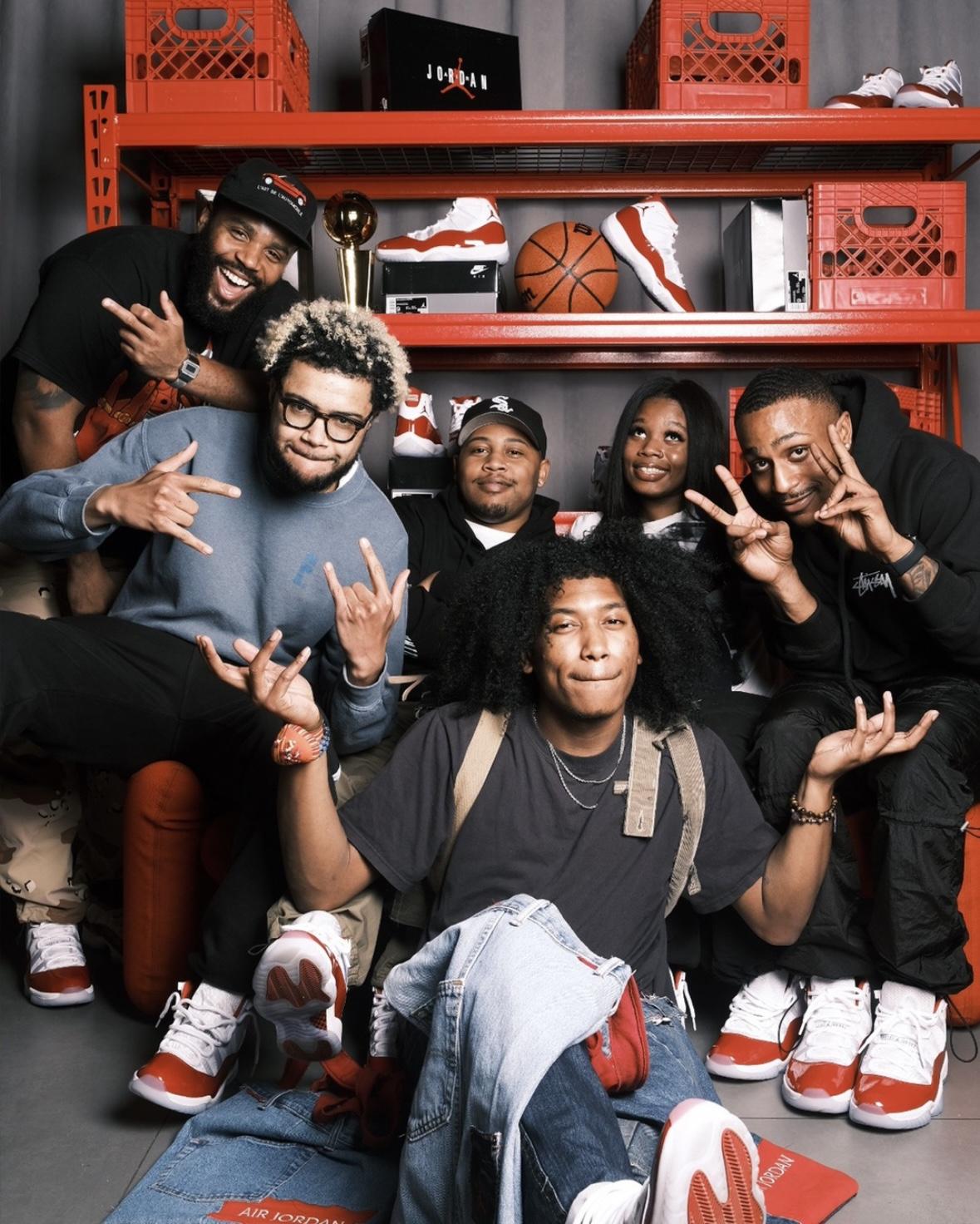 By the end of the year, Munroe's totes had garnered enough attention to prompt the launch of his brand, Things of that Nature. By the early spring semester of 2020, the denim and cargo totes had become one of the yard's most popular accessories.
"[Howard students] are definitely my main customer and it's always awesome. One day- definitely pre-pandemic. There was this party at Banneker, and including mine… I saw four or five of my bags just out and about on the Yard that day, and that feeling was just great." 
Despite circumventing the obstacles that sustainable production may present, such as limitations to colors and textures, Munroe still strives to use his work to demonstrate his love for the environment. 
"It's hard to look at a denim bag and know that nature inspired it. I'm gonna make it more evident. I definitely want to get into dying bags, too. Mixing my own natural dyes with vegetables, fruits and plants. You boil it and it gives it a color… I'm probably going to do that this upcoming year."
As Munroe plans new ways to push the limits of sustainable fashion, he encourages newer artists to maintain a clear meaning and purpose behind their brand. 
"Make sure you get your message across, don't just do it just to do it. Have some type of ethos behind it. Feel like it's important. That'll show in your work if you're really passionate about what you believe in."