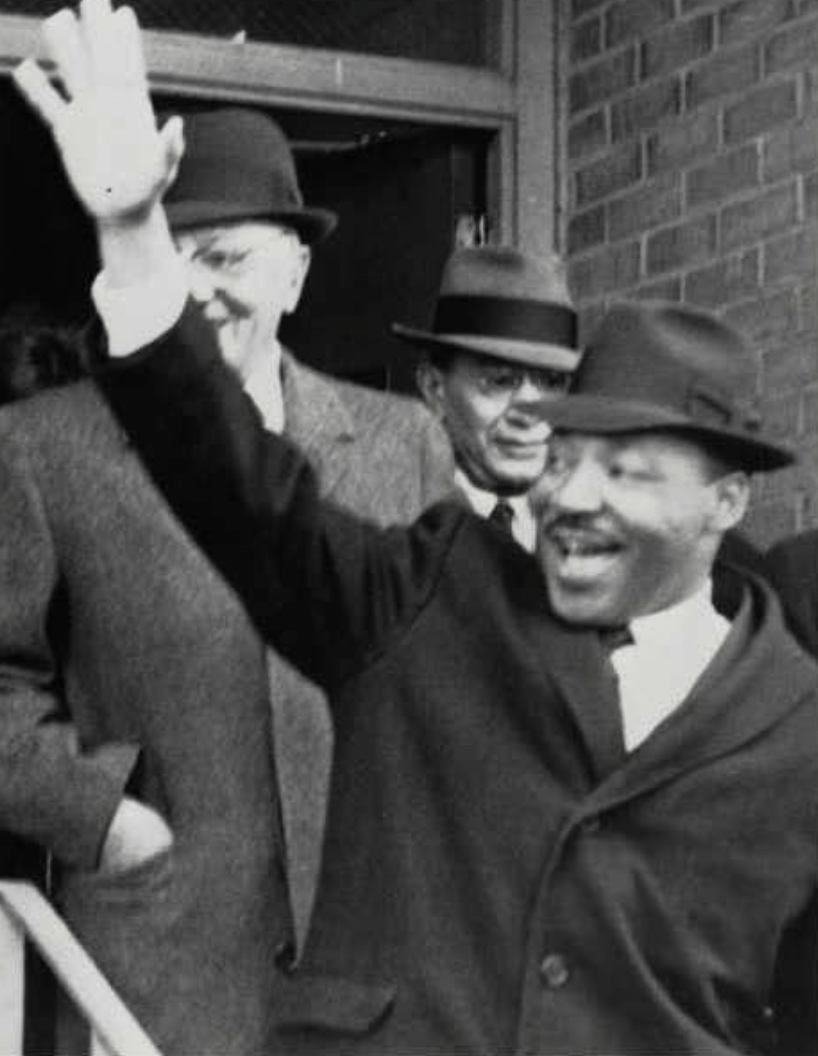 "Violence might bring about temporary victory but never permanent peace," Martin Luther King Jr. once told a room of Howard students.
It was the 5th annual Gandhi Memorial Lecture on November 6, 1963. As the iconic face and leader of the American civil rights movement, Dr. King's timeless words, like many others he had spoken at Howard, left an indelible mark on the students who were present – and on those who hear them repeated today.
Dr. King, a Baptist minister and activist from Atlanta, a graduate of Morehouse College, and a follower of both Christian ideals and the teachings of Mahatma Gandhi, firmly believed in nonviolent protest. He used this philosophy to lead the fight for civil rights, including the 1955 Montgomery bus boycott, which propelled him to the national spotlight, as well as the March on Washington in 1963, where he delivered his "I Have a Dream" speech. His nonviolent approach to combatting racial inequality won him the Nobel Peace Prize in 1964 and set a firm example for many other civil rights leaders to follow through the years.
Through his years as an activist leader until his assassination in 1968, he made several visits to Howard University. His presence can still be felt decades after he walked across the Howard campus, where thousands of continue to walk along the footsteps he left behind. His stalwart leadership and uplifting words continue to reverberate across Howard, where the echoes of his leadership set an example for generations to follow, practice and emulate.
Dr. King's first visit was on December 6, 1956, when he delivered a morning sermon at Rankin Chapel called "Remember Who You Are" and a dinner address entitled "The Three Dimensions of a Complete Life" for the Day of Prayer Services during Religious Emphasis Week. He wrote a thank-you letter to the dean of the chapel, of which a copy is maintained in the Howard archives.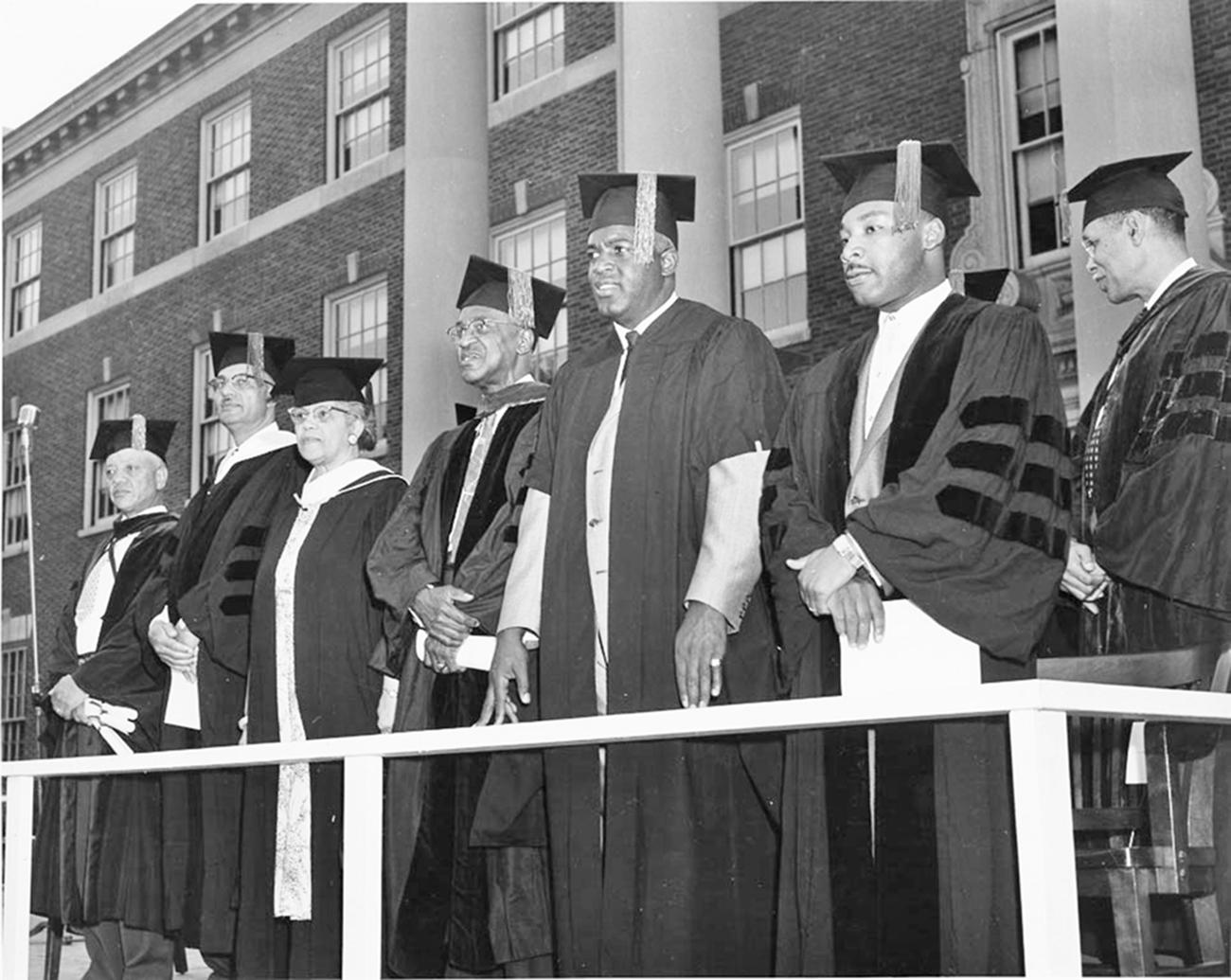 The 28-year-old reverend returned to Howard for commencement in 1957 to receive an honorary degree along with famed professional baseball player Jackie Robinson and ACLU director Patrick Murphy Malin. In November of that same year, Dr. King delivered the "Love Your Enemies" address during the convocation for the School of Religion.
He returned to Howard on November 6, 1963, where he delivered the Gandhi lecture, condemning violence in the fight for equal rights. In his talk, he said that acquiescence – or living with their oppressors – was not an option for African Americans, nor was violence. Violence "ends up leaving everybody blind," while nonviolence was "the most potent weapon of freedom."
He would speak again at Howard at the 98th Charter Day on March 5, 1966, in Cramton Auditorium, in which he called to eliminate the "world's three towering evils – racial injustice, poverty, and war."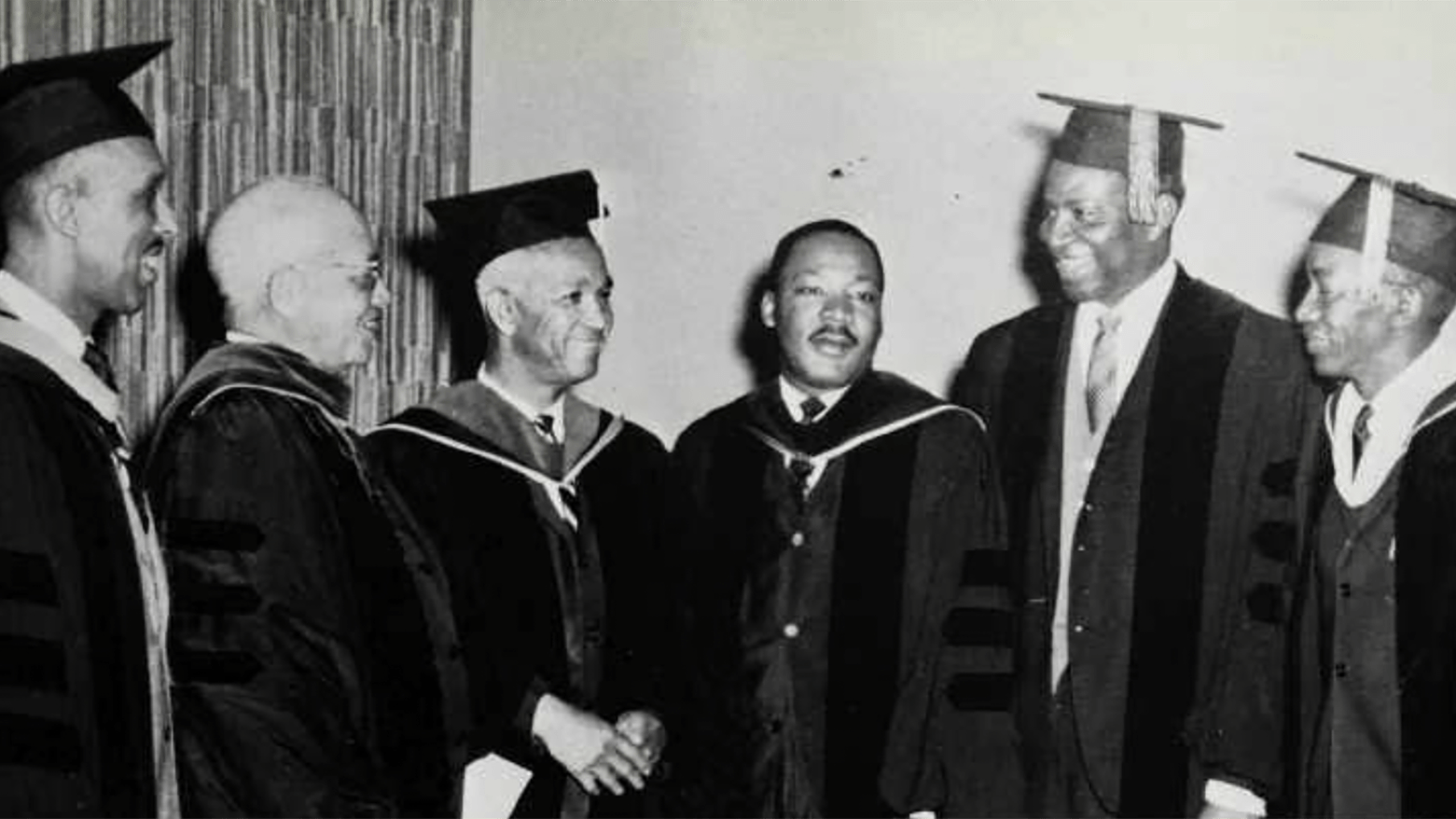 Dr. King's last visit to Howard was on November 9, 1966, where he again delivered the Gandhi Memorial Lecture in the gymnasium of the physical education building. In his speech, he continued to condemn violence, stating "that riots were a self-defeating phenomenon – that it merely gives whites justification for their bigoted behavior." He also cautioned against the "myth of time" in which people believe that time alone could solve problems of racial injustice.
"Time is neutral. It can be used either constructively or destructively," Dr. King said to the audience. "The forces of ill will in our nation have often used time much more effectively than the forces of goodwill. We may well have to repent in this generation not merely for the vitriolic words and the violent actions of the bad people … but we will have to repent for the appalling silence and indifference of the good people who sit around and say, 'wait on time.' Somewhere we must come to see that human progress never rolls in on the wheels of inevitability."