As we bring Women's History Month to a close, we must continue to observe, encourage and commemorate women's vital roles throughout history.  
Now is the time we can encourage women of today to celebrate how their efforts bring forth progression and change. With that being said, we want to spotlight and celebrate the budding artist and aspiring clinical therapist J'Lynn Terroade in anticipation of the great work she'll spearhead in the near future.  
Fellow Bison J'Lynn Terroade was born in Denver, Colorado, and raised in a culture of activism and artistry. J'Lynn expresses her art through various mediums, but her most passionate form of expression is through painting. Now a recent alum, J'Lynn shares her academic trajectory and ambitious career and advocacy goals with us.
What brought you to Howard?
I'm the first in my family to attend Howard. I knew I wanted to be at an HBCU. But I also wanted to be out of state, definitely. I applied to a few schools. Howard seemed like "the one" for me. It [has] the most prestige, and I got in with a merit scholarship. So, I took a leap of faith. Everyone's been supportive. 
Why did you choose psychology, what are your intentions, and how are you incorporating art?
I took AP Psychology in high school. I had a really great teacher and fell in love with the curriculum and the study of the mind. I decided I wanted to become a student of human nature. I chose psychology as my major because it felt natural and was an easy decision to make. When I first applied to Howard, I hadn't declared a minor. I grew up doing all sorts of performing arts and visual arts. There isn't a moment in my life where I wasn't immersed in some form of self-expression.
In my first year at HU, I realized that I was just doing the prerequisites and things dedicated to psychology. I realized quickly that I was missing the academic component of art in my life for the first time.
I needed to incorporate art somehow, especially in my collegiate endeavors. I declared my painting minor in my sophomore year. I was able to take a couple of courses on campus before the pandemic. My psychology professor Monique Major was a psychology major and painting minor when she did her undergrad at Howard. She would tell us about her matriculation during our Research Design and Analysis class. She's been a guiding force for me, helping me figure out how to combine art and psychology in a career. With my declaration of painting as my minor, I've started channeling my energy toward the field of art therapy. 
I've recently been accepted into three master's programs for art therapy. GW, Pratt and NYU. I'll be pursuing art therapy during the Fall. 
Is art therapy about the therapist or the patient receiving? Will the patient create the art, or will the therapist create art for the patient?
It's a different approach to therapy. [That] is an approach to psychotherapy that can be nonverbal rather than expressing your feelings just through talking analysis. You'll be able to create pieces and express yourself through drawing, sculpture, painting, collaging and various art forms. Of course, you're able to speak about whatever you're going through or maybe a challenge that you're trying to seek help with, but you'll be able to do so through your art. The patient is asked questions that they can answer through their artwork. There are posed questions that can guide them through their art, allowing them to express themselves in ways they may have been unable to verbally articulate.
And congratulations on your acceptance to your master's program; that is absolutely wonderful! Let's discuss your art pieces that were inspired by Black women. Do you want to tell us who those Black women were or where the inspiration came from? Who was your muse?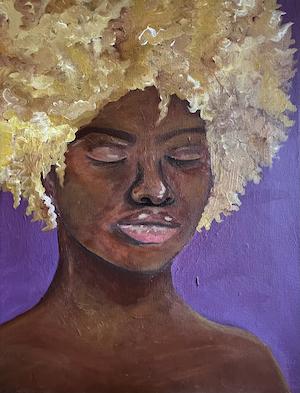 The portrait "That's So" was originally supposed to be a self-portrait, but I definitely borrowed pieces from a lot of people in my life – my mom, my friends, my roommates, just people that I look at every day. I borrowed their features, their expressions; it's actually the first time I've done a portrait freehand. Before, I've sketched portraits where I had guidance, and I'd use different tools to help me make the face. But this one is completely freehand. 
"Faces of the Movement" is an abstract piece, again, inspired by people in my life. I created that for a march I was invited to speak at. The central focal point is a Black woman, but I have to say it was pulled from the exact same inspiration – my mother, my friends, people that I talk to and see every day. I'm surrounded by creators and people who keep me inspired and activated in every aspect of my life. The facts surrounding that focal point in that painting are meant to represent the community. If you look at the piece, you may see people you know, like your classmate, an uncle, a cousin, someone you may see walking down the street. Maybe no one you talk to, but see them frequently, just different people in your life; that's what I wanted that piece to represent.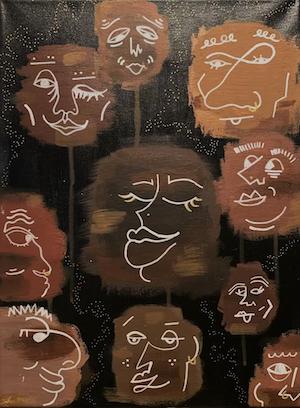 Do you keep your pieces, or are they on exhibit somewhere?
I do art shows regularly; actually, about two art shows a month. I do sell prints. I've sold a couple of originals, but "Faces of the Movement," I still have the original copy. I've held on to most of the art I've created since I've started my minor for sentimental value. Once I'm at the point where I'm ready to release them, I will. But at this point in time, they're still my babies, so I hold onto them. But I do show them frequently.
 I can see how that would be hard to let go, putting so much love, passion and thought into something. I get that. Who is your favorite female artist? Let me be more specific, who is your favorite female painter? 
Being a graduate assistant for the James Porter Colloquium I'm able to archive and learn about really prominent Black artists who are famous in the world and in D.C. and in the Black community. So I've had the honor of actually speaking to and learning more about Lilian Thomas Virgo. She's been really inspirational. It's one thing to see someone's art and appreciate it and another to speak to them about it. She's definitely someone I look up to and admire.
Who is your mentor?
Marie Major is my professor, but she has taken on a role just in the sense that she is a point of contact for me. I would say she's a guiding force for me. She is also inspirational; she's someone I can ask questions to about research or conferences. Providing useful information to help me get to where I need to be. 
In the field of therapy, what areas of clinical therapy do you see yourself focusing on? Do you have a targeted demographic? Do you intend on targeting a type of therapy for, let's say, addiction, abused women or all people, etc.?
I think my main focus will be reaching out to marginalized people as a whole. Ensuring art therapy is accessible as a resource that can be utilized. I want to make sure that communities where those who look like me or identify like me can access those resources. I want to make art therapy accessible to Black people as a whole while also seeing the artwork in galleries and art spaces. 
Any final thoughts or comments for our readers?
Yes, continue to celebrate Black women, continue to buy Black art and support Black artists.
​