The Orthopaedic Women of Howard (OWH) recently held its inaugural research symposium at Howard University Hospital, with the mission of celebrating medical and scientific research within the Howard University community, while promoting mentorship, academia and interdepartmental collaboration and collegiality. For this event, OWH collaborated with various student specialty groups on campus, the Dental School and the Howard University Health Professions Society/Howard MAPS Chapter (HUHPS).
OWH was founded in 2019 by Rolanda Willacy (MD '20), post-graduate year three orthopaedic surgery resident at Howard University Hospital, during her time as a medical student at Howard. The organization was developed to increase diversity in a specialty where only 6% of board certified surgeons are women. At the inaugural symposium on September 8, 2022, more than 160 guests were present. Howard University Hospital chief executive officer Anita Jenkins delivered an address about the significance of research not only within the medical community, but also in her own personal experience.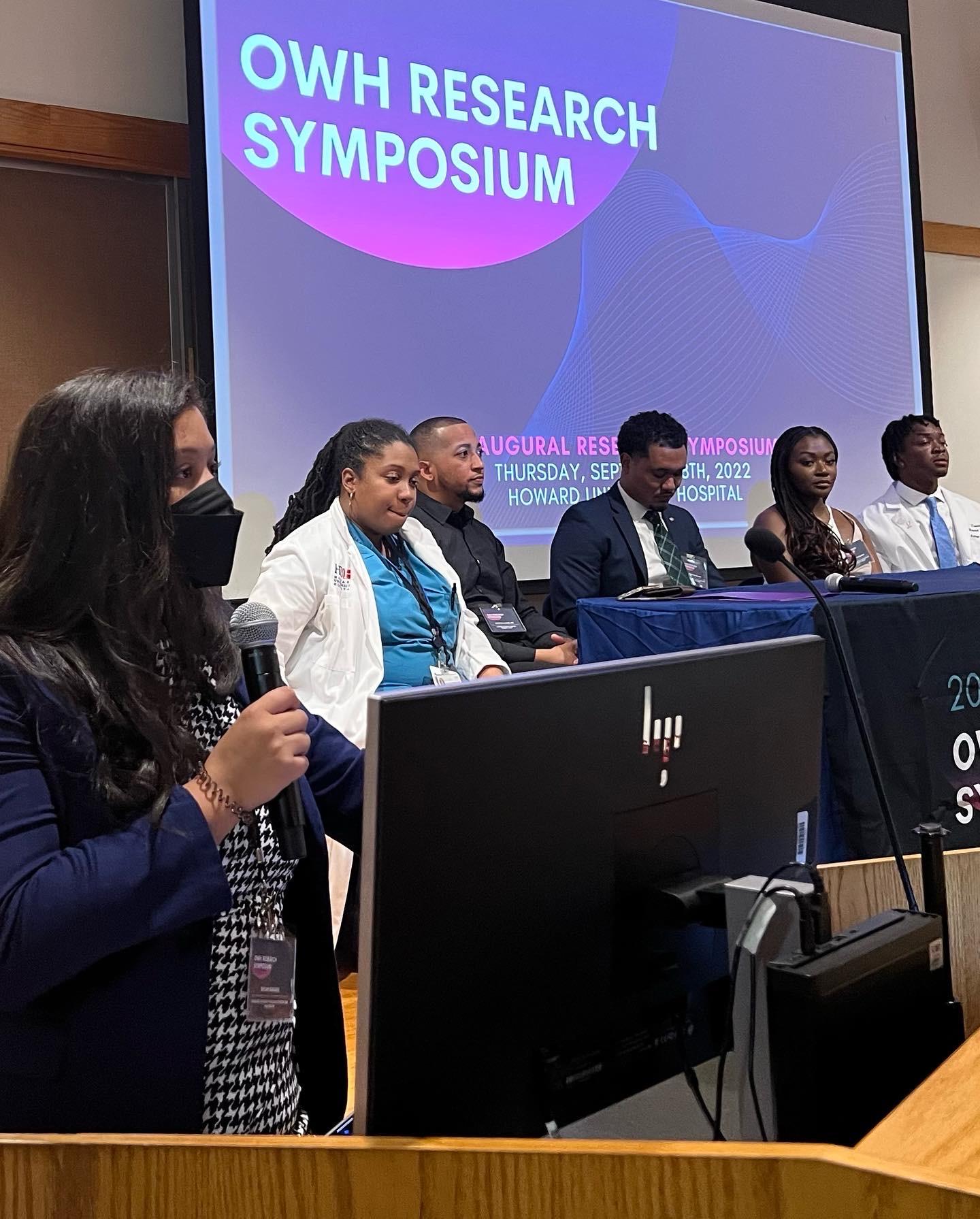 "I am honored to be a part of this wonderful event that shines a bright light on some amazing women physicians who are doing great things to bring change to our community. Dr. Willacy and her team have created a platform where we can raise awareness for greater diversity while championing women in orthopedics for their knowledge, expertise and leadership skills," Jenkins said.

"The sharing of our personal experiences shows that we are more alike than different in so many ways. I commend OWH for your ongoing efforts to promote mentorship, cooperation and collaboration within the medical field, which will have a positive impact on health outcomes in our community."
During Willacy's tenure at the college of medicine, she took an academic research year to strengthen her application process prior to applying for the orthopaedic match. During that year, she discovered a love for research, quality improvement projects and developed a greater appreciation for the contributions that research plays in the advancement of medicine. But more than that, she saw the importance of collaboration and teamwork. "I wanted to create a formal event to celebrate the research accomplishments of the student body, and the various departments on the Howard University Campus and Howard University Hospital," she said.
This symposium featured over 70 student poster presentations in a wide array of specialties including orthopaedic surgery, dermatology, family medicine, internal medicine, surgery, obstetrics and gynecology, emergency medicine, neurosurgery, and psychiatry. It was organized by symposium research committee chair Ndidi Njoku and the student members of the committee. Following the poster presentation session, a panel discussion was moderated by Regan Burgess, a fourth year medical student. Medical students Damon Ross Jr., Jonathan Willard, Temitayo Adanlawo; and residents Marika Tate, M.D. and Jeduthen Harris, M.D. shared their experience and advice on the medical school admissions process and matching successfully to the specialty of their choice.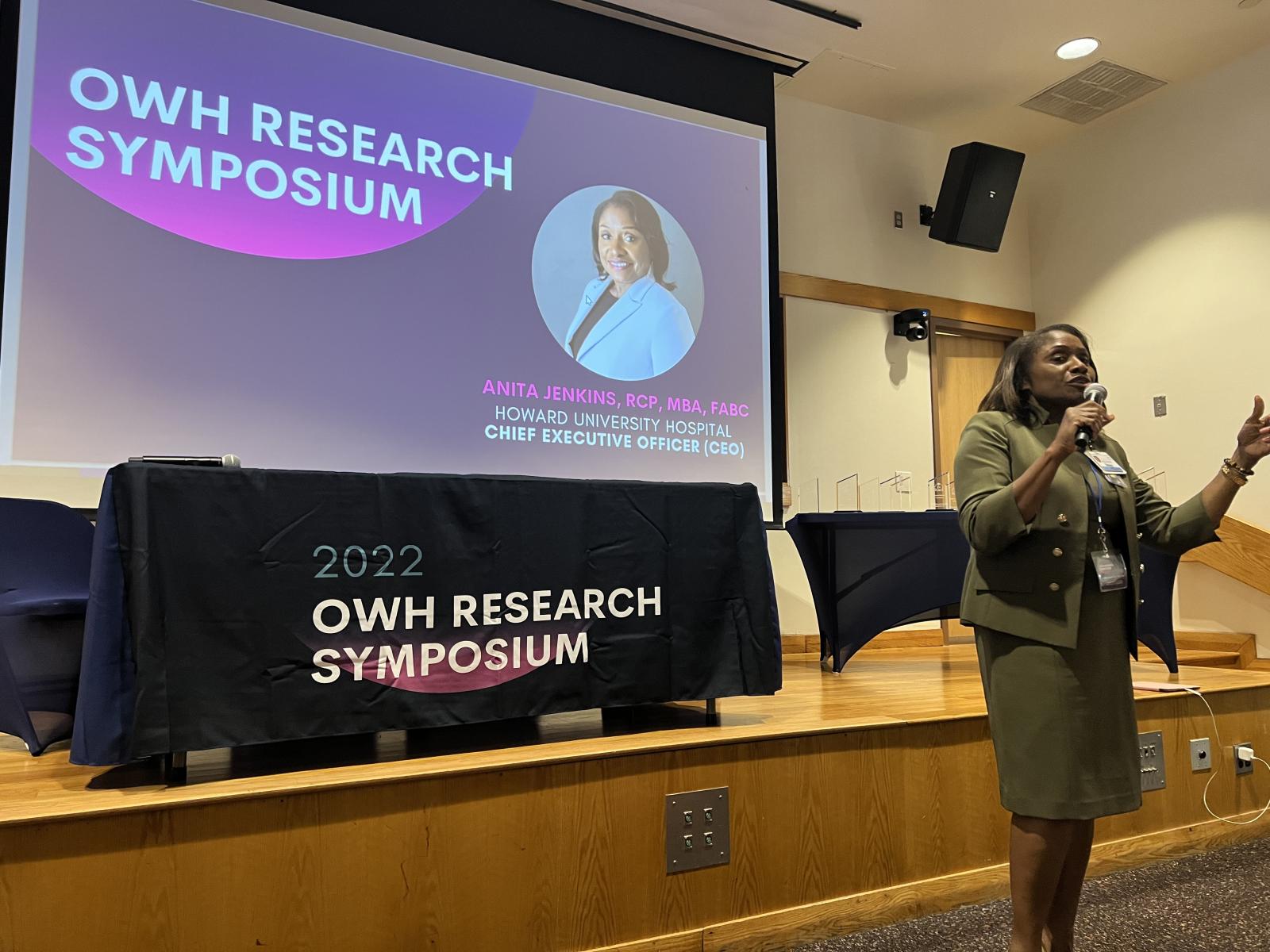 The judges for each category were provided with standardized evaluation forms, and afterwards scores were tallied. The symposium concluded with an awards ceremony in which students awards were presented.
"I am looking forward to the second annual OWH Research Symposium which will expand upon the mission of celebrating academia in medicine, collaboration, mentorship, and the development of more resources for the Howard community," Willacy said.