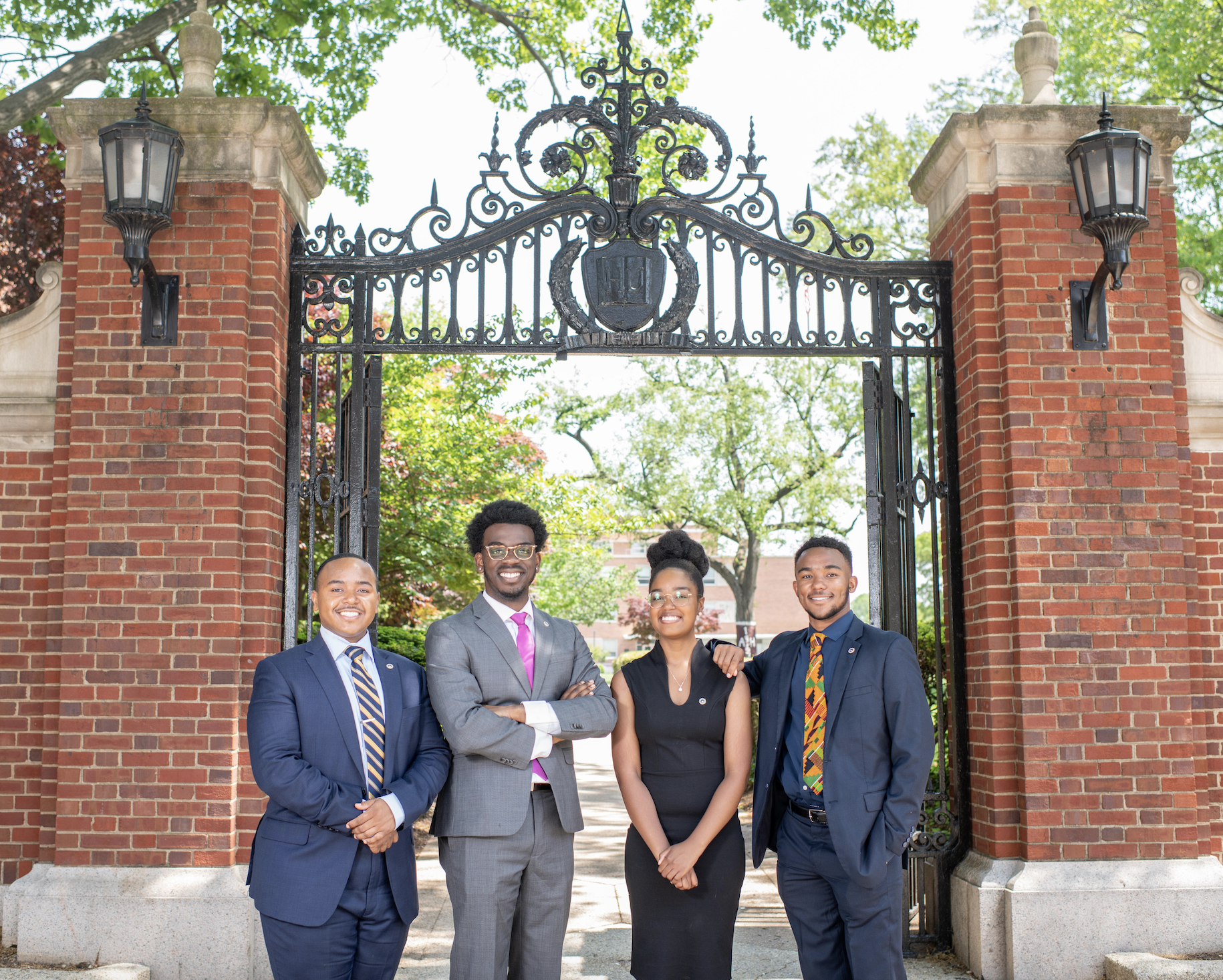 WASHINGTON — Howard University is pleased to announce seven Howard University Fulbright finalists who received prestigious Fulbright Scholarship Program awards and other grants for the 2019-2020 academic year from the U.S. Department of State and the J. William Fulbright Foreign Scholarship Board. Included in this year's Howard University Fulbright awardees are four graduates of Howard University, one current student, and two Howard faculty members.
"My warmest congratulations to Howard University's distinguished Fulbright students, alumni and faculty," says President Wayne A. I. Frederick. "I applaud our latest group of accomplished Howard University Fulbright recipients for their outstanding commitment to scholarship, as well as their dedication to making an impact, here at home and across the world." 
Howard University has produced more than 70 Fulbright award recipients since the program's inception in 1946. This year's recipients are among 2,100 U.S. citizens who will study, conduct research, and teach abroad for the 2019-2020 academic year. Recipients are selected based on academic and professional achievement, as well as their record of service and leadership potential in their respective fields. 
The Fulbright Scholarship is the U.S. government's flagship international educational exchange program, which is designed to build lasting connections between the people of the United States and the international community. Fulbrighters address critical global challenges in all disciplines while building relationships, knowledge and leadership in support of the long-term interests of the United States.
Fulbright U.S. Student Program        
Destiny Casson, Indianapolis, Ind., graduated with honors in 2016 from Howard University with a Bachelor of Science in psychology. In collaboration with policy researchers, psychologists and anthropologists at the Universidade Federal do Recôncavo da Bahia, as well as local mental health advocacy organizations, Casson will study the extent to which the distinct needs and culture of Brazil's African descendant population are acknowledged in the mental health arena. Casson has been selected for a Fulbright Brazil Research Award.
Norman Harris II, Memphis, Tenn., graduated this year with a Bachelor of Science in psychology. Following graduation, Harris will go to South Africa to teach, where he plans to use his experiences as an African American to offer inspiration to his students. He believes this international experience will further aid him on his journey to becoming a medical doctor. Harris has been selected as a Fulbright South Africa English Teaching Assistant.
Aidan Keys, Takoma Park, Md., graduated in 2019 with a Bachelor of Arts in English and a Bachelor of Arts in Spanish. At Howard, she served as co-president of the Sterling Allen Brown English Society, co-editor of the literary magazine Sterling Notes and worked as a tutor at the Howard University Writing Center. In her college career, she interned in Lisbon, Portugal, and studied in Granada, Spain. Currently, she interns at the Smithsonian Center for Folklife and Cultural Heritage. After Howard, she plans to become a professor of comparative literature. Keys has been selected as a Fulbright Brazil English Teaching Assistant.
Jamon Thomas, Chicago, Ill., a 2019 graduate with a Bachelor of Science in biology, aspires to be a dermatologist and cosmetic surgeon. Thomas will research antibiotic-synergy methods against vancomycin-resistant enterococci at the Polish Academy of Sciences in Wrocław, Poland. He will also study dermatological drug therapy and reactions. His research will aid in lowering the cost and reducing the toxicity conventional antibiotics pose to individuals living with bacterial infections, which will provide substantial contributions to the fields of medicine and infectious disease prevention. He has been selected for a Fulbright Research Award. 
Fulbright UK Summer Institute
Danurius Williams, a rising junior and environmental studies major, has been selected to attend the Fulbright UK Summer Institute at the University of Exeter in South West England. As a participant of the Fulbright Summer Institute, he will complete a four-week cultural and academic program for students from the United States that is focused on climate change issues.
Fulbright International Education Administrators (IEA) Award
Anthony D. Wilbon, Ph.D., PMP is associate dean for Academic Affairs and Administration at the Howard University School of Business. Wilbon has been selected for the Fulbright U.S.-France International Education Administrators Seminar Program. As a participant, Wilbon will participate in a group seminar designed to familiarize U.S. higher education administrators with France's higher education and research system. The program consists of briefings, campus visits, appointments with selected government officials, networking and cultural activities and meetings with French international education professionals. 
Fulbright Specialist Program
Melanie Carter, Ph.D. is associate provost for Undergraduate Studies at Howard University. Carter will join the Fulbright Specialist Program at a host institution in South Africa where she'll share expertise, strengthen institutional linkages, hone skills, gain international experience, and learn about South African culture.
*Photo (left to right): Jamon Thomas, Norman Harris II, Aidan Keys, Danurius Williams
# # #
About Howard University
Founded in 1867, Howard University is a private, research university that is comprised of 13 schools and colleges. Students pursue studies in more than 120 areas leading to undergraduate, graduate and professional degrees. The University operates with a commitment to Excellence in Truth and Service and has produced four Rhodes Scholars, 11 Truman Scholars, two Marshall Scholars, one Schwarzman Scholar, over 70 Fulbright Scholars and 22 Pickering Fellows. Howard also produces more on-campus African-American Ph.D. recipients than any other university in the United States. For more information on Howard University, visit www.howard.edu.
Media Contact: Misha Cornelius, misha.cornelius@howard.edu