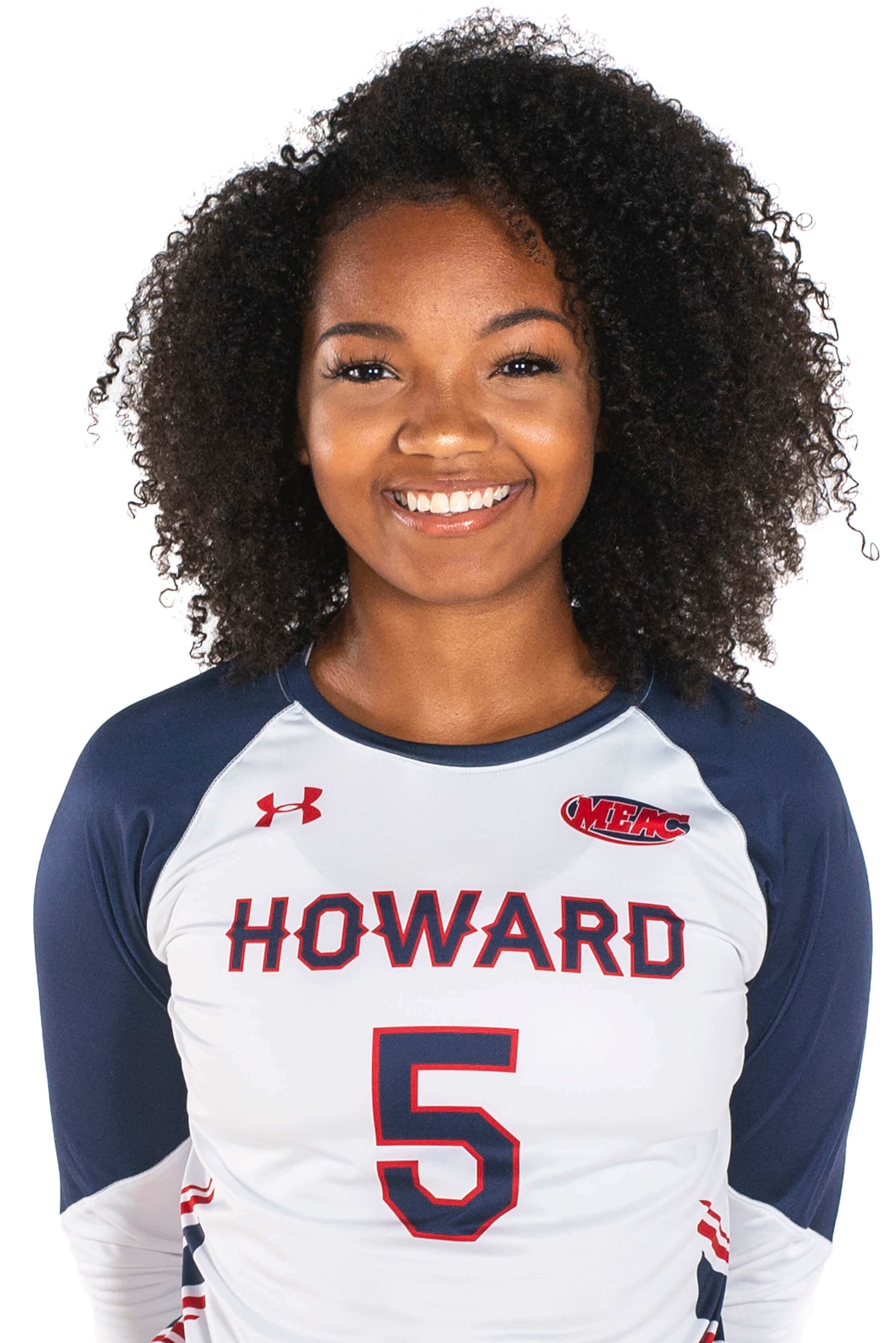 WASHINGTON – When Howard University student athlete Jurnee Farrell signed up for the Be The Match registry during a "Get In The Game" campus drive, she didn't know if she would ever be called upon. However, when her phone rang two years later and she discovered she was a match for a 57-year-old woman suffering from acute lymphoblastic leukemia, she did not hesitate to participate. 
"The football team was hosting a Be The Match booth after Coach London had donated bone marrow to his daughter," recalls Farrell. "I filled out a little form and turned it in. When I got the call a few months ago, they asked if I was still interested in donating. I didn't hesitate to say yes because this is somebody's life and there was no way I could say no to that."
Farrell is a senior criminology major from Denver, Colorado, and a member of the Howard University MEAC Championship Volleyball team. Wearing jersey No. 5 as a defensive specialist, Farrell is known for her bubbly personality off the court and her intensity on the court. At senior night, the day before her donation, the entire team rallied behind her in support of her decision. Unfortunately, the timing of the donation process meant that Farrell was not able to participate in this year's MEAC playoffs with her teammates, who brought home their fifth MEAC championship on Nov. 24. 
"Of course, we were sad to miss out on having Jurnee play in the playoffs, but this is such a worthy cause and we were happy to support her all the way," says Head Volleyball Coach Shaun Kupferberg. "What she is doing speaks directly to Howard University's mission of truth and service, that each student comes here not only to learn, but to make a difference in the global community. I'm extremely proud of her decision."
Thanks to several medical advances, the process to donate stem cells has drastically changed over the years. In addition to bone marrow donations, doctors can also use a stem cell procedure called Peripheral Blood Stem Cell (PBSC) donation through a short 4-hour out-patient procedure where blood is circulated from one arm, into a machine and then back into the donor. 
Beth Carrion, account manager for Registry Growth and Development, says individuals like Farrell help to demystify the giving process and raise awareness of the need for a more diverse donor registry. The chances of finding a match for a stem cell transplant is dependent on a person's genetic markers. Outside of a family member, finding a donor within in one's ethnicity is the next viable option. According to Be The Match, each year approximately 14,000 patients are waiting for a transplant from someone outside of their family. The current odds to match a patient with a donor in one out of 430.
"Be the Match is truly thankful for our partnership with Howard University because it plays a vital role in helping the African American community have a higher rate of finding a match," says Carrion. "A white person in the registry has a 78 percent chance of finding a match. For Hispanics, it's 46 percent, but for African Americans, it's only a 23 percent chance. We look forward to hosting more events with Howard this spring." 
One week after her procedure, Farrell is back at volleyball practice with her fellow teammates, preparing for the Tournament. As she looks to finish out her senior year, she says she's also hopeful that she'll get to meet the woman she helped one day.
"After the donation, I can have anonymous communication, but I cannot tell my identity. After a year, they will deem the transplant successful and then we can communicate," says Farrell. "I for sure want to meet her." 
To join the Howard University registry, text Howard to 61474, follow the prompts and a kit will be mailed to you. You may also register online at join.bethematch.org/howard. 
# # #
Media Contact: Alonda Thomas, Alonda.Thomas@Howard.edu