WASHINGTON – Howard University was welcomed into the University Partnership Program of the U.S. Space Force during a virtual ceremony April 11.
Vice Chief of Space Operations Gen. David D. Thompson and Howard University Provost and Chief Academic Officer Anthony K. Wutoh signed the memorandum of understanding from their respective locations at the Pentagon and Howard's campus in Northwest Washington, D.C.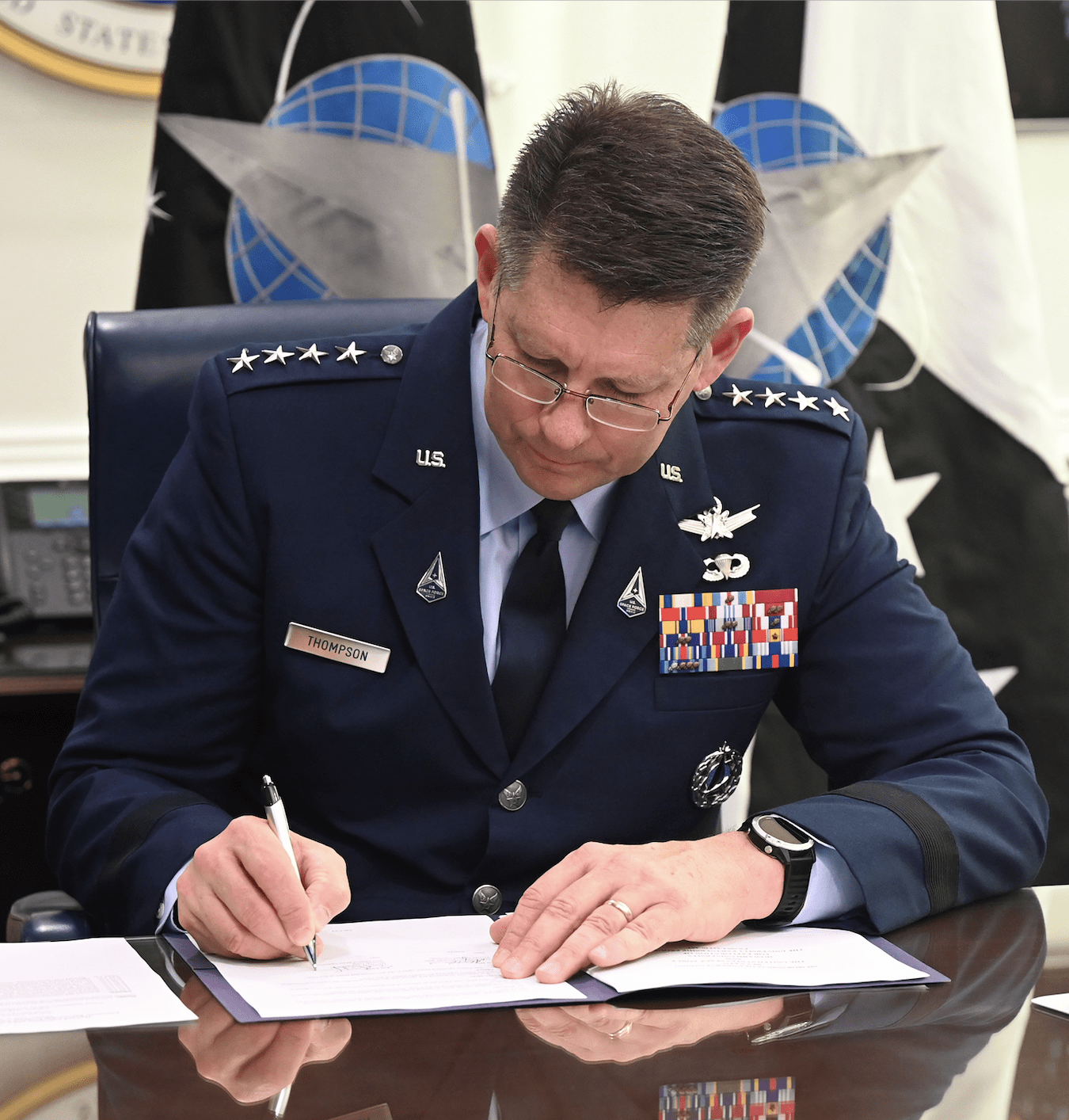 "The purpose of the Howard University partnership with the Space Force is to advance STEM research while supporting important national security objectives," said Wutoh. "We also expect our collaboration to inspire creativity and learning among a diverse group of leaders among students and faculty."
Establishing strategic partnerships with a select set of nationally renowned universities enables the Space Force to recruit and educate a diverse and tech-savvy guardian workforce, create opportunities for advanced academic degrees, open channels for university students and ROTC cadet scholarships, and establish world-class research opportunities.
"As we grow the Space Force University Partnership Program, we are joining with academic institutions with a variety of strengths and opportunities," Thompson said. "Howard University is a producer of world-class science and engineering talent, particularly among the African-American community. We know that Howard can help us develop future guardians who can bring the technical expertise and diversity of thought and experience we need to serve the nation's security interests in space."
With a focus on workforce development, the University Partnership Program aims to provide a consistent pipeline of talent through internship, mentorship, scholarship and fellowship. The UPP also provides research opportunities for university students, including U.S. Air Force Academy and Air Force Reserve Officer Training Corps cadets, and select uniformed military and civilian members of the Space Force.
The other universities currently in the UPP are Georgia Institute of Technology; Massachusetts Institute of Technology; Purdue University; University of Colorado; Boulder and Colorado Springs; North Carolina Agricultural and Technical State University; University of North Dakota; University of Southern California; University of Texas, Austin and El Paso; and the University of Texas system.
The UPP institutions were selected based on four criteria: the quality of STEM degree offerings and space-related research laboratories and initiatives; ROTC program strength; diversity of student population; and degrees and programming designed to support military, veterans and their families in pursuing higher education.
About Howard University
Founded in 1867, Howard University is a private, research university that is comprised of 14 schools and colleges. Students pursue more than 140 programs of study leading to undergraduate, graduate and professional degrees. The University operates with a commitment to Excellence in Truth and Service and has produced one Schwarzman Scholar, three Marshall Scholars, four Rhodes Scholars, 12 Truman Scholars, 25 Pickering Fellows and more than 165 Fulbright recipients. Howard also produces more on-campus African American Ph.D. recipients than any other university in the United States. For more information on Howard University, visit www.howard.edu.
Media Contact: Sholnn Freeman; sholnn.freeman@howard.edu