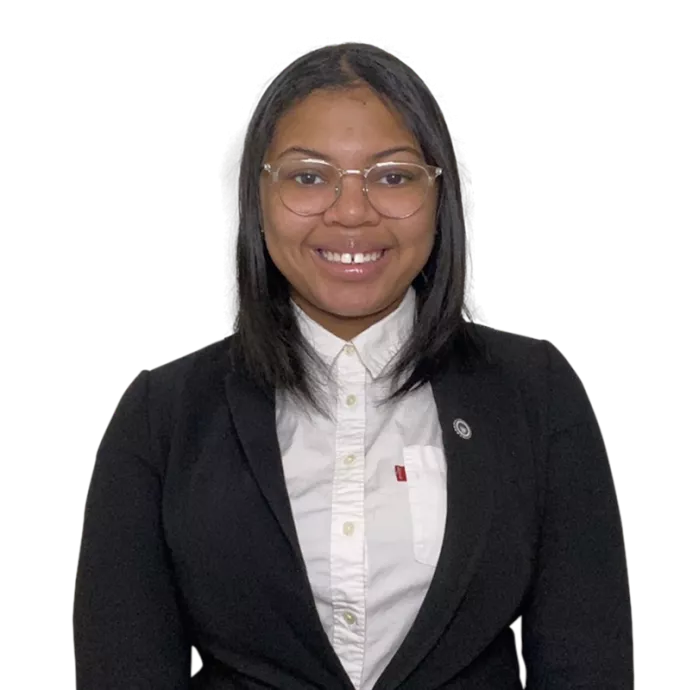 WASHINGTON – Howard University senior journalism major Monet Heath (B.A. '23) has been selected for the 2022-2023 Rhoden Fellowship, a year-long journalism training program with Andscape, formerly known as the Undefeated.
Heath is a reporter for Spotlight Network, a training organization at Howard for students majoring in broadcast journalism, TV, audio production and film. Heath, a Detroit native, hosts Spotlight's sports program entitled Balling with Bison.
"It feels amazing to be selected out of the hundreds of applicants that applied for the Rhoden Fellowship," said Heath. "As a Rhoden Fellow, I hope to take away skills that help me grow as a journalist. I want to be able to tell meaningful stories and connect with influential Black athletes."
Award-winning sports columnist William C. "Bill" Rhoden launched the fellowship, in partnership with Andscape, as an opportunity to increase diversity and inclusion in sports journalism. Each year, undergraduates from historically Black colleges and universities apply to participate in the internship.
"I'm honored to welcome the sixth class of Rhoden Fellows into the Andscape family," said Rhoden, Andscape columnist and editor-at-large. "You are a part of a great tradition of aspiring HBCU journalists who have come through our program. You will be working with an extraordinary team of professionals who will expand your horizons in ways you cannot imagine. Thanks to everyone within the Disney universe whose support of historically Black colleges and universities continues to make this unique fellowship possible."
Part of the fellowship's learning curriculum includes writing from various onsite events, producing weekly podcasts, pitching creative storytelling ideas and contributing content published on the Andscape digital hub.  
"Another class of outstanding fellows will join our team and collaborate on several assignments throughout the upcoming year," said Monique Jones, managing editor, Andscape. "We welcome them and are prepared to help each fellow reach their highest potential."
To learn more about the Rhoden Fellow Initiative, visit Andscape.com.  
###
About Howard University
Founded in 1867, Howard University is a private, research university that is comprised of 14 schools and colleges. Students pursue more than 140 programs of study leading to undergraduate, graduate and professional degrees. The University operates with a commitment to Excellence in Truth and Service and has produced one Schwarzman Scholar, three Marshall Scholars, four Rhodes Scholars, 12 Truman Scholars, 25 Pickering Fellows and more than 165 Fulbright recipients. Howard also produces more on-campus African American Ph.D. recipients than any other university in the United States. For more information on Howard University, visit www.howard.edu.
About Andscape
Andscape is a Black media platform dedicated to creating, highlighting, and uplifting the diverse stories of Black identity. Magnified by the power and reach of ESPN and The Walt Disney Company, the Andscape umbrella includes an editorial division, book publishing arm, film and television division, and music publishing group – each united by the shared mission of illuminating the culture and experience of Blackness. Founded in 2022, Andscape is a reimagination, expansion and diversification of The Undefeated's former platform.
Media Contact: Aaliyah Butler; aaliyah.butler@howard.edu