WASHINGTON – The Howard University Graduate School is pleased to announce that 20 doctoral students have been awarded the Ernest E. Just-Percy L. Julian Graduate Research Assistantship for the 2022-2023 academic year. The merit-based Just-Julian Assistantship saw a 20 percent increase in applicants from the previous year.
"The awardees, selected by an interdisciplinary faculty committee on the basis of academic achievement, scholarly interests and research potential, represent the pinnacle of student scholarship across the Graduate School's academic divisions," says Dana A. Williams, dean of the Howard University Graduate School.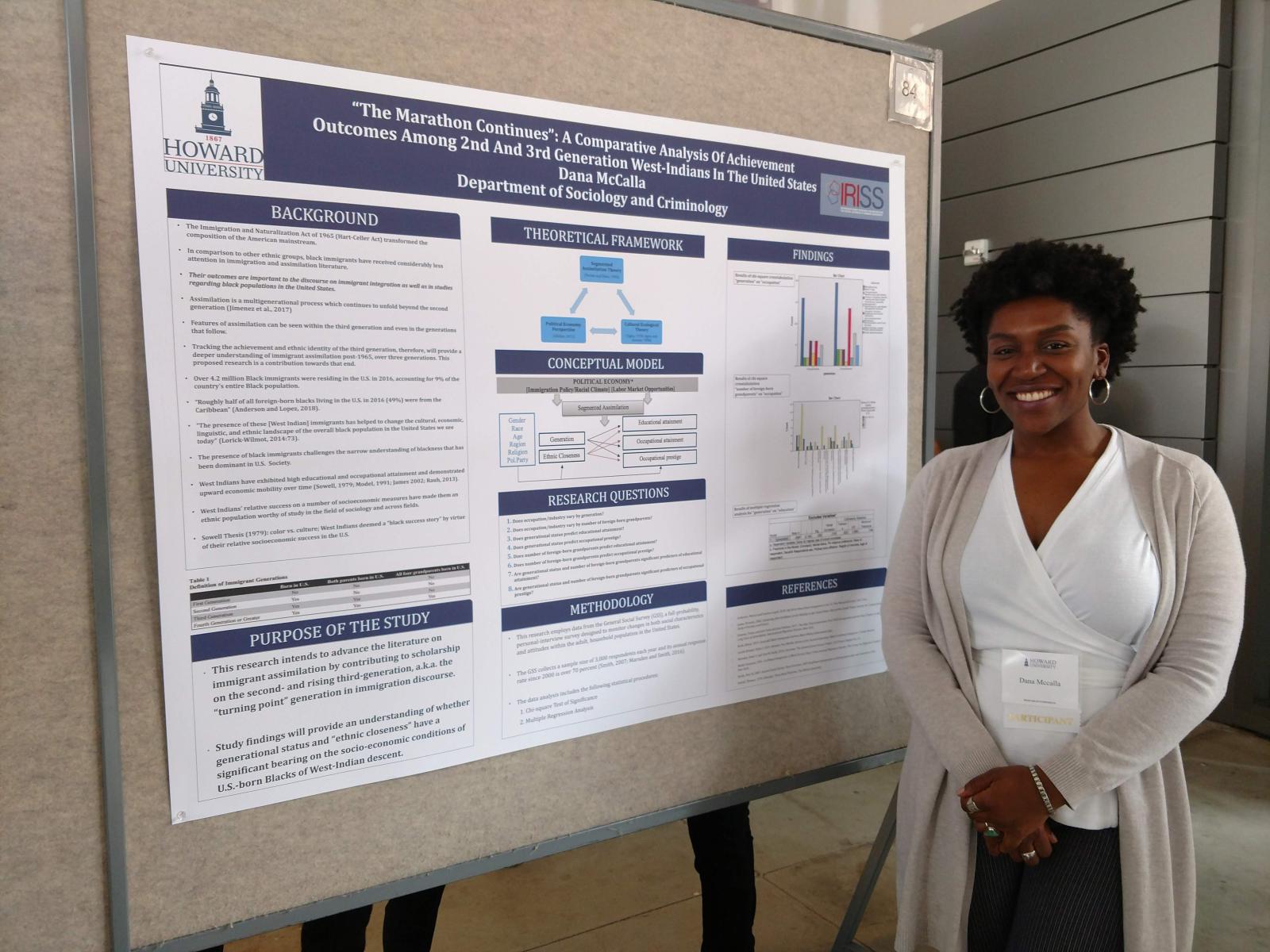 The Graduate School congratulates the 2022-2023 cohort of Just-Julian scholars, along with their faculty advisers:
Jean Claude Abeck (Mohamed Camara, African Studies and Research)
Ikeoluwa Elizabeth Apata (Dharmaraj Raghavan, Chemistry);
Marcy Beutlich (GiShawn Mance, Psychology);
Theodore Boyomo (Kimberly Jones, Civil and Environmental Engineering);
Alissa Charvonia (Ezer Kang, Psychology);
Terri Davis (Wei Sun, Communication, Culture and Media Studies);
Victor Ejigah (Emmanuel Akala, Pharmaceutical Sciences);
Marian Foster (Debra Roberts, Psychology);
Jasmine Fuller (Haydar Kurban, Economics),
Sama Ghadiri Gargari (Solmaz Tabtabaei, Civil and Environmental Engineering); Majumder Haider (Imtiaz Ahmed, Electrical Engineering);
Christine Kindler (Ezer Kang, Psychology);
Vidhyanand Mahase (Shaolei Teng, Biology);
Bharathi Mandala (Emmanuel Akala, Pharmaceutical Sciences);
Dana McCalla (Eleanor King, Sociology and Criminology);
Maneesh Pandeya (Wei Sun, Communication, Culture and Media Studies);
Ashley Riley (Catherine Quinlan, Counseling Psychology);
Catherine Saunders (Dana Williams, English);
Tiffany Wheatland (Jean-Michel Mabeko-Tali, History); and
Brandyn White (Mildred Pointer, Biology).
"The newest Just-Julian scholars are committed to upholding the rich traditions of rigorous research and student-faculty collaboration that defines Howard scholarship," Provost Anthony K. Wutoh noted.
From environmental and food process engineering to mental health and biostatistics to pan-African internationalism and nanoparticle cancer therapies, the research projects the scholars will undertake during their assistantships embody Howard's core values of excellence, leadership, service and truth and advance the University's aim to develop scholars and professionals who drive change and develop solutions to contemporary global problems. The scholars themselves recognize the tremendous opportunity that the Just-Julian Assistantship provides for enhancing their research activity.
When notified that he was selected for the award, scholar Victor Ejigah remarked, "I was ecstatic when I learned I would be a recipient of the Just-Julian Assistantship. The process of applying for the award has given me clarity and the laser focus required for the cutting-edge research I'm currently undertaking."
Scholar Catherine Saunders expressed similar sentiments about the assistantship's impact on her research goals: "The Just-Julian award will help me tremendously in the final year of my doctoral program. I look forward to developing my idea of the 'Afrodemia,' a critical lens through which I read African American literary texts, as a part of my dissertation and for publication in a peer-reviewed journals in my field. I'm excited to do this work at the premier institution for Black literary studies, and I know this award will strengthen my application for a tenure-track when I finish my studies at Howard."
Scholars also noted that the assistantship will help them address their practical needs as graduate students. Marion Foster said, "The award will afford me the opportunity to enhance my research skills and work in closer collaboration with my research adviser while preparing me to be a well-rounded researcher in clinical psychology, all without the obstacle of financial constraints."
For Bharathi Mandala, the assistantship will allow her the freedom to focus on her research: "It has been a challenge to manage my teaching assistant position and several tutoring positions at Howard to pay my tuition and living expenses. I have invested a considerable amount of time preparing undergraduate students, leaving less time to focus on my research. This award will make it easier to spend time on scientific writing and allow me to equip myself with the knowledge and skills required to become a fully qualified researcher."
Established in academic year 2017-2018, the Just-Julian Assistantship is a competitive, one-time award designed to give Howard doctoral students an opportunity to gain experience in their respective academic fields by working as research assistants on faculty research projects or on their own projects under the close guidance of faculty. 
"This award is intended to assist in preparing graduate students to undertake their own future research projects and to provide them the mentoring necessary to prepare award winning applications for external awards in the future," Provost Wutoh said. "We know their achievement during this award year is just the beginning for them." 
###
About the Graduate School
As one of the nation's largest producers of African-American students who complete doctoral degrees, Howard's Graduate School takes pride in its efforts to diversify the professoriate nationwide. Formally established in 1934, the school's 1976 reorganization led to its current structure, with divisions in the arts and humanities, biological and life sciences, engineering and physical sciences, and social sciences. Today, the Graduate School offers 28 master's and 27 doctoral degree programs as well as four graduate certificate programs. For more information about the Graduate School, visit gs.howard.edu.
About Howard University
Founded in 1867, Howard University is a private, research university that is comprised of 14 schools and colleges. Students pursue more than 140 programs of study leading to undergraduate, graduate and professional degrees. The University operates with a commitment to Excellence in Truth and Service and has produced one Schwarzman Scholar, three Marshall Scholars, four Rhodes Scholars, 12 Truman Scholars, 25 Pickering Fellows and more than 165 Fulbright recipients. Howard also produces more on-campus African American Ph.D. recipients than any other university in the United States. For more information on Howard University, visit www.howard.edu.
Media Contact: Aaliyah Butler; aaliyah.butler@howard.edu