WASHINGTON (September 27, 2018) – A homecoming for fashion industry executives and leaders recently served as a training ground for two Howard University students who are both working towards becoming the industry's next trending topic. Camille Wommack, a sophomore fashion design student, and Iran Paylor, a graduate student in fashion design, represented the Howard University Department of Art with professionalism and style during New York Fashion Week (NYFW), a semi-annual series devoted to showcasing the latest international fashion collections to buyers, journalists and fashion connoisseurs.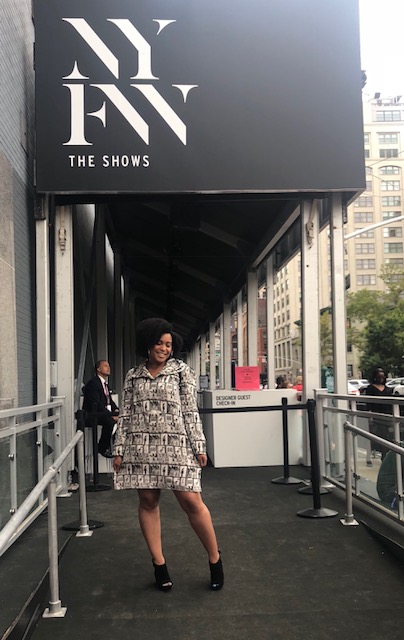 Wommack was invited to NYFW through a student enrichment program created by International Management Group (IMG), a global talent agency that has produced NYFW events for decades. This semester, Howard University is the only Historically Black College or University (HBCU) to partner with IMG College Licensing and IMG's Fashion Division for a unique education experience targeting students interested in fashion industry careers. Wommack and 21 students from across the country, received a behind-the-scenes look at NYFW, including an opportunity to attend two shows and network with industry professionals. 
"It was very inspiring to hear from the professionals on how they reached their current positions in the industry," says Wommack, who designed and created each look she wore during NYFW.  "We met with the creative directors of Champion and Hanes who discussed traveling internationally to forecast trends and how this travel practice aids in the creation of upcoming collections. Now I know how to incorporate my love of travel and fashion into my career."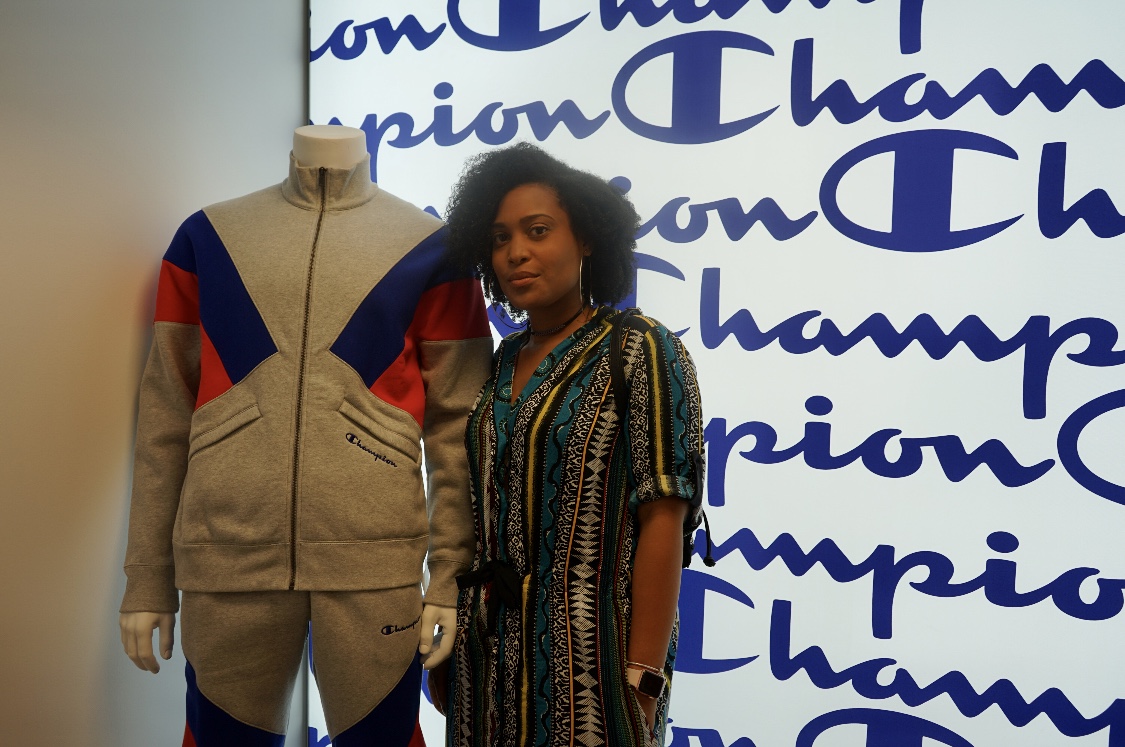 While attending the two shows, Self-Portrait and ICY Presents: Supernova, the students were given backstage tours to experience the operational side of a NYFW production. During a special design lab, the students gained insight into three important elements of the fashion industry – branding, retail buying and merchandising. However, Wommack says a truly memorable moment was attending a panel discussion featuring Tyler Mitchell, the first African-American and youngest photographer to shoot a Vogue cover.
"Tyler's story shows me that all things are possible through hard work. Him being selected at the age of 23 to capture photographs of Beyoncé for Vogue this September is both relatable and motivational," Wommack explained. "I believe his story will continue impacting me moving forward because it shows me the rewards of commitment and determination."
Wommack says while attending Howard she plans to continue the roll out of her brand "Cams Clothes." Upon receiving her degree, she'll have the option to pursue a master's degree while actively working as a designer, just as Paylor does. During NYFW, Paylor, who works as a stylist, choreographer and fashion show producer, collaborated with United Kingdom designer Lola Owolabi to produce a runway show. He has managed the execution of several runway shows at NYFW for the past eight years.
"Working in New York fashion week for the past eight years has allowed me to be able to work with designers from all over the world, and to also create a platform for African Americans in the DMV-area to have access to these resources," Paylor explains. "My professional growth has been tremendous because it's taught me versatility and the ability to adapt to different cultures and environments."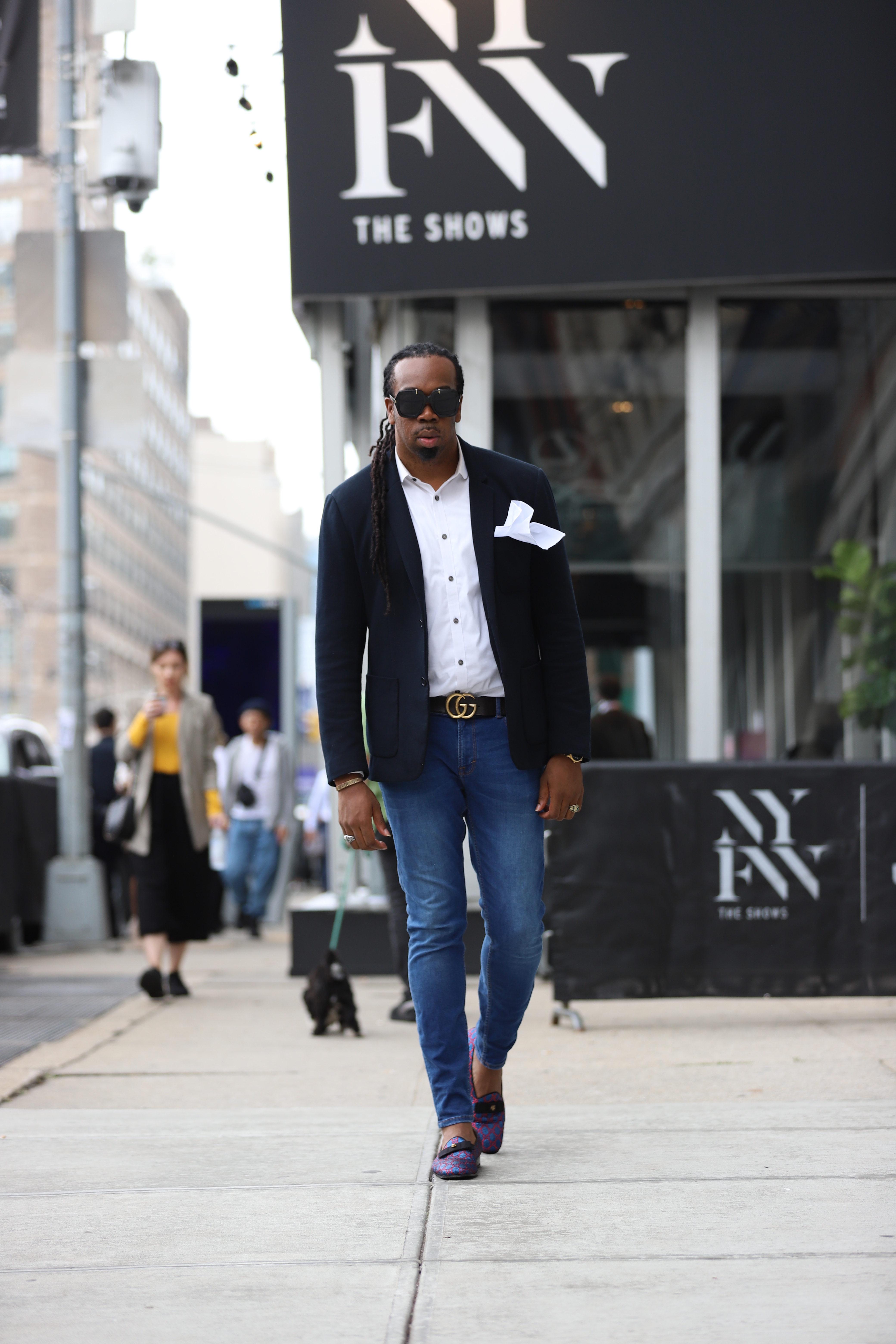 Before attending Howard, Paylor, who serves as a stylist for former Washington Redskins safety DeJon Gomes and Terence Garvin of the San Francisco 49ers, studied communications and journalism as an undergraduate student at Bowie State University. There, while pursuing local opportunities within the fashion industry, he established fashion agency and advocacy organization, Models, Inc.Paylor created Models, Inc. in 2006, as a platform for aspiring models, stylists and producers in the D.C. area to develop their fashion interests through runway shows, fashion extravaganzas and special performances. Most importantly, Paylor says Models, Inc. was created as a safe space for youth and young adults to express themselves a safe, expressive and nourishing environment.
"Models, Inc is just as important today as when it was founded because it still provides an outlet for African American young people with dreams of modeling, acting or dancing. We provide a family atmosphere that brings our members a sense of belonging," Paylor says. "Additionally, community service never goes out of style, and that's one of the main objectives of the organization."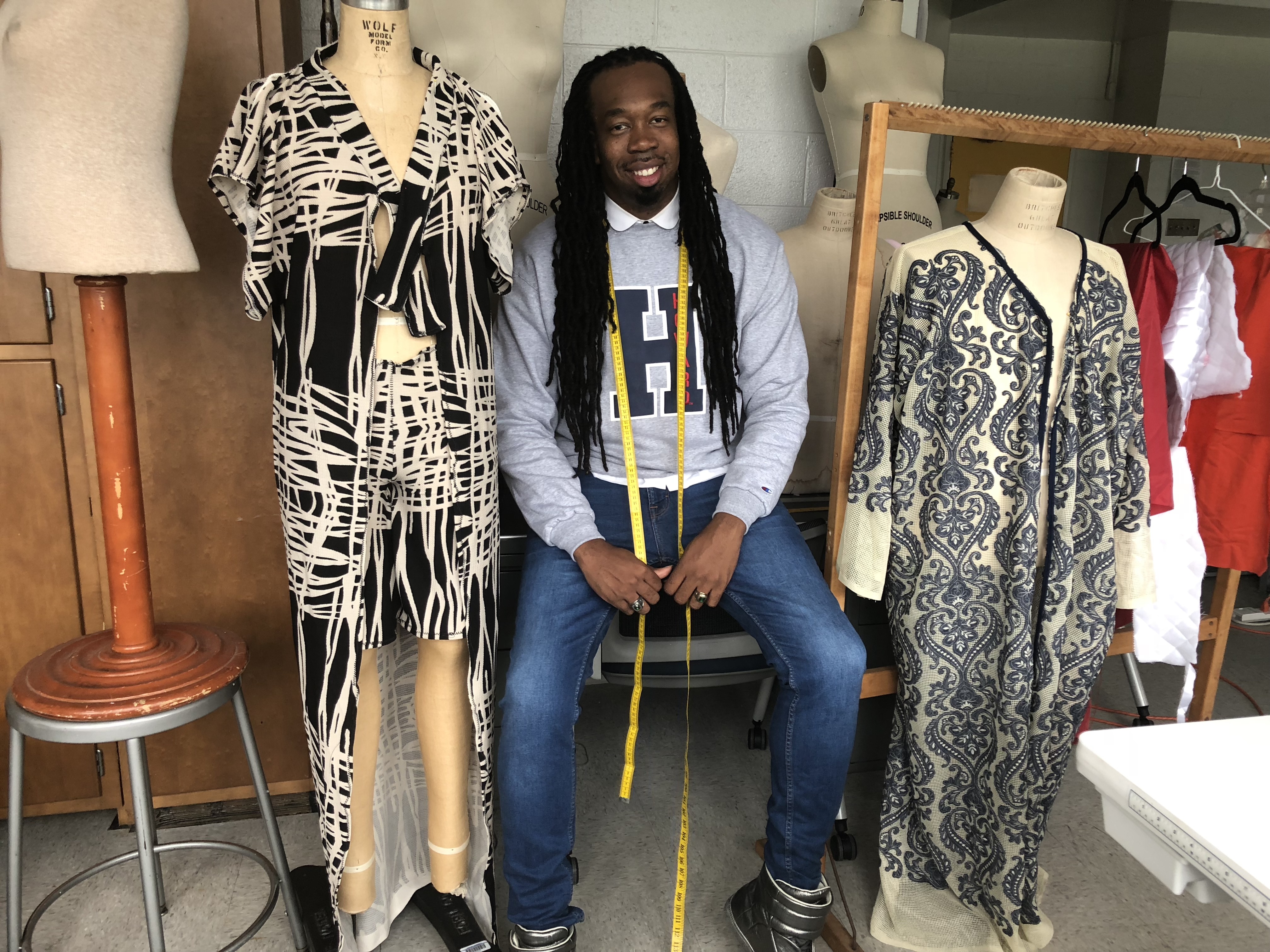 Paylor says his commitment to helping others inspired him to purse a master's degree. He eventually plans to teach and mentor the next generation of industry leaders as a professor of design at a HBCU. Once completing studies at Howard, he plans to become fashion design professor while developing a student designer showcase for design students nationwide to showcase their lines during NYFW. Most recently, Wommack, Paylor and their fellow classmates participated in DC Fashion Week, a biannual series of events for up-and-coming designers to showcase their lines.
"Each year the students participate in DC Fashion Week NEXGEN Fashion Show. The students have been presenting their collections in this event for the past 6 yearsand this positions them for the NYC events, they prepare their collections, select models and interface with media, says Michelle "Mikki" Taylor, MFA, professor of Fashion Design within The Fashion Design Program. "With the inclusion of the varied outside Fashion related projects coupled with studio time and industry experiences, our students are poised to take the fashion industry by storm. I am extremely proud to work with these creative minds."
Taylor says students within the program are currently preparing to participate Mayor Muriel Bowser's Art All Night, where the department is responsible for a fashion pop-up shop and three mini fashion shows. For more information about Art All Night, visit https://www.artallnightdc.com. 
To learn more about fashion design programs offered within the Howard University Department of Art, visit www.art.howard.edu.
###
Photograph #1: Camille Wommack at NYFW, September 2018
Photograph #2: Camille Wommack visiting Champion, HanesBrands Inc.
Photograph #3: Iran Paylor at NYFW, September 2018
Photograph #4: Iran Paylor inside Lulu Vere Childers Hall on the campus of Howard University
About Howard University
Founded in 1867, Howard University is a private, research university that is comprised of 13 schools and colleges. Students pursue studies in more than 120 areas leading to undergraduate, graduate and professional degrees. The University operates with a commitment to Excellence in Truth and Service and has produced four Rhodes Scholars, 11 Truman Scholars, two Marshall Scholars, one Schwarzman Scholar, over 70 Fulbright Scholars and 22 Pickering Fellows. Howard also produces more on-campus African-American Ph.D. recipients than any other university in the United States. For more information on Howard University, visit www.howard.edu.
Media contact: Ramzey Smith, Ramzey.smith@howard.edu