Juneteenth is the holiday that recognizes when Union troops delivered the Emancipation Proclamation to the last known groups of enslaved people in Galveston, Texas. Celebrations have been a cultural moniker in Black communities since the first events in 1865, just two years before Howard University's founding on March 2, 1867. 
But, in 2020, cries of racial justice and inequality prompted legislation that fortified Juneteenth as a federal holiday, for all Americans to celebrate a milestone event in Black American history.  
With mass American culture co-opting and erasing Black Americans from history such as Memorial Day, are the new, non-exclusive Juneteenth celebrations invited? Who determines which Juneteenth celebrations don't marginalize and muddy its original meaning?  
Majority of people who have federal jobs that would get federal holidays, are not all the people that [Juneteenth] celebrates
On June 15, William Carter, 67, was on The Yard in a campus tour for his young granddaughters who hope to be future students. Juneteenth, Carter says, is congruent with America's treatment of African Americans throughout history. 
"It's a negative thing," Carter says on the two-year period between the end of the Civil War and the assumed, final reading of the Emancipation Proclamation in Texas. "They didn't communicate to them that they were free, which is just a ridiculous notion." 
However, Lewis thinks Juneteenth is a moment for people to acknowledge the fullness of American history. He recalls his son, a diversity leader at his company, holding events to educate his colleagues on the history of Juneteenth. 
"He talked about the [Juneteenth] history, and I wish that everybody could've seen what he was talking about, because he really knew and broke it down," Carter, who attended the seminar, says. "Now, all of a sudden, it did not maintain itself or the right consistency." 
Joseph Sturgeon and Solomon Brooks are two rising seniors who study history at the University and labeled Juneteenth as just a dot in the larger context of Black American history.  
"It's an event of historical significance that can't necessarily be ignored if you're thinking about Black people and their march to total freedom and liberation," says Brooks, a Baltimore native.  
The duo acknowledged the history of the American government co-opting Black movements and its celebrations to interrupt the journey to Black self-determination. Juneteenth being a federal holiday also risks the potential of decontextualizing the holiday's historic significance. 
"I would [celebrate] just with the intention of remembering what people are celebrating for," Sturgeon suggests. "I think people view Juneteenth as just like another American milestone that marks further Black assimilation into the American project. No, we're celebrating because people were able to escape slavery and the horrors of slavery." 
Brianna Cozart, a health science pre-med rising junior, is fairly new to Juneteenth celebrations. As a Chicagoan, she attended her first parade last year, while learning about its connection to the Texas community celebrations too. As a newcomer, she discussed how cognitive dissonance from non-Black attendees can be a challenge.
"Instead of coming up to one Black person and asking 'What's all this?!' just go look it up," Cozart said. "[No one should be] receiving all of these 'You're my favorite Black people, Happy Juneteenth!' texts. Celebrate it you want to but don't treat it as something like a day off of work." 
Junious Whitaker IV, M.A., will begin as a PhD student in African Studies this fall, and sees Juneteenth's status as a federal holiday as an opportunity to see Black life throughout history, especially considering the recent bans on critical race theory and books by Black authors.  
"I really encourage any type of highlighting anything related to the African diaspora because...the south putting legislative bans on critical race theory, which is basically just the African diaspora and African studies, we have to...continue to push that Black people have been her long before a lot of things and we have also created a lot of things." Whitaker says. 
Whitaker also encouraged uplifting any celebrations of Black culture. He pointed to this year marking the 50th anniversary of Hip Hop and the ongoing events to celebrate the genre's impact throughout the world.  
"This is to remind you that Black people are much more part of the story of the world, rather just being a Black story and being its own history," he says. 
Christiana McClain shares mixed feelings about the holiday's federal recognition as both a Houstonian and an archivist in the Moorland Spingarn Research Center. 
"It's always nice to be celebrated and acknowledged, but then also majority of people who have federal jobs that would get federal holidays, are not all the people that [Juneteenth] celebrates," She explains. "It's very hard to see, the hard part is that I know there's an erasure aspect of it." 
McClain hopes that the beloved Texas-based holiday can still be traced back to its origins, but keeping Texas traditions in Texas is the biggest goal as celebrations take place nationwide.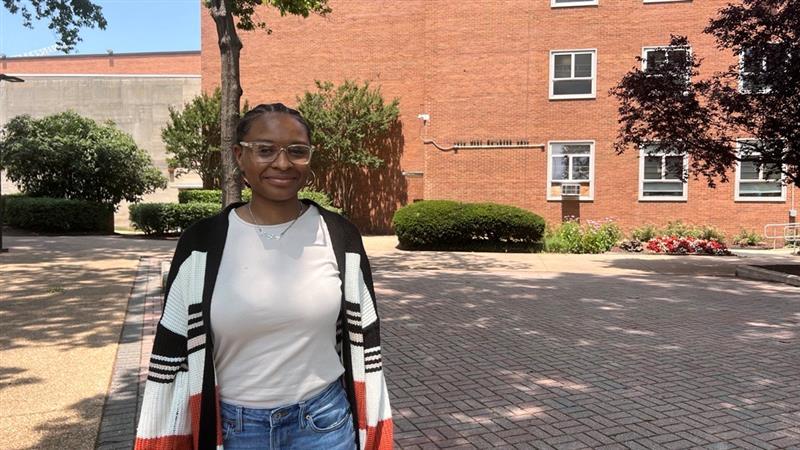 "What I don't want is for some of the trail rides that's really big in Houston to somehow show up in Minnesota, or for it to be an Ohio thing, because it's stripping away the significance just to replicate it," McClain says. "It's nice to have a way to emulate the feeling of putting a plaque somewhere, but not necessarily like a replication of the cultural celebration."  
As an archivist, McClain is also interested in the behind-the-scenes decision-making regarding Juneteenth as a federal holiday, especially in the context of the calls for racial equity in 2020, when the bill was proposed. But archivist can only access that kind of information 75 years from its original decision. 
"Reading that email from the people having the meetings about should we making this a federal holiday or not? That's where the real answer is," McClain says.