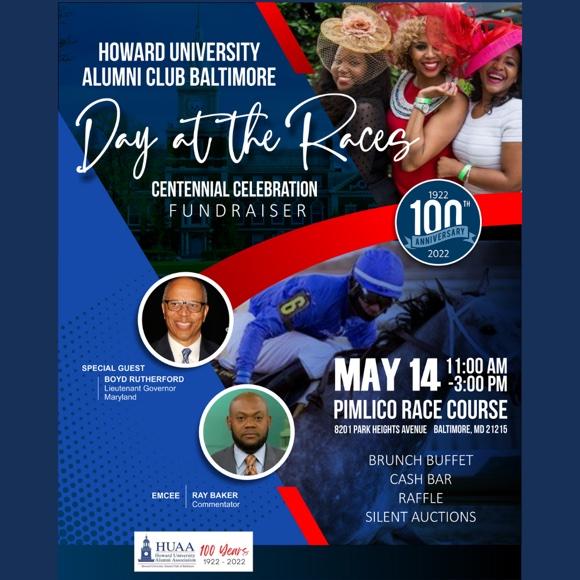 BALTIMORE - The Howard University Alumni Club of Baltimore (HUACB), the oldest active alumni organization of the University, will celebrate its centennial with a scholarship fundraiser Saturday, May 14, 2022, at 11 am at the Pimlico Race Course in Baltimore, Maryland.
HUACB was established in 1922 by a group of prominent physicians and attorneys in the Greater Baltimore metropolitan area. These men had a vision to bring together Howard alumni living in Baltimore and to encourage young people to seek higher education at the University.
The event helps fund the Mamie Carroll Woodford Endowed Scholarship, which provides financial assistance to Howard University undergraduate students who hail from the Baltimore metropolitan area.
The scholarship is named in honor of the late Mamie Carroll Woodford, a 1932 graduate of the University and dedicated past president of the club. She is fondly remembered as one of Howard's loyal and noble daughters because of her outstanding service to the Alma Mater through her leadership as an officer with the Baltimore Club and by her efforts of recruiting students to attend Howard. The scholarship fund was established in 1986 in recognition of Woodford's leadership of HUACB and outstanding efforts of recruiting students to Howard University.
The Baltimore Club's events at the Pimlico Race Course have historically attracted participants from as far north as New York and as far south as Georgia. The event promises to be a day of fellowship and fun with friends and families. Those attending will have the opportunity to enjoy a delicious brunch, place bets on their favorite horses, tour the facility, take a photo with the winning jockey of the club's featured race, and compete in the fanciest hat contest for women. The event will also feature a cash bar and a silent auction.
Several special guests have confirmed their attendance of the celebration, including Eddie (B.S. '61) and Sylvia Brown (B.S. '62), both graduates of Howard who gave a 5-million-dollar gift to the University, Boyd K. Rutherford (B.A. '79), Lt. Gov of Maryland, and Howard Senior Vice President for Development and Alumni Relations, David P. Bennett. 
Please support this worthy event. For information about tickets, contact HUACB History and Communications Chair Lena Ampadu at ampadu7@hotmail.com
The Baltimore Club looks forward to many more years of service to the community and the University.
About Howard University
Founded in 1867, Howard University is a private, research university that is comprised of 14 schools and colleges. Students pursue more than 140 programs of study leading to undergraduate, graduate and professional degrees. The University operates with a commitment to Excellence in Truth and Service and has produced one Schwarzman Scholar, three Marshall Scholars, four Rhodes Scholars, 12 Truman Scholars, 25 Pickering Fellows and more than 165 Fulbright recipients. Howard also produces more on-campus African American Ph.D. recipients than any other university in the United States. For more information on Howard University, visit www.howard.edu
Media Contacts:
Lena Ampadu; ampadu7@hotmail.com
Brittany Bailer; Brittany.bailer@howard.edu