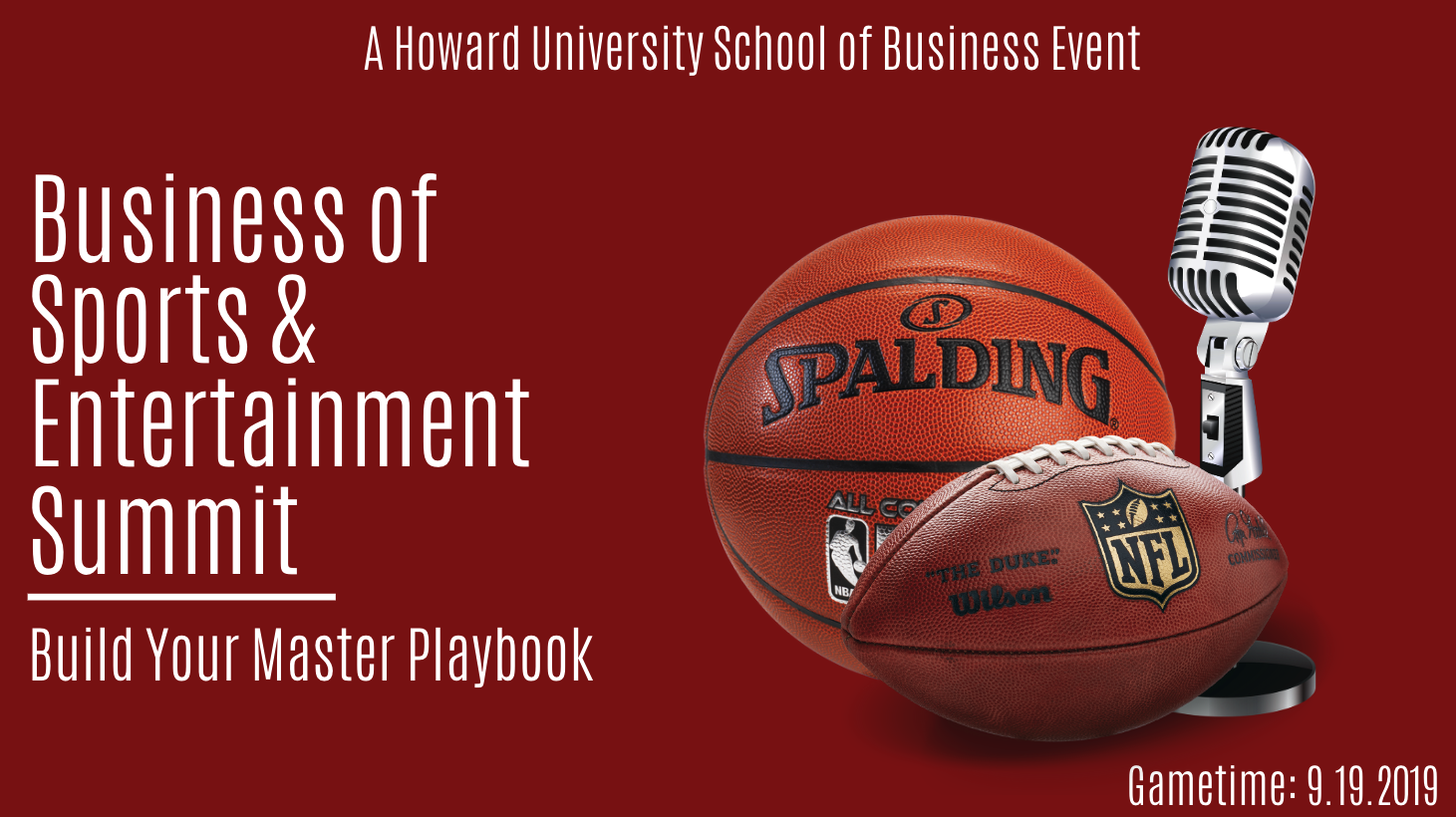 WASHINGTON –The Howard University School of Business will host its second annual Sports & Entertainment Summit on Sept. 19. The summit returns with a robust lineup of speakers and presenters representing the nation's top sports and entertainment organizations. For the first time, the program will include a career fair for students and professionals seeking opportunities with top companies in these exciting industries. Howard University President Wayne A. I. Frederick will provide the opening address, followed by a keynote speech by Traci Otey Blunt, senior vice president of Corporate Communications for the National Football League (NFL).
This year's summit, themed Build Your Master Playbook, will bring together students from Howard University and other college campuses, middle and high school students in the Washington area, as well as working professionals for the day-long summit with opportunities to hear insider perspectives on the business of sports and entertainment. The summit features presentations from a variety of executives across these industries, as well as breakout sessions covering diverse topics for participants to choose from.
Malcolm Lemmons, former professional basketball player and sports commentator, will serve as the host for the event.
"I believe that the Howard University Sports & Entertainment Summit provides an incredible opportunity, for not only students, but also other young professionals who are looking to dive into the sports industry," says Lemmons. "Through the in-depth panels, keynotes and networking portion, attendees can gain great exposure to some of the biggest names in the industry while learning tactics and strategies that will help them advance in whatever role they're looking to pursue. I highly recommend attending this event for anyone who wants to put themselves in position to go far in the sports world!" 
The summit will take place at the Howard University School of Business, located at 2600 6th St NW. The main event will be held on the fifth floor School of Business Auditorium and the career fair will take place on the second floor of the School of Business.
Some of the featured panelists and speakers include:
John Ferguson, Monumental Sports, Vice President, People & Culture
Eriq Martin, Warner Bros. Interactive Entertainment, Social Media Manager
Ashley Williams, NBC Sports Group, Head of Media Communications Strategy
Melissa Proctor, Atlanta Hawks, Chief Marketing Officer
Kelley Evans, The Undefeated, ESPN, Editor, Writer & Producer
Asia Gholston, NFL, Integrated Marketing Manager
The 2019 Sports & Entertainment Summit is free and registration for the event is available online. Sponsors and participants of this year's summit include the NFL, MLB, NBA, Monumental Sports, the Undefeated, Epic Records, Warner Bros. Interactive Entertainment, Twitch, and others.
"The Sports and Entertainment Summit at Howard University's School of Business is a great way to expose our students to careers in industries that they love and admire," says Yuvay Ferguson, Ph.D., chair of Howard University's Department of Marketing, who serves as advisor for the summit. "By giving students access to professionals, they get the benefit of enhancing their understanding of the industry through first-hand accounts of what it takes to succeed in those spaces." 
The Howard University Sports & Entertainment (HUSE) council organizes the annual summit which began last year. The council consists of Howard students and two School of Business alumni, including Kadeem Pilgrim, who co-founded the inaugural Sports & Entertainment Summit in 2018.
"The idea is really giving students power to create their own careers. In business school there's this perception that there's only one track to follow, corporate," says Pilgrim. "Your career trajectory is in your hands. Create a playbook by leveraging skills, use your talent, skills, whatever you gravitate to the most, use that to determine your career. You can really do anything you want as long as you have the focus and drive, just like an athlete on the court or on the field."
###
About Howard University School of Business
Howard University has been offering management and business education since 1870. Coveted accreditation by The Association to Advance Collegiate Schools of Business (AACSB) International has been consistently awarded to the Howard School of Business. In fact, it became the first in Washington, D.C. to achieve that world-recognized distinction. While today's students benefit from the tradition of excellence that has long set Howard University apart, they also profit from the Business School's continuous efforts to update its programs to prepare students to meet the complex challenges of the global marketplace.
About Howard University
Founded in 1867, Howard University is a private, research university that is comprised of 13 schools and colleges. Students pursue studies in more than 120 areas leading to undergraduate, graduate and professional degrees. The University operates with a commitment to Excellence in Truth and Service and has produced four Rhodes Scholars, 11 Truman Scholars, two Marshall Scholars, one Schwarzman Scholar, over 70 Fulbright Scholars and 22 Pickering Fellows. Howard also produces more on-campus African-American Ph.D. recipients than any other university in the United States. For more information on Howard University, visit www.howard.edu.
Media Contact: Misha Cornelius, misha.cornelius@howard.edu