WASHINGTON — The Howard University men's basketball team will host crosstown rival American University on Halloween in a charity exhibition game at Burr Gymnasium to help raise awareness of gun violence and honor the legacy of the late Blake Bozeman. Tip-off is scheduled for 7 p.m. with ticket proceeds benefiting the Far Southeast Family Strengthening Collaborative, a local charitable organization dedicated to strengthening community relations. All who attend the game are asked to war orange, the color associated with the movement to end gun violence.
Bozeman was fatally shot outside of a D.C. nightclub on September 24, 2023. A husband and father of three, Blake was a family man and constantly giving back to his community. His organization, the Pivot Group, focused on diversifying career opportunities for amateur athletes, through career development, mentorship, and community fundraising.
Gun violence has adversely impacted communities across the country and, as civic-minded student athletes and coaches, Bison players and staff could not sit idly by as this scourge of violence surrounds them.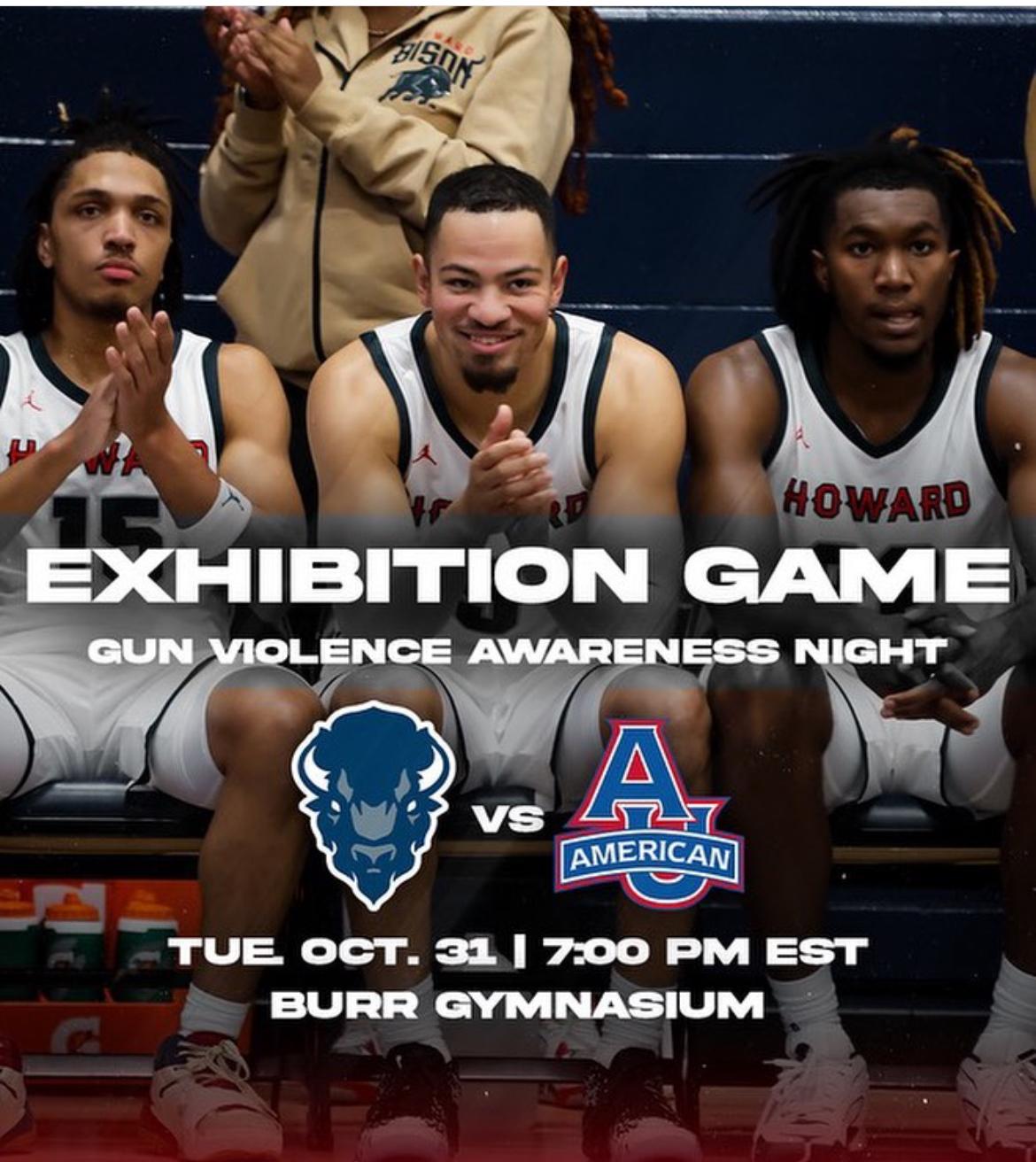 Basketball flyer
"As a basketball coach, people think my life revolves around the game. And it does. My players and coaches will tell you that I am an intense competitor who holds everyone in my program to our University's standards of 'excellence in truth and service,'" said Kenneth Blakeney, head coach. "However, when I wake up every morning, my first thought isn't on what I can do make our team better today but what I can I do to ensure the beautiful Black men and women in our program, and my family, make it home safely tonight. As Black people in America, the biggest victory we can have every day is our survival - making it home in one piece."
American University head coach Duane Simpkins agreed.
"It truly pains me to know that the murder of Blake will leave a void in the Bozeman family that will never be replaced," said Simpkins, who was a good friend of Blake's father, coach Todd Bozeman. "We as a community need to unite to find solutions to solve this social dilemma. We owe it to families like the Bozeman's and all the families affected by this epidemic."
Bozeman's murder hit especially close to the Bison program as the connections between the Bozeman and Bison families run deep. Blake was an AAU teammate of assistant coach Tyler Thornton where they were coached by Blake's father, Todd. Todd is the all-time winningest coach at Morgan State (where he coached his son) and was the color commentator for multiple Bison games last season. Inspired by both the player and man that Blake Bozeman was, the team felt compelled to honor his life and legacy through organizing this event.  
"Halloween is a festive night, and we chose this date because while we wanted to honor the memories of all lost to gun violence, we also wanted to provide the community with a safe, fun, and unifying evening in the midst of so much sadness," Blakeney added.
The first 250 Howard University in line for the game can get free tickets. Afterwards, stidents can pay a discounted price of $10. General admission is $20 with proceeds supporting the Far Southeast Family Strengthening Collaborative. For more information, please visit  www.BisonTickets.com