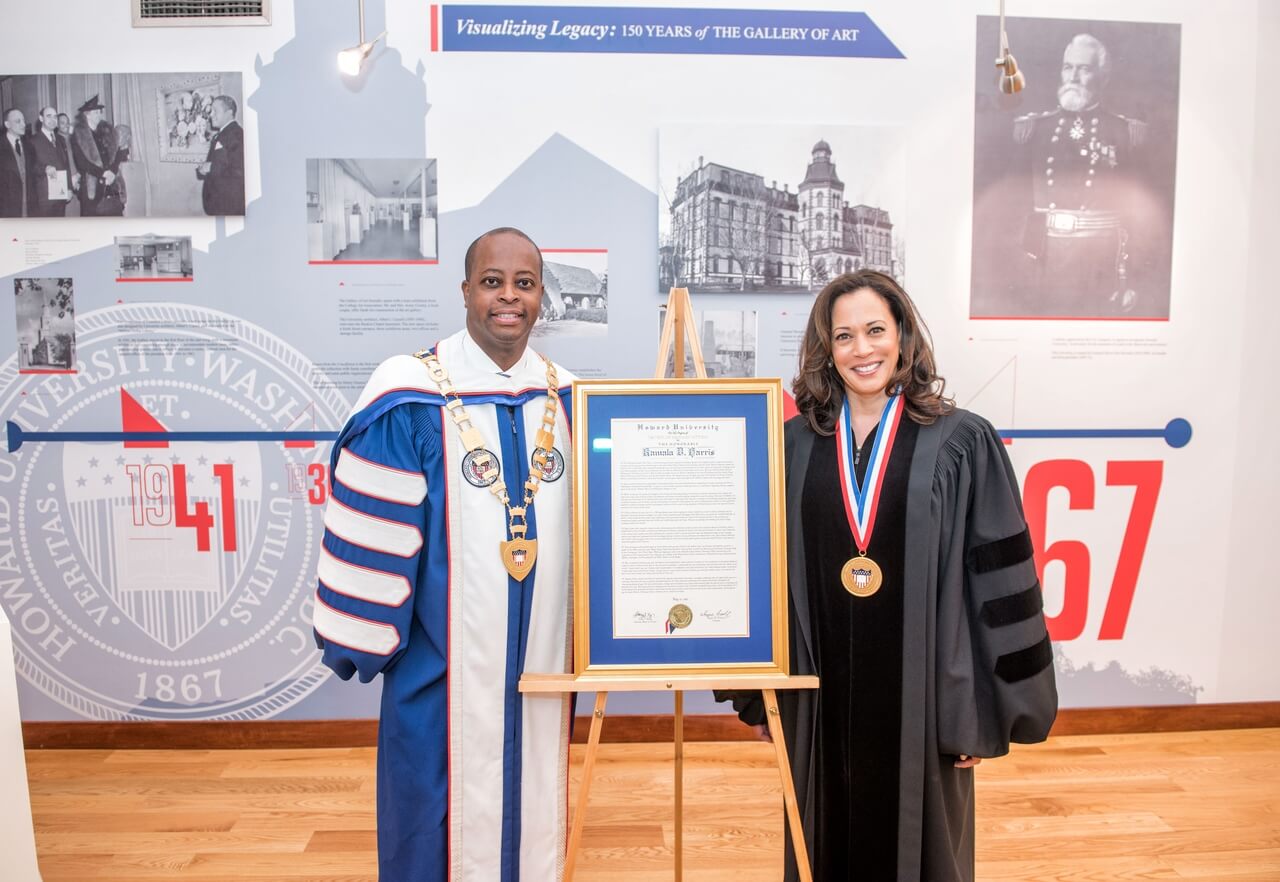 WASHINGTON – Howard University President Dr. Wayne A. I. Frederick joined members of the faculty and a student leader to discuss the significance of Howard alumna Kamala Harris' historic election as the vice president of the United States. Frederick moderated the conversation that touched on Harris' place in the long legacy of Howard University's high-achieving students and faculty and what her election to the White House means for our country. 
"The role of Howard University and HBCUs in particular has never been more clear in my opinion," said Frederick. "HBCUs have always been at the forefront of holding America to account and insisting on better. Vice President-elect Kamala Harris has always embodied our ideals of truth and service. We can find no better role model for all leaders and institutions to emulate." 
Gregory Carr, Ph.D., chair of Afro-American studies, reflected on the legacy of Black intellectualism that has existed on Howard's campus and the significant role that HBCUs and Howard University specifically have played in shaping American life. 
"We know that some of the first elected officials of African descent in this country were either members of Howard faculty, or they emerged out of Howard University," said Carr. "Literally from the beginning of the institution to now, we see a steady stream of graduates being produced who lead, not only in the United States, but in the world. The role of Howard faculty cannot be understated." 
According to Carr, the surge of Howard University faculty who emerged during the Black college move in the late 1960s shaped the education Harris received at Howard. It brought scholars like Ronald W. Walters, Ph.D. and others who taught during Harris' time on campus and shaped key era political and intellectual conversations.  
"It's very important to understand that Kamala Harris' work at Howard as an undergraduate coincided with a very serious period of contestation," he continued. "And in many ways, she represents that crossroads that has unfolded since then." 
The recent events of Jan. 6 were top of mind during the discussion. Just as Congress gathered to certify the results of the presidential election and Georgia announced the election of two Democratic senators that flipped the state blue after nearly 20 years of Republican rule, a mob of angry white supremacists led an insurrection at the U.S. Capitol. 
"I think about Georgia here as not just something that snapped on Jan. 6, but as something that was coming all along," said Keneisha Grant, Ph.D., associate professor of political science. "People like me were looking and waiting to see when it would turn. So, we're waiting to see what will happen in North Carolina and even waiting to see what will happen with Texas. It's important to think about Georgia as a demographic change that's happening. There are people who have been doing the work over decades to get people out to vote, to get them registered and to get them mobilized on Election Day, but who had a final push in Stacey Abrams and with Black Voters Matter in getting the vote out." 
For J. Jarpa Dawuni, associate professor of political science and executive director of the Center for Women, Gender and Global Leadership at Howard, the shifts in Georgia and in the White House represent something many in the Black community have been expecting. 
"From a political science perspective, we study democratization and we look at the shifts. So, there is a transition to democratization, and there can be a reverse transition," said Dawuni, who noted the symbolism of the election of Barack Obama followed by the election of Donald Trump. "What is that going to mean for the election of Kamala Harris as vice president? The Democratic party has been held high on the backs of women generally and specifically Black women. This is bringing to the [forefront] not just the election of the first vice president of this nation who is a woman, but also seeing how Black women in Georgia, and all the grassroots women we don't hear about, were behind the election there. This once again shows that there's a push toward democratization, but we have to be prepared and not be negligent or be blindsided about the fact that there are going to be attempts to cause a reverse transition, and we saw it starting already on Jan. 6th." 
Harris' intersectional identity as simultaneously Black, South Asian, a woman and the child of immigrants, along with her standing as an HBCU alumna and a member of the alpha chapter of Alpha Kappa Alpha Sorority, Inc. certainly speaks to a broad subset of the nation's population. Howard senior, Peter Lubembela, reflected on how inspiring Harris' election is for him personally and acknowledged what is at stake. 
"Coming from a refugee camp, seeing the daughter of two immigrants become the vice president is powerful," said Lubembela. "While white supremacists were attacking the Capitol without consequence, young people were dying in our communities from gun violence and gang violence without access to resources. I say the names because we have forgotten the names of people dying in our community and the urgency needed by local governments to tackle the racism pushed through the education, justice, political and economic system. I am grateful for spaces like Howard that allow Black minds to learn and contribute back to their communities." 
"When it comes to how this administration is being covered, I would say we have to widen the lens, and we have to dig deeper," said Jennifer C. Thomas, associate professor in the Department of Media, Journalism and Film. "We have to do a better job of getting to the story and contextualizing them. There are so many issues we have had around this election that were not addressed because we were so busy following a president who was tweeting like crazy and who has finally been stifled after the insurrection at the Capitol. My hope is that we can dig deeper, widen the lens to tell those stories and explore these issues that affect our communities. These are the issues that the Biden-Harris ticket ran on." 
### 
About Howard University
Founded in 1867, Howard University is a private, research university that is comprised of 13 schools and colleges. Students pursue studies in more than 120 areas leading to undergraduate, graduate and professional degrees. The University operates with a commitment to Excellence in Truth and Service and has produced one Schwarzman Scholar, three Marshall Scholars, four Rhodes Scholars, 11 Truman Scholars, 25 Pickering Fellows and more than 165 Fulbright recipients. Howard also produces more on-campus African-American Ph.D. recipients than any other university in the United States. For more information on Howard University, visit www.howard.edu.


Media Contact: Misha Cornelius, misha.cornelius@howard.edu