In an effort to increase diversity in American diplomacy, Howard brings more international studies to its students.
Howard University has always approached its academics with a slightly different perspective than other American universities: one that has celebrated diversity, both in race and in nationality. Today, the Howard community continues to demonstrate increased interest in international relations and general global immersion. In response, Howard has committed to growing the number of African-Americans working in international affairs and to provide students with the tools and knowledge needed to succeed on a global level.
"Globalization, in every way imaginable, is here," says Charles Lusane, Ph.D., director of the international affairs program in the political science department at Howard. "The future has arrived, and there is no area of life and labor, culture and politics, sports and medicine that does not have an international manifestation. I tell students that regardless of your area of study, there is an international component."
Howard has been at the forefront of presenting its academics with an international perspective. Situated in the nation's capital, Howard already has the advantage of being surrounded with a worldwide existence. Though some majors and programs on campus have a decidedly global focus, others have recognized the international influence in their studies. In response to the increased interest in international topics, Howard now offers a certificate in international studies through the graduate school.
With a large presence of foreign students already on campus and a number of international clubs and organizations, Howard students can acquire a global education without necessarily getting on an airplane. More importantly, they can help reverse the severe underrepresentation of people of color in leadership positions across multinational corporations, government agencies, diplomacy and even within academia. These are a few — not all — of the ways students can gain some global knowledge on campus.
International Business
Thinking about business on a global level is nothing new at Howard, says Masoud Kavoossi, Ph.D., professor and Fulbright-Johaness Kepler distinguished chair in the department of finance and international business. It is one of the oldest international business programs nationwide for undergraduate students, he says.
Students take a number of core courses and select a concentration. The concentrations can be in any of the functional areas in the school of business, such as accounting, finance, management, supply chain or marketing. Students can also concentrate on a particular region, such as Asia, Africa, Middle East and North Africa, Europe or South America. They must also take four courses in a non-native language, so a student whose native tongue is Mandarin would be required to take another course, such as Arabic.
The business school offers semester-long study abroad programs as well as shorter, one- or two-week programs, where professors take students to visit and tour companies in other countries. Howard students have traveled to India, China, Brazil, South Africa and Europe
The main takeaway for students focusing on international business, Kavoossi says, is "we have to be inclusive and have to be accepting [of] diversity because that's the nature of the global economy and business." During the pandemic, due to canceled travel, Kavoossi introduced students to people around the world through live webinars. "The students … see that the horizon of international business is not just limited to their textbook," he says, noting how he emphasizes how the American economy is impacted by the actions of companies and manufacturers in other countries.
To help broaden their global perspective, Kavoossi stresses the importance seeking non-American points of view. Students are required to submit research in which none of the sources are American. "It's not to say the Chinese news are not biased from their side," he says. "All news are views. But at least I want them to see the other side." In the future, he hopes to create​ a Center for International Business and Development to study the business environment of emerging countries.
International Affairs Program
The international affairs major, delivered out of the political science department, is an interdisciplinary program that includes, but is not limited to, politics, history, law, economics, sociology, education, health, the arts, the environment and technology. Students are required to take a foreign language.
The program has "ballooned" in interest in the past few years, says Lusane, from three students in 2016 to over 100 today. Students not only take a number of courses pertaining to international politics and economics, but also participate in internships, service learning, and other hands-on experiences at agencies, government, nongovernmental organizations and the corporate sector. Most also go abroad to gain more experience.
The program aims to address issues of global inequality, conflict resolution, human resource development and equity, environmental justice and human rights, information and communication, and multiculturalism. Much of this is discussed in relation to race, gender, ethnicity and class, with the goal of increasing diversity in leadership roles within diplomacy and international affairs.
As someone who has lived abroad in several cities and visited more than 70 countries in a capacity related to international affairs, Lusane advises students to truly immerse themselves into the experience. "This means attending local events, walking through neighborhoods and other areas, and meeting local residents," he says. "Learning the language is important, but not an impediment to getting to know people and the local area."
World Languages and Culture
Languages continue to be a necessity for Howard students, particularly those pursuing an international major of some kind. "The knowledge of a second or third language is the norm, and it is necessary and important for Americans to learn about other cultures," explains Leonard Muaka, interim chair for the department of world languages and cultures. "America is not an island; the challenges faced in other parts of the world will have an impact on American lives."
The department currently offers a Spanish major and minors in eight languages, including Arabic, French, German, Japanese, Portuguese, Russian, Spanish and Swahili. It plays a critical role for many students seeking to enhance their majors, whether it be in other international majors or even in the arts, sciences, engineering or something else. Muaka says students recognize how essential it is to be educated in global thinking, and that involves comprehending that thinking in its very language. "To be successful in the 21st century, students need to be exposed to and equipped for the opportunities that occur beyond their localities, and, therefore, the interaction between the local and global necessitates the knowledge of world languages spoken in other parts of the world," he says.
The department of world languages and culture is currently examining its curriculum to design a more encompassing major with several concentrations.
Public Health
Howard's master's in public health program has experienced significant growth since reopening in 2017.  The program prepares students to become public health leaders locally, nationally, and globally. In particular, students are required to take a global health course as part of their curriculum. Global health addresses topics including ethics and human rights, natural disasters and global emergencies, maternal and child nutrition, environment, health systems, health advocacy and more.
Opening students' minds to thinking beyond the American method is critical in public health, says Pamela Carter-Nolan, Ph.D., MPH, director of the MPH program at Howard. "You have to think outside the box using an interdisciplinary approach," she explains. "A program or project here may not be accepted internationally. You have to think how to make it culturally relevant and impactful, as well as how to engage the global community of interest." 
While many students may end up staying within the United States to work after graduation, she wants to prepare them for any possible option. "You want to equip students with the tools they can implement both nationally and globally," she says. The program partners with several agencies for internships that fall into an international realm. For example, students have the opportunity to train with non-governmental organizations such as the Population Council and FHI360.
Beyond the Classroom
Outside the classroom, students can also be active in any number of activities, including the African Business Club, the Chinese Culture Club, International Medicine Interest Group, the French Society and the International Affairs Society, to name a few. Many of them bring some cultural exposure to campus through lectures and discussions, or even just by celebrating various holidays and exploring foods and traditions.
Students can also apply for internships at any number of international organizations, agencies, nonprofits or embassies as well.
Because of Washington, D.C.'s international diversity, students can also easily immerse themselves in a variety of cultures right in town. "I could have Ethiopian injera for breakfast, pick up my favorite Asian products from H-Mart, and have Spanish tapas with friends for dinner," says Mary Silva Varela, a junior international business major living in Silver Spring, Maryland. "Living in a neighborhood such as this one made me want to study international business, which is the reason that my [cultural] lifestyle has been possible."
Howard's International Student Body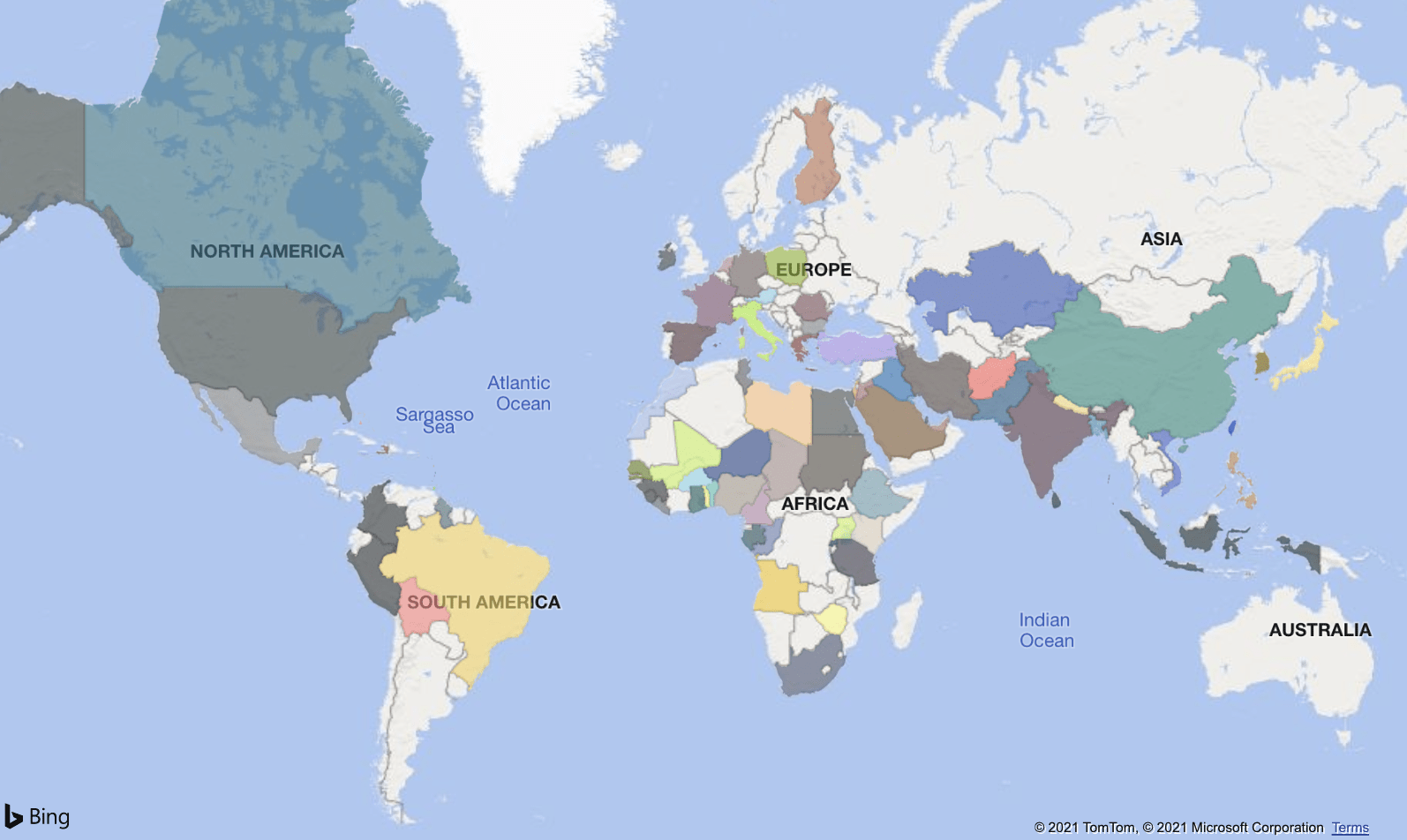 In 2020-2021, Howard hosted students from 91 countries. These are the top 10:
Nigeria - 256
Saudi Arabia - 207
Jamaica - 174
Trinidad and Tobago - 99
Nepal -91
Canada - 43
Ethiopia – 31
India - 30
Ghana - 23
Bangladesh - 21