For the first time, journalists of the Financial Times are coming to the US, and Howard University students are invited to mingle with the FT's taste makers and thought provokers. Members of Howard's family are invited to explore big ideas from across global culture during the event.
The Financial Times Weekend Festival will take place on May 7 at the REACH at the Kennedy Center. Students will have the opportunity to engage with FT journalists and enjoy a fun, stimulating day of performances, tastings, interviews, and debate. 
As a Howard University student, an exclusive student discounted rate of $39 is offered. Register for your in-person festival passes here and free digital passes here to hear exclusive interviews with former Secretary of State Henry Kissinger, CIA Director William J. Burns, writer and storyteller Chimamanda Ngozi Adichie, journalist Tina Brown, and historian Simon Schama, and conclude the day with a performance from the National Symphony Orchestra.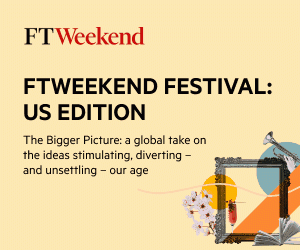 For more on the FTWeekend Festival, click here.
To purchase discounted student passes, click here.
To register for free digital student passes, click here.