WASHINGTON – As first-semester freshmen at Howard University, Hannah Brown and Pierce Hodges are at the beginning of their Howard journey. Ask any Howard graduate, and they will tell you that this unique journey is sure to be complete with life-long friendships, unforgettable experiences, academic excellence and opportunities to be of service to the community. Brown and Hodges may be new students discovering first-hand what it takes to be a Bison, but their connection to Howard runs deep. As legacy students, Brown and Hodges are members of a special group of this year's incoming class who are connected to Howard through the individuals in their family who came before them. 
"When considering my choices for college, I was really looking for the HBCU community," said Brown, a political science major from Davie, Fla. "When I first visited Howard, it felt like home. Knowing that I have extended family that are Howard alumni and that my parents met at Howard Law, I'm just excited to continue building that community." 
Both of Brown's parents graduated from Howard Law School. Her mother, Donise Edwards-Brown ('85) and her father, Richard Brown ('86) have continued to stay connected to the Howard community, hosting events for alumni in Florida where they live. 
"I am very excited about Hannah's choice to attend Howard," says Edwards-Brown. "She really did decide on her own that this was the right choice for her, and I think it's because she's been at home when we do our fundraisers for the law school and interact with classmates. We often talk about our HBCU experience and she wanted to have a different perspective than what she had in high school." 
Brown's first weeks at Howard are confirmation that she made the right choice.  
"It's been nice just to be able to take a load off here at Howard and be around peers in a comfortable environment," said Brown. "Coming from a pretty conservative school, it was hard having to be the only Black person in my class. I also have some friends that came to Howard with me, so having a supportive network has made the first week really enjoyable."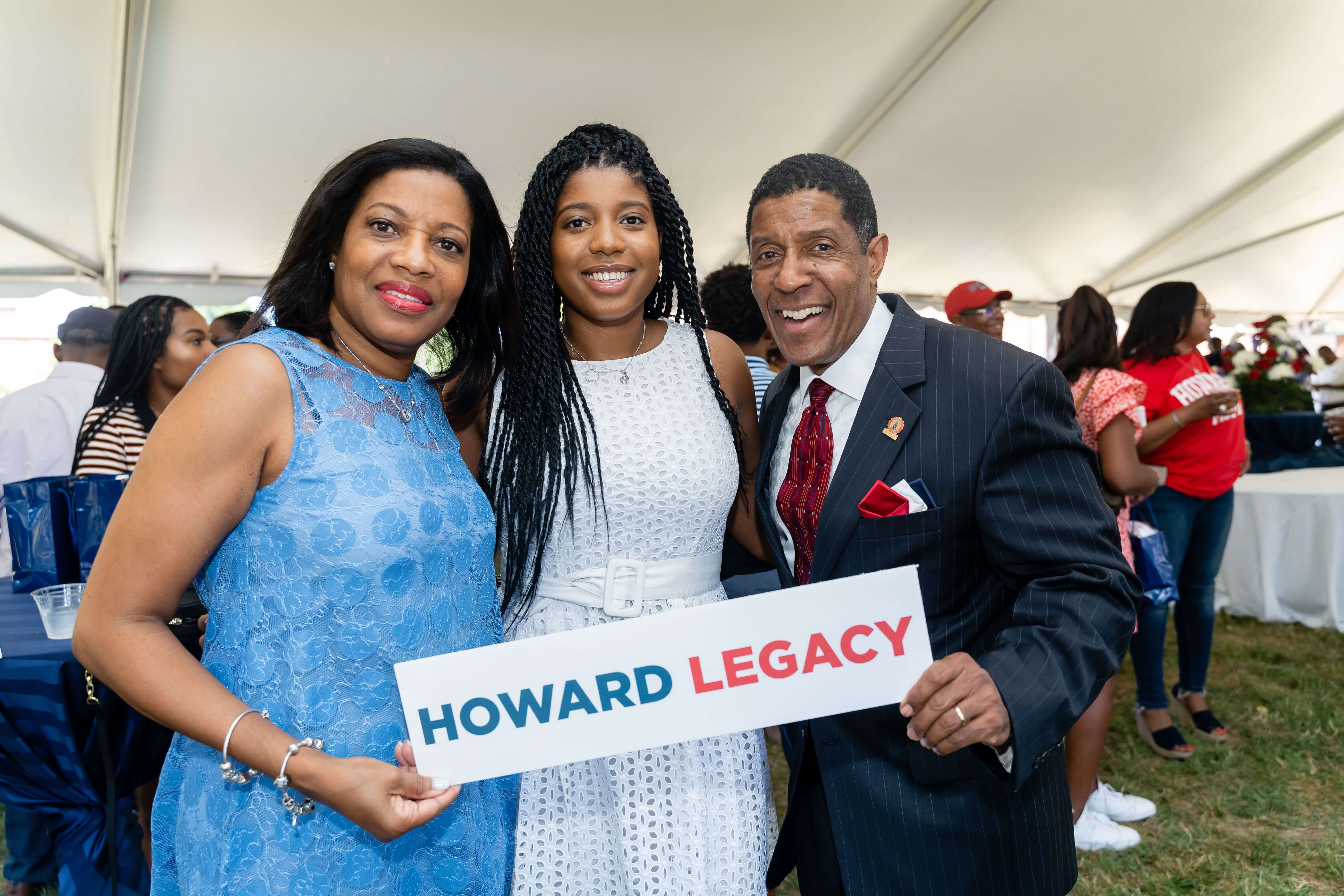 Howard's current freshman class includes 448 legacy students. Like Brown and Hodges, these students each have at least one relative who attended Howard. This year's legacy students have come to Howard from across the United States and different parts of the world, including Lagos, Nepal, the United Arab Emirates, Ethiopia and many more. Out of this year's legacy freshman, 109 students had more than one family member who attended Howard. Additionally, 103 of the students have a cousin who went to Howard; 94 have a Bison sibling; 71 have a Bison parent; 55 have a Bison aunt or uncle; and 11 have a Bison grandparent. 
"We are very proud of the entire incoming freshman class and we are happy to celebrate our incoming legacy students," says Sharon Strange Lewis, Howard University's director of alumni relations. "As an alumna myself, I know that the opportunities Howard affords have a lasting impact in the lives of our alumni and their families. This is evidenced by the fact that the children, grandchildren, nieces, nephews, siblings and cousins of Howard alumni often choose to attend Howard."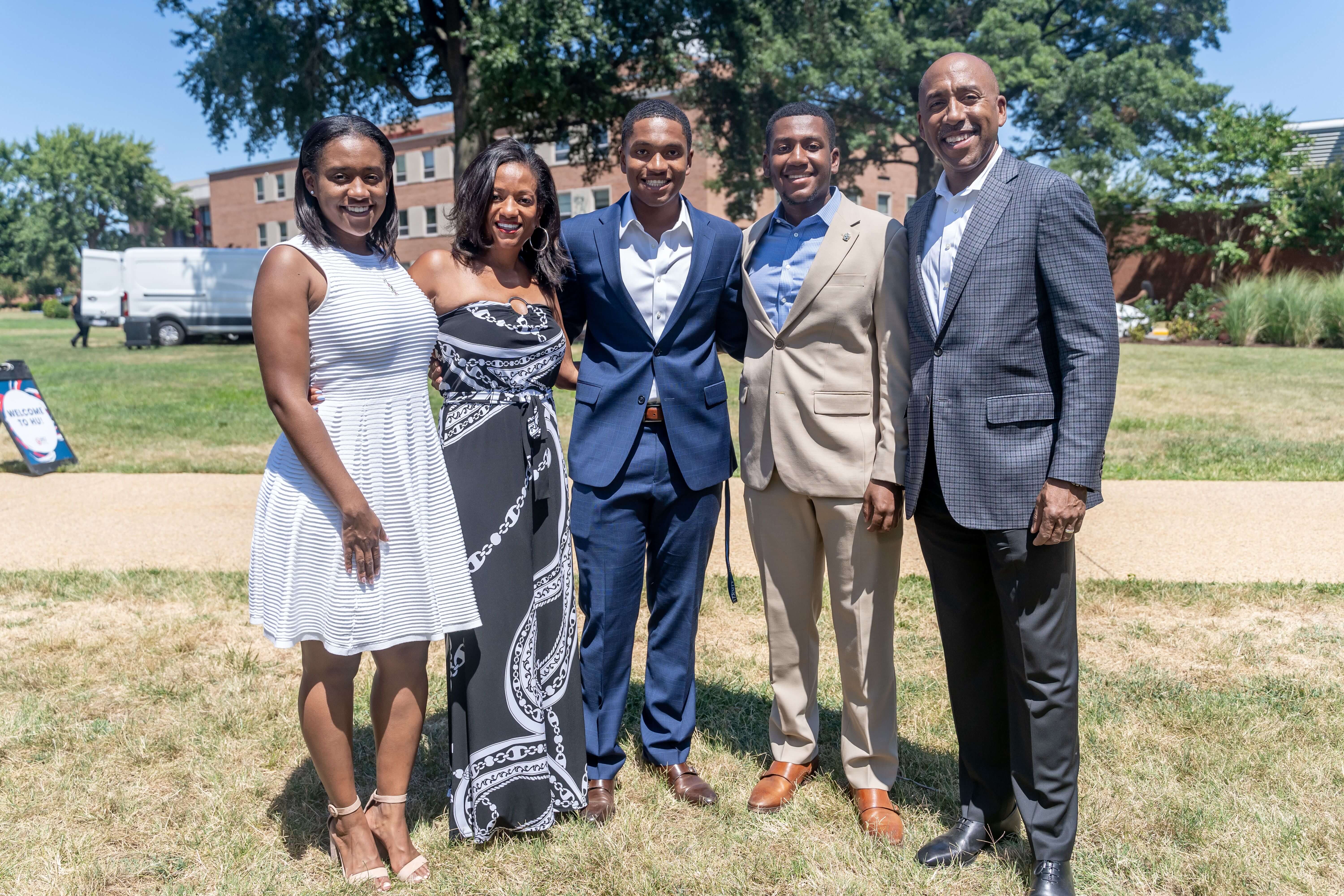 The Department of Alumni Relations held a celebration on the Yard for this year's legacy students and their families. Howard University's 2019 Legacy Reception brought the students together for an opportunity to connect with one another and hear from Howard University President Wayne A. I. Frederick, who spoke to the students and their families during the event that coincided with freshman move-in.  
The Hodges family were there to celebrate the latest member of their family to attend Howard. Their entire family and many members of their extended family are graduates. Hodges joined his sister who is currently a senior. Both of his parents and his older brother are Howard alumni as well. 
"My grandfather, my mother and all of her siblings attended Howard. My brother just graduated with the class of 2019 and my sister is graduating with the class of 2020," said Hodges, a biology major from Philadelphia, Pa. "Being part of that legacy, coming in as part of the class of 2023 is really cool. I found out I was accepted into the Freshman Leadership Academy, which my siblings also participated in and got a lot from, so I'm really looking forward to that." 
# # # 
About Howard University 
Founded in 1867, Howard University is a private, research university that is comprised of 13 schools and colleges. Students pursue studies in more than 120 areas leading to undergraduate, graduate and professional degrees. The University operates with a commitment to Excellence in Truth and Service and has produced four Rhodes Scholars, 11 Truman Scholars, two Marshall Scholars, one Schwarzman Scholar, over 70 Fulbright Scholars and 22 Pickering Fellows. Howard also produces more on-campus African-American Ph.D. recipients than any other university in the United States. For more information on Howard University, visit www.howard.edu. 
Media Contact: Misha Cornelius, misha.cornelius@howard.edu