On Friday afternoons, a small group of students gather in a special section of Blackburn Center dining hall for lunch and conversation with Howard University administrators and leaders. This weekly, hour-long "Chat & Chew" activity is a collaboration between the Office of Vice President for Student Affairs and the Office of University Communications that connects students and University leadership in an informal way. The conversation is free-flowing and presents a different topic each week that is related to the student experience.
Kicking off the first gathering with students, vice president of student affairs Cynthia Evers, EdD and vice president and chief communications officer Frank Tramble spoke about their respective departments and roles in supporting students and the University. "It's wonderful to see the students excited to come to the table each week and ask questions, share their ideas, and gain understanding about areas that impact their experiences at Howard," she said.
Being able to sit down with the leaders and administration from Howard was well needed."
The return of opportunities like this for student engagement are also a welcome addition and a valuable part of Howard's communications function. "The relationship and understanding between Howard students and administration are significant to me. The more we learn from students and students learn from us, the more common understanding and solutions to problems we will find collectively. Sitting down with students to have these open dialogues is something I look forward to each time, and I always walk away inspired to do more," Tramble added.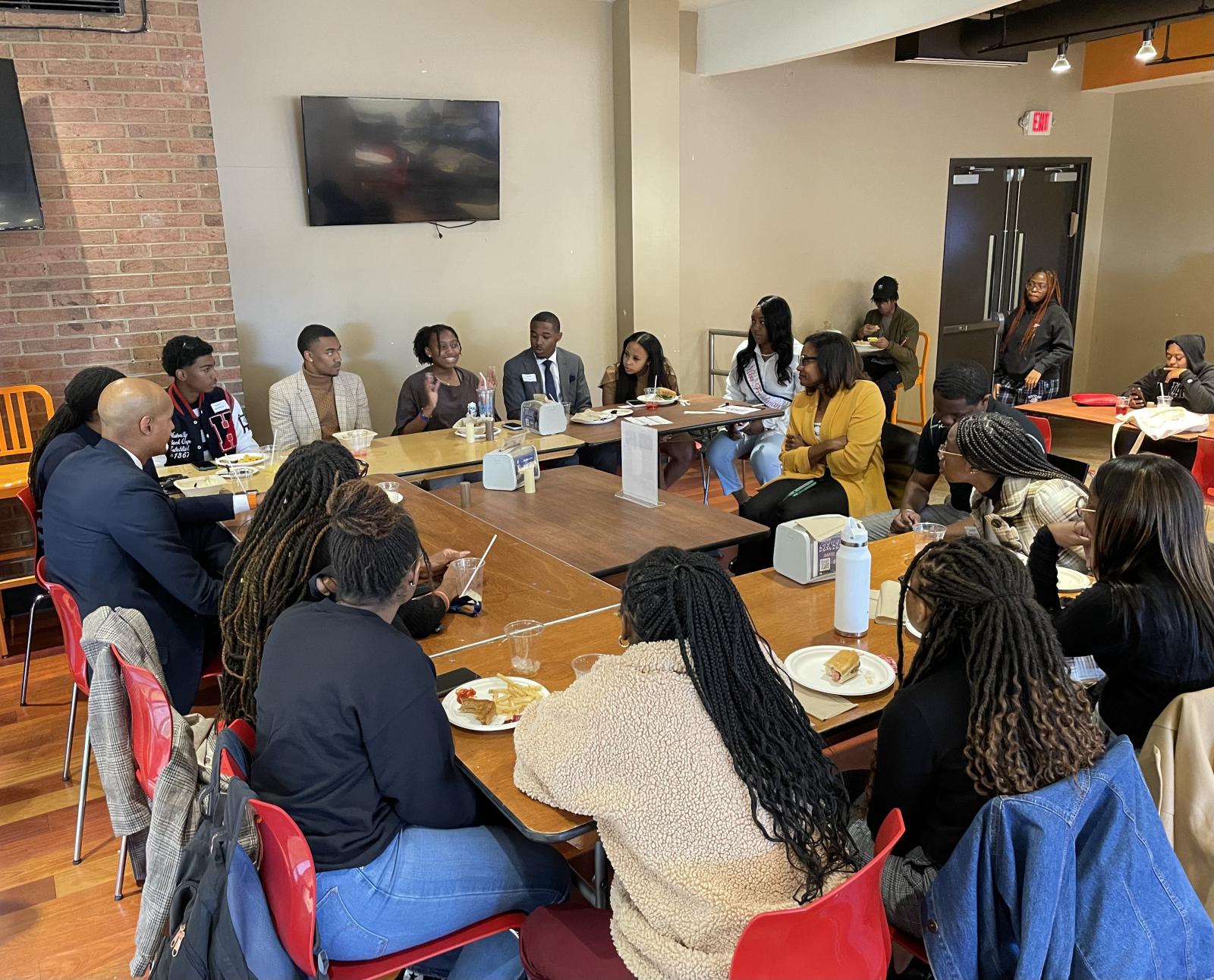 Noah Price, a sophomore journalism major from Charlotte, North Carolina, attended the first "Chat & Chew" with one of her friends. Although she wasn't entirely sure how things would go, her experience was positive. "I think opportunities like this are so important. It's not often that we get to connect with our administration on this level," she said. "Students really should take advantage of this."
Students interested in participating in "Chat & Chew" are asked to complete an online form, where they can also submit a few questions in advance to help jumpstart the conversation. The group size is kept to a maximum of 15 students, ensuring there is adequate time for everyone to be actively engaged and have a meaningful experience with Howard leaders.
Learning About Campus Resources
As students settled into Fall semester, additional "Chat & Chew" gatherings included leaders from Campus Safety, Residential Life, University Counseling, and the Office of the Provost for Academic Affairs, to name a few.
When the topic of campus and personal safety was on the agenda during Homecoming Week, students were eager to engage with the hosts from Howard's Department of Public Safety (DPS). Early in the semester, there were several bomb threats made against the University Additionally, situations involving personal safety in and around the residence halls due in part to students' door propping and lack of adherence to security measures was addressed by University leadership. These incidents provided a great opportunity for students to learn about ways in which DPS works to maintain overall campus safety and also to share personal safety tips about living in an urban environment.
Brianna Artis, a freshman television and film major from Philadelphia, encouraged several of her friends to sign up for the "Chat & Chew" topic on "Campus and Personal Safety," after hearing about it. "Being able to sit down with the leaders and administration from Howard was well needed," she said. "I can now spread advice to friends about the precautions they can take."
For Howard leaders who serve as hosts, the experience is equally satisfying. "We're grateful for every opportunity to meet with students. DPS is at its best when students are most comfortable partnering with our leaders and officers," said Howard's chief of police Marcus Lyles. "Their engagement and their observations are the foundation of a strong campus safety culture."
Chat & Chew is a breath of fresh air. Because it occurs during a meal, participants have the opportunity to have not only their body, but also their soul fed."
Encouraging Mindfulness
Heading into final exams, the topic of "Managing Stress and Finding Balance" was top of mind. It's not uncommon for students to feel anxious about their coursework and all the things they need to do before heading home for Winter break. Having some helpful tips to manage it all can be the difference between finishing strong and having a very difficult time. To help guide students through this process, dean of chapel Bernard Richardson, Kelechi Fluitt, PhD from University Counseling, and Paris Adon, EdD, director of the Office of Student Services, came together to offer advice. They also reminded students of the resources available to them through the Counseling Center and other departments.
As students talked about their personal experiences and asked questions about such things as how to know when their stress level is too much, the experts listened intently and offered insight, including the importance of getting good rest and nutrition.
When Dean Richardson told the group that all stress is not bad stress, it piqued the students' interest even more. Deonte Brown, a junior marketing major from Buffalo, New York, was curious about how the human body initially reacts to stressful situations. "I learned that any strong emotion I have only lasts for about 90 seconds, even though it can feel like so much longer. Knowing that helps me to understand how to handle it."
When managed properly, stressful situations help to build resilience and coping skills. Drawing on advice from notable author and educator Charles R. Swindoll, Fluitt shared that life is 10% what happens to you and 90% how you react to it. "Chat & Chew is a breath of fresh air. Because it occurs during a meal, participants have the opportunity to have not only their body, but also their soul fed," she said.
Looking ahead to Spring semester, the weekly "Chat & Chew" gatherings will continue to bring students and Howard leaders together to discuss topics of importance. From offering tips on exploring off-campus housing and seeking financial aid and scholarship opportunities, to preparing seniors for life after graduation, students who want to participate should find a topic that inspires them to participate in the conversation.
To stay updated on "Chat & Chew" topics, be sure to follow us on Twitter: @HUStudentAffair and Instagram: @hu__studentaffairs.