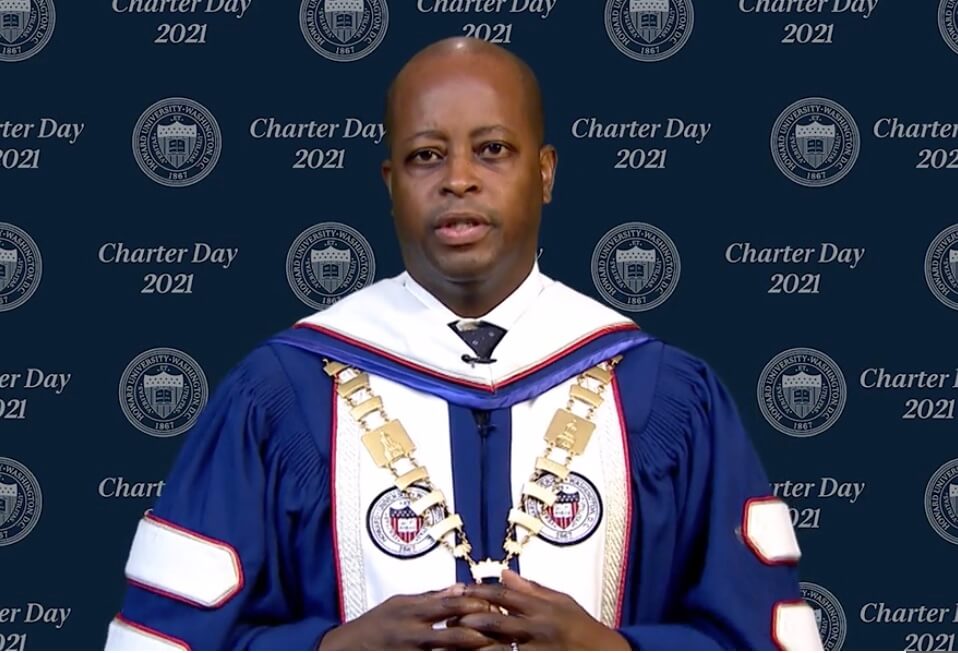 WASHINGTON – Howard University President Wayne A. I. Frederick said Howard University has never been more in step with the present moment, pointing to the nationwide focus on health care inequities expose by the COVID-19 pandemic, renewed appreciation of HBCUs and the election of alumna Kamala Harris as vice president of the United States.
"We have transformed from an institution to educate former enslaved people to an institution that educates future vice presidents, and we have shown that a single mission enshrined in our founding charter can encompass both of those goals," said Frederick, who served as orator of the 154th Charter Day Convocation ceremony.
Each year, the founding of Howard University is celebrated through the annual Charter Day Convocation and Charter Day Dinner. Traditionally a black-tie gala, this year's virtual celebration will be a fundraising event with the proceeds supporting financial aid for Howard students. For University giving information, go to www.howard.edu/charterday.
In his convocation address, Frederick said Howard University and other HBCUs continue to play a critical role in the education of the Black community. He said Kamala Harris selected Howard in the 1980s after attending majority-white schools for the first 18 years of her life.
"When Harris matriculated to Howard, she set aside the burden of lowered expectations placed upon her and other minorities of color in the American educational system and stepped onto the shoulders of generations of Black trailblazers and changemakers," Frederick said. "It is this legacy of greatness and service that led Harris to the White House and propels so many Howard graduates to make our country a better place."
Frederick lamented that African-Americans were twice as likely to die from COVID-19. He said the disparity helped "lay bare the inequities and injustices communities of color have been experiencing for generations – inside health care centers, at the hands of law enforcement, by the criminal justice system."
Even so, he said the Black community has reinforced its trust in HBCUs for leadership during the health pandemic. "We have been leading institutions advocating for the safety and effectiveness of the COVID-19 vaccine and encouraging African-American men and women to get vaccinated," he said.
Frederick urged the Howard community to continue to push for social progress on all fronts.
"Never before has the founding of our University been so in step with the present moment. Of course, we recognize that our vision for what we could be will always outpace our reality for what we are," Frederick said. "But without compromising our hopes and dreams, we must continue to push our lived reality closer and closer to our hopes and aspirations, until, one day, they will finally meet."
In his Charter Day remarks, alumnus and Chairman of the Board of Trustees Laurence C. Morse, Ph.D., led a moment of silence in honor of the recent passing of Vernon E. Jordan, whom he lauded as a true son Howard University, a loyal steward of the University and a legendary figure who "carried the love of this institution with him on his magnificent, exemplary journey through this world." Morse said he looked forward to the renewal of the University as the end of the coronavirus pandemic comes within sight.
"Soon, our dormitories, academic buildings, walkways and cherished quadrangles will fill with life once more, and the footsteps of a new cohort of Bison will reverberate around the campus," he said, adding that he expected Howard University to "usher in a new chapter unlike any in our history perhaps since our founding."
The festivities continue with the 2021 Charter Day Virtual Celebration, which will broadcast on Saturday, March 6 at 7 p.m. EST. The virtual event will boast a lineup of exciting entertainment, including Matt the Violinist and Step Afrika!, the award-winning company founded by Howard's own C. Brian Williams. To view, visit howard.edu/charterday
.
About Howard University
Founded in 1867, Howard University is a private, research university that comprises 13 schools and colleges. Students pursue more than 140 programs of study leading to undergraduate, graduate and professional degrees. The University operates with a commitment to Excellence in Truth and Service and has produced one Schwarzman Scholar, three Marshall Scholars, four Rhodes Scholars, 11 Truman Scholars, 25 Pickering Fellows and more than 165 Fulbright recipients. Howard also produces more on-campus African-American Ph.D. recipients than any other university in the United States.