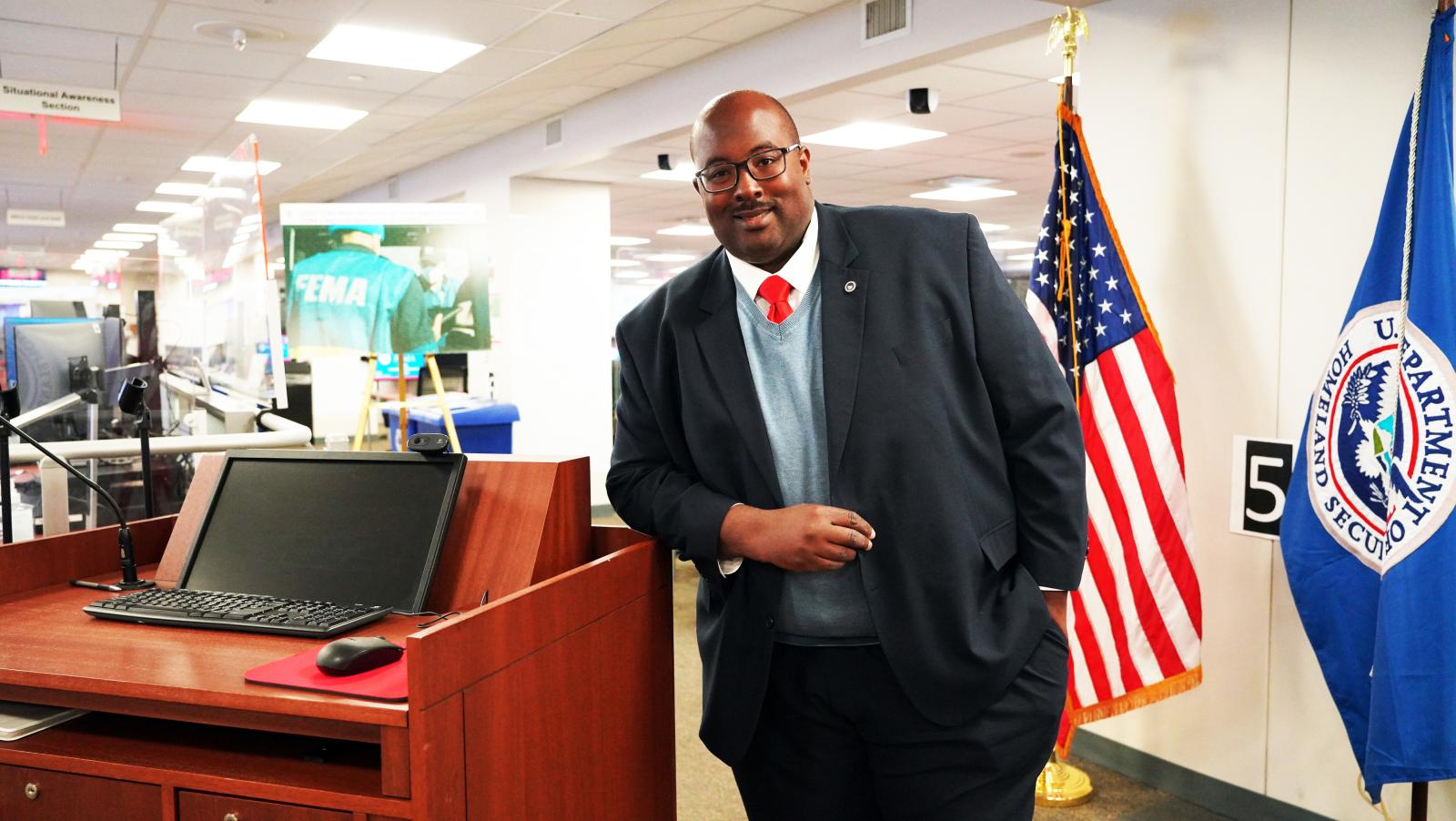 Marcus Coleman (BBA '08) spent most of his career within the Federal Emergency Management Agency (FEMA) developing partnerships in the public-private sector in disaster and special mission responses, receiving two FEMA Administrator's Awards in 2016 – one for leading a national effort that engaged houses of worship in safety and security training and another for launching the first FEMA Partnership Day. Marcus was sworn in recently as the director of Department of Homeland Security Center for Faith-Based Neighborhood Partnerships, an appointment made by the Biden-Harris administration.
Q: What are you most excited about accomplishing in your new position?
A: A few things. We have a big focus on equity – from President Biden's executive order on Advancing Racial Equity and Support for Underserved Communities Through the Federal Government to FEMA's initiative on advancing equity. I'm excited to be part of the comprehensive effort of doing right and better by disaster survivors while also taking a systemic look at career opportunities, procurement and how we interact with people. Being a part of that is very exciting to me because a part of that focus is having more people in making decisions in policy and movement and building the right kind of partnerships. We already have engaged faith-based organizations, community-based organizations, such as the great work from Howard's Rankin Chapel and Alternative Spring Break (HUASB) program. We're looking at the consequences of climate change today and what we can do to mitigate some consequences while striving for equity in the delivery of FEMA's programs. As the increase in frequency of disasters from climate change occurs, this means we need more expertise.
Q: How did Howard's motto of "Truth and Service" inspire your service-based career?
A: My mother, Maiola T. Coleman, is a major influence in my decision to pursue a service-based career. Howard's motto of "Truth and Service" inspired me to expand my vision of what a service-based career could be. I continued to be inspired by how the motto is lived out by current students and fellow alum like my wife, Amber English Coleman (BBA '07), who proudly serves as communications director for Congresswoman Nikema Williams.
Q: Why is service important?
A: As Shirley Chisolm said, "Service is the rent we pay for the privilege of living on this earth." It is a grounding experience that keeps me focused on how I can be my best self and to others. Howard gave me the experience, language, mindset and role models to find ways to be of service in ways I didn't expect and doing this work out of DHS is one example. It provides opportunities to deepen relationships with other servants and people and learn from them.
Q: What is one of the most memorable projects you worked on?
A: Four weeks into my current role, Hurricane Ida made landfall in Louisiana, which coincided with the 16th anniversary of Hurricane Katrina. Its remnants would severely impact communities as far as Pennsylvania, New York and New Jersey. I have been humbled to be part of a team where many of our best people are survivors of Hurricane Katrina and other devastating disasters and choose daily to work on behalf of communities centering our core values of compassion, fairness, integrity and respect. I have been fortunate to work alongside organizations like the National Urban League, the National Association for the Advancement of Colored People, the African Methodist Episcopal Church and the Power Coalition for Equity & Justice to ensure we reach the people most in need in times of crisis. I am encouraged by the leadership and action of FEMA Administrator Deanne Criswell to lead the way in ensuring we strive for equity in FEMA's programs by making changes to policies that historically had a negative disproportionate impact on Black families in the South. Programs like HUASB play an outside role in helping those communities and others. A lot of people still have needs after disasters and knowing that people are still there helping long after the news cameras are switched off is important.
Q: How can Howard students get involved with FEMA?
A:  If you're truly interested in a career in emergency management, I'd suggest connecting with the Howard University Emergency Manager Ariel Triplett. Howard also convenes the HBCU Emergency Management Workforce Consortium under the leadership of Dr. Goulda Downer who is working to help more students explore career opportunities in emergency management. Whether you are a student, a recent graduate, or hold an advanced degree, we offer employment opportunities through our Pathways Programs: Recent Graduates, Presidential Management Fellows and Internships. Student & Recent Grad Programs offer invaluable, career-defining and preparation experiences, and range from paid summer internships to career development programs that may lead to a permanent job. There are also a number of career opportunities besides just emergency management but also in DHS broadly. We need all those majors and backgrounds in emergency management discipline and as climate change continues.
FEMA Corps Program
FEMA Corps is a volunteer service program which provides young adults ages 18-24 a variety of hands-on opportunities in the field of emergency management. Over the course of 12 months, FEMA Corps selectees work around the country, helping communities prepare for and respond to disasters. The program is an excellent way to gain experience in emergency management and is one way that students can translate their community service in college into a career in emergency management. Many FEMA Corps alumni go on to become professionals at FEMA or other government agencies. Visit AmeriCorps.gov or FEMA.gov to learn more. For questions, contact fema-corps-program@fema.dhs.gov.