Times are good for Dwight Gibson (BBA '96), president and CEO of BlueLinx Holdings Inc., a wholesale distributor of building products. His first year leading the company saw record profitability at $202 million in the first quarter of 2022, up $90 million or 90 percent, from the prior year. This followed record full-year profitability in 2021.
The publicly traded company shared its good news in a big way with an investor event at the New York Stock Exchange. Gibson and his team rang the opening bell to start the day's trading on Wednesday, June 1. "The NYSE did a fantastic job welcoming us and making us feel special, from flying our flag on the front of the building to allowing us to host a dinner for our investors and analysts on the trading floor. It was an incredible experience," Gibson said.
Gibson credits his time at Howard University School of Business (HUSB) with providing the foundation for his professional success. A native of Jamaica, Gibson grew up on the island nation and also lived in the Bahamas until he was 13. He spent a year in Chicago before graduating high school in Brooklyn, New York.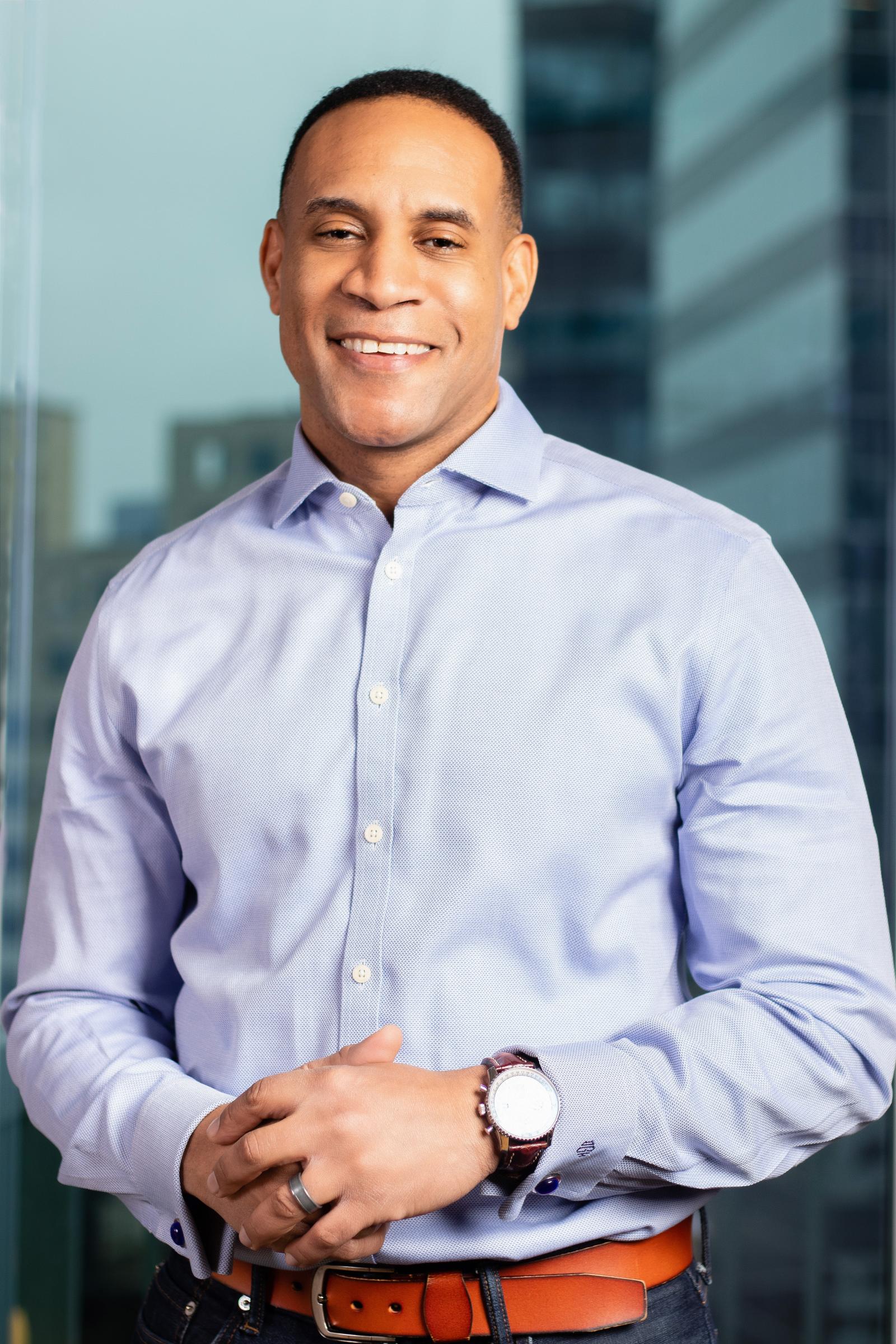 "I was undecided on a major coming out of high school, quite honestly. I didn't know what I wanted to study, but I knew I wanted to do it in a different city. I wanted to do it in a supportive environment, and I wanted to do it in a place that would give me exposure to things that were happening around the world. So, D.C. seemed like the perfect place to go to school," Gibson said. Howard, "one of the schools that I had some knowledge of, but not a ton," made an impressive case. "As I learned more and began to understand the University's rich history, I felt, 'Wow, this could be a great fit,'" he said.
Gibson's academic excellence earned him a full-tuition scholarship, and freshman orientation led him to choose HUSB because of its rigor and range of areas of study. "It was a nurturing environment, and I really felt supported. It was great to be in a place where being smart was okay. With my Caribbean upbringing, I was accustomed to seeing people of color in leadership positions, teaching positions and administrative positions," he said. "Howard felt very familiar. That gave me the freedom to lean into my studies and excel."
HUSB taught Gibson how to be ready for a corporate environment – basics like wearing a suit, resume writing, learning how to analyze a business, preparing presentations, and working in teams. "That was all part of the instruction and the high standards of the business school. I am truly grateful to Howard for laying the foundation for my career," he said.
After earning a Bachelor of Business Administration in computer-based information systems at Howard, Gibson went on to earn an MBA from Stanford Graduate School of Business and a Master of Science in international strategy and diplomacy from the London School of Economics and Political Science. Before being elected CEO of BlueLinx, Gibson held positions of increasing responsibility at SPX Flow, Ingersoll Rand and McKinsey & Co.
I am truly grateful to Howard for laying the foundation for my career."
While fulfilled by his many professional achievements, Gibson is even more grateful for his family. He celebrated 23 years of marriage to his wife Ericka this year and is the proud father of three daughters: Énoa, Arí Jah and Ila. Énoa, Gibson's Howard University legacy, is a 2021 graduate from the Cathy Hughes School of Communications. Arí just completed her freshman year at Stanford University, where she is majoring in international relations and economics. Gibson's youngest daughter Ila, 11, co-authored "I Am Ila Bean," a four-title children's book series with her mother. Gibson and his family have lived in cities around the world, and Dwight Gibson and Ericka Gibson have created a home that values high achievement, deep concern for community and global citizenship. Gibson was honored as father of the year by the American Diabetes Association in 2019.
His wife Ericka Gibson is an attorney, mediator and former guardian ad litem. She is also the founder and co-executive director of the nonprofit A Girl's Gift, Inc., "an organization designed to help girls feel good about who they are and what they can achieve," she said. The couple suffered a painful bout with COVID-19 in March 2020, which Ericka Gibson detailed in a diary published by Heart & Soul magazine.
"My wife came down with it first," Gibson said. "And then I got hit pretty hard, and it was tough. It's the sickest I can recall being in my adult life." They are both fully recovered and "triple vaccinated," he said, and the experience made him a real advocate for everyone doing all they can to stay safe and protect themselves and their neighbors from severe illness due to COVID-19.
Driving a high level of transparency and alignment, executing a clear strategy, and ensuring an inclusive environment are the key priorities for Gibson as a leader. To that end, BlueLinx provided equity awards to most of the frontline staff at the end of 2021. As he said in a recent video highlighting the company's first-quarter earnings, "We want to build a culture of engagement and a culture of high performance, and we're going to continue to invest in our people and our teams. We're looking at opportunities to make sure everyone in the organization is supported, empowered and rewarded for their contributions to the company's success­." 
The Gibsons now live in Atlanta where BlueLinx is headquartered, and Dwight Gibson is already engaging with Atlanta's vast HBCU network.