Historian of African and Latin American diasporas spent career dedicated to elevating diversity in higher education 
Ben Vinson III, PhD, has a deep passion in two areas: studying and elevating the diversity of the African diaspora in academic spaces, for students and faculty alike. With both, Vinson is poised to bring his knowledge and experience to take Howard University to the next level as its 18th president. 
He returns to Washington, D.C., the city that shaped his formative years in high school and, later, his academic achievements as a professor and dean of area universities. He is joined by his wife, biochemist Yolanda M. Fortenberry, PhD, and their three children.  
For Vinson, coming back to Washington to serve as Howard's president ties his academic passions in the African diaspora with the opportunity to be in the heart of a leading, historically Black institution, which he calls "the honor of a lifetime."  
"Howard's incredible legacy, its remarkable trajectory, combined with the fine talent of its faculty and staff, situate Howard at the uppermost echelons of higher education," Vinson says. "I look forward to returning to the DMV, which I consider home, and working with the broader campus community to fortify Howard and help build upon its incredible tradition of delivering excellence, truth, and service to greater humanity." 
Vinson remembers visiting Howard with his mother, who was an elementary school teacher, and being amazed by the vast number of Black students concentrated on one university campus. He recalls stories from the Mecca shared by family members who attended Howard, and is ecstatic to share the legacy with them. 
Our world needs Howard at maximum strength."
–Ben Vinson III, president-elect of Howard University
Though he feels most at home in Washington, Vinson has resided in multiple places around the world. He spent his childhood on military bases in Italy where his father served as U.S. military Air Force master sergeant. In his scholarly pursuits, he studied Black religious festivals in Venezuela and examined the fluidity of race and class in Mexico. He also spent time in Winston-Salem, North Carolina, researching the city's differences between the growing population of Afro-Mexican immigrants and the existing African American community. He has also lived in New York; State College, Pennsylvania; Washington, D.C.; Baltimore; and Cleveland. In an article from Johns Hopkins Arts & Sciences Magazine, he described himself as a "living Diasporan," referring to his unique and diverse experiences as an individual of African descent who has wandered around the United States and the world. 
An academic leader 
Vinson comes to Howard after serving as provost and executive vice president at Case Western Reserve University where he was responsible for all facets of academic and university research.  
As a member of the presidential search committee, it was of utmost importance to me to choose a president who was personable, eager to build relationships with students and able to meet students where they are. I look forward to watching Dr. Vinson stroll the yard, sit in the cafe and attend athletic/academic events to create an intimate and memorable relationship between students and the University president."
–Jordyn Allen, 62nd executive president of the Howard University Student Association (HUSA)
He previously taught history at Johns Hopkins University in Baltimore, where he was founding director of its Center for Africana Studies. At Johns Hopkins, he went on to serve as a vice dean for centers, interdisciplinary studies, and graduate education before becoming dean of George Washington University's Columbian College of Arts and Sciences. He started his career in academia on the faculties of Barnard College and Penn State University. 
A visionary for Black excellence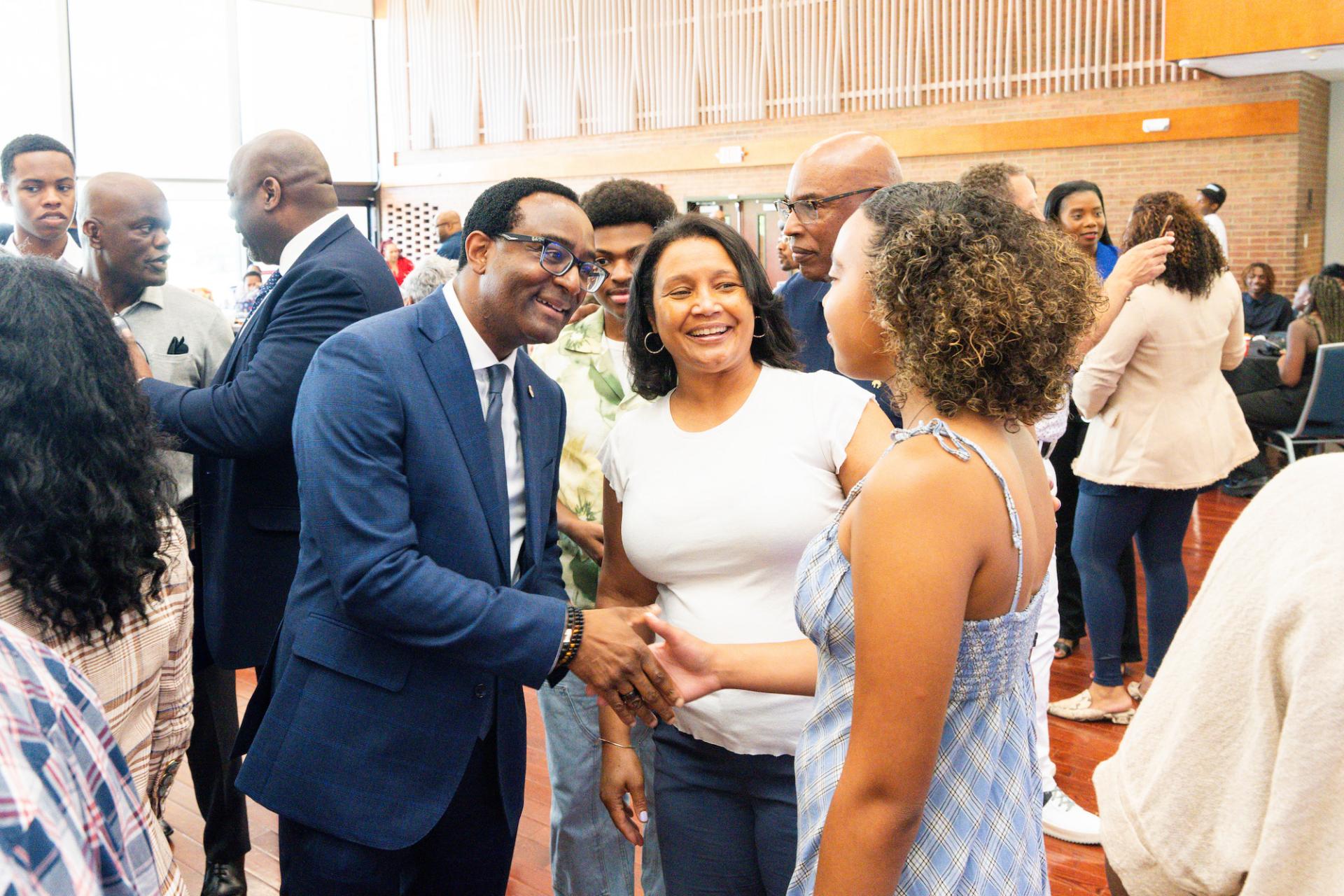 Vinson is a strong and active advocate for inclusion and increasing educational opportunities for Black students. While at Case Western, Vinson led the university's "Think Big" strategic planning initiative, which garnered national attention for its innovative and inclusive planning process. He oversaw the increase of underrepresented minority students in the first-year class (from 17% in 2018 to 25% in 2022). He served as co-principal investigator of the Humanities in Leadership Learning Series (HILLS) program, funded by a $2 million grant from the Mellon Foundation to promote leadership development and diversity in the humanities. 
At the Center for Africana Studies at Johns Hopkins, Vinson developed a three-year collaboration with the Sheridan Libraries' Center for Educational Resources and the historic Baltimore-based Afro-American Newspapers in a project that also funded the Diaspora Pathways Archival Access Project (DPAAP), a long-term research and instructional effort housed at the center. With a grant from the Mellon Foundation, student interns and library staff carefully mined through hundreds of boxes of the historic news archives, culminating in a searchable digitized database. 
Additionally, Vinson serves on the Association of American Universities' (AAU) Advisory Board for Racial Equity in Higher Education and is a member of the AAU subcommittee on faculty advancement and tenure. 
Ben Vinson III is a dynamic and talented leader, researcher, and visionary whose commitment to excellence matches Howard's. I know Ben will work with Howard's faculty, staff, students, alumni, and partners to continue building on its already storied history and legacy."
–Barbara Snyder, president of the American Associations of Universities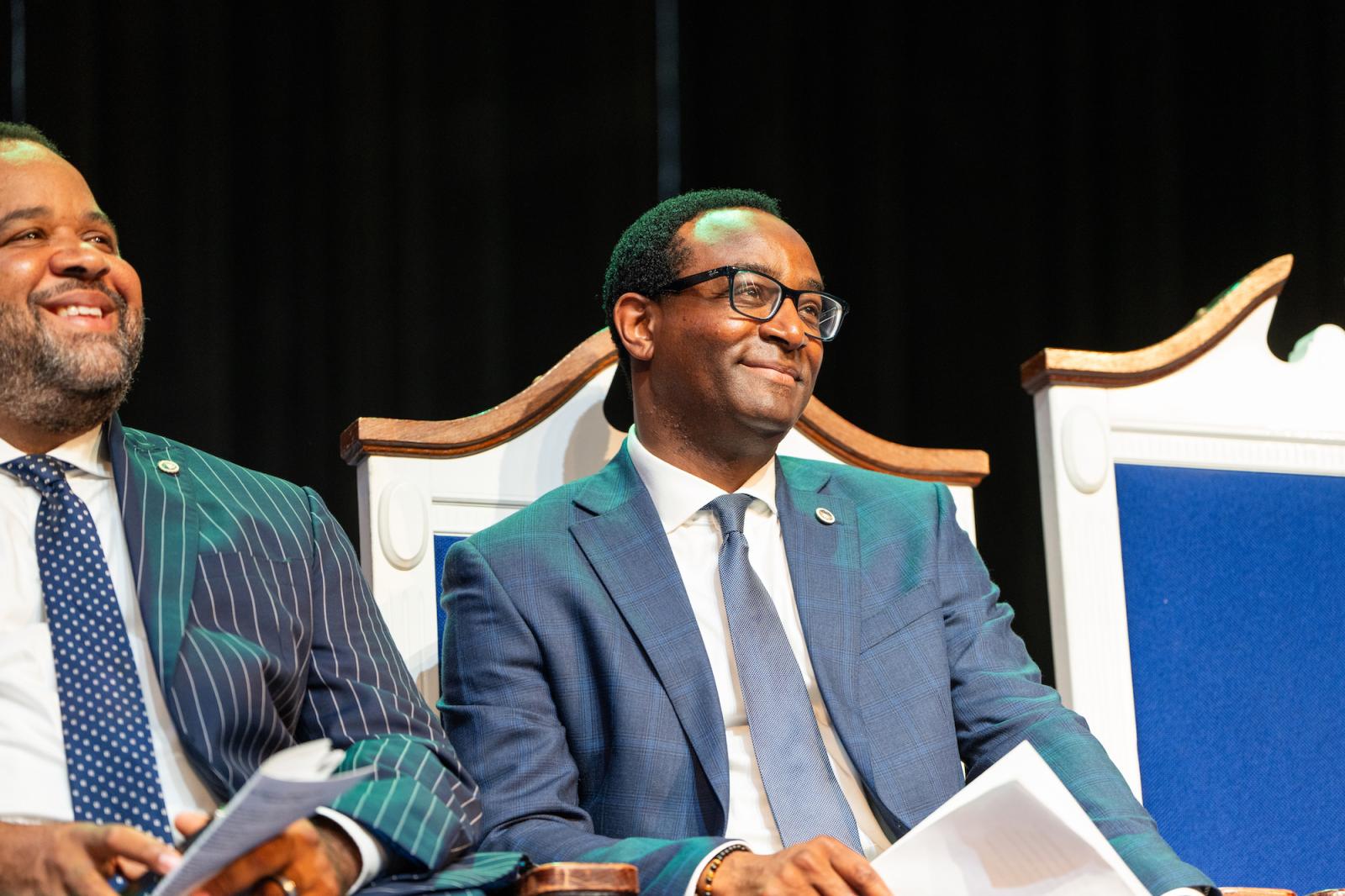 President Vinson
Howard's presidential search  
On May 1, the Howard University Board of Trustees unanimously voted to appoint Vinson as president of the University.  
"Both his academic research and the initiatives he's championed as a higher education leader have demonstrated his commitment to elevating the diversity of experiences of people of the African diaspora – a commitment that aligns well with Howard University's mission and vision," says Laurence C. Morse, chair of the board.  
Vinson's appointment is the culmination of a rigorous and comprehensive 12-month search, led by the board-appointed presidential search committee and assisted by executive search firm Isaacson Miller. The entire Howard community was invited to participate in this process through a series of listening sessions conducted throughout 2022, as well as an opportunity to provide feedback, suggestions, and questions related to the search, including recommending potential candidates.  
"His vast experience and proven track record in academic leadership make him the ideal candidate to lead our esteemed institution into the future," says Dr. Wayne A. I. Frederick, M.D., MBA, president of Howard University. "I am confident that Howard will continue to thrive under his guidance as a premier center for higher learning and innovation." 
A historian and scholar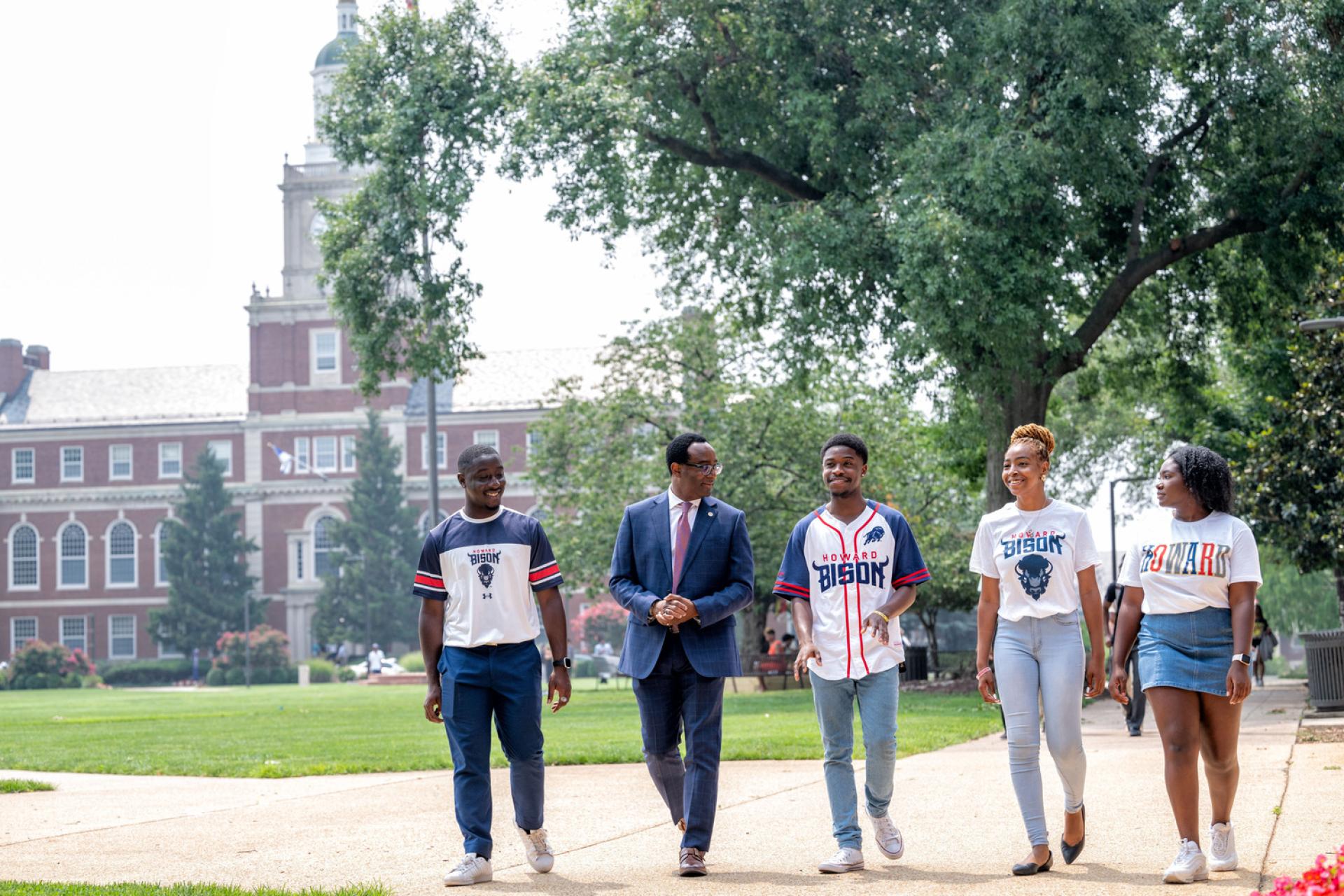 Vinson is an accomplished historian of African diaspora with focus on Latin America, and the recipient of the 2019 Howard F. Cline Book Prize in Mexican History for his book, "Before Mestizaje: The Frontiers of Race and Caste in Colonial Mexico."  
He is chairman of the board of the National Humanities Center and a member of the boards of the National Humanities Alliance and the Cleveland Museum of Natural History. He is a member of the Academy of Arts and Science's Commission on the Practice of Democratic Citizenship, and currently chairs its subcommittee on higher education. He was elected vice president of the Research Division of the American Historical Association (AHA) in 2020 and is the elected President of the Conference on Latin American History (CLAH).  
Vinson earned a bachelor's degree from Dartmouth College with a double major in history and classical studies, summa cum laude, and a doctorate in Latin American history, with distinction, from Columbia University. He has been awarded fellowships from the Fulbright Commission; National Humanities Center; Social Science Research Council; University of North Carolina at Chapel Hill; and the Ford, Rockefeller, and Mellon foundations.    
"His engagement with us throughout the process revealed his tendency to listen deeply and carefully, his ability to enact and communicate his leadership skills, and his potential to quickly earn the respect and confidence of faculty, staff, students, and alumni, among others."
–Dana Williams (M.A. '95, PhD '98), dean of the Graduate School
Responsibilities at Howard 
As president, Vinson will be tasked with inspiring, innovating, and strategically leading the Howard community, including faculty, staff, medical institutions, museums, and undergraduate and graduate students. The University has long held a commitment to the education of traditionally disadvantaged persons in American society and throughout the world with a goal to eliminate inequities related to race or color, or social, economic, and political circumstances.  
Vinson is excited to be a part of Howard, which he notes is at a "historic juncture," recognizing the significance of his responsibilities as the next president. 
"Combined with the uniquely transformational power of a Howard education, the students, faculty, staff, and alumni constitute a positive force of change in our society," Vinson says. "Our world needs Howard at maximum strength." 
Others agree, noting that his entrance comes at an important time in Howard's trajectory. "Under his future leadership, we believe that the University will only strengthen its storied legacy by continuing to embrace and serve our community, being a powerful thought leader on issues of global significance and engaging in scholarship and practice that puts the voices and experiences of Howard students, faculty, staff and alumni at the center," Morse says. "Building on our strategic plan which has guided the University's current momentum, I believe Dr. Vinson will take Howard University to new heights." 
Reactions from the Howard community 
Around campus and the country, students, faculty, staff, alumni, and other leaders expressed enthusiasm about the next president and excitement for the new phase of Howard.
This is a pivotal moment in Howard University's history. It requires a multifaceted, dynamic leader with proven experience and the commitment to excellence to lead Howard in finding solutions to the world's most challenging problems. Dr. Vinson is the right leader to usher Howard into its next era. As a historian, he reveres the Howard legacy and brings a bold perspective of where Howard University should sit within the upper echelon of academic institutions. Dr. Vinson also understands and fully embraces Howard's convening power and, under his leadership, will continue our journey to being a renowned research institution while preserving Howard's fundamental mission."

–Leslie Hale (BBA '94), vice chair of the Board of Trustees
Dr. Vinson is a recognized and respected academic scholar with an active research portfolio and innovative and imaginative ideas concerning faculty advancement. His previous experiences in the academy provide him with the unique perspective of a transformational leader."

–Sonya Sobrian, past chair of the Howard University Faculty Senate and member of the presidential search committee
The Howard University Alumni Association is excited and looks forward to working with Dr. Vinson to support his vision and meet Howard's strategic goals. This includes achieving financial sustainability through alumni giving; and serving the broader Bison community through volunteerism, engagement, and partnerships."

–Kandace Harris (B.A. '97, M.A '01, PhD '05), president of the Howard University Alumni Organization
Dr. Ben Vinson is smart, sincere, and strategic, and as a true collaborator, he listens thoughtfully and cares about others. Importantly, he is not only a visionary but has demonstrated the ability to bring those visions to life. I am confident that he is the best person to take the reins and lead Howard forward in delivering its excellence in truth and service." 

–Mark Mason, vice chair of the Board of Trustees and member of the presidential search committee
Throughout this process, I have heard community stakeholders express what they wished to see in the 18th president of Howard University; Dr. Vinson's thoughtful, generous, impactful model of leadership aligns with those echoed by staff, faculty, students, and alumni. I am excited to work with and learn from Dr. Vinson who has a reputation for getting things done in a way that is collaborative, inclusive, and with integrity. His clear vision and ardor for Howard University is palpable. There is no doubt Howard will continue to not only move forward, but surpass and transcend into what we all know the Mecca to be!"

–Monique McClung, president of the Howard University Staff Organization and member of the presidential search committee 
We are deeply appreciative of President Frederick's leadership of Howard and as chair of the Consortium. HU is a tremendous source of pride for our region, and we are delighted to welcome Ben Vinson back to follow Dr. Frederick's success. I had the fortune to observe Dr. Vinson's exceptional talent as dean of the Columbian College at George Washington. His commitment to diversity and inclusion combines a wonderful vision for advancing liberal education with excellence in research. He is an ideal leader to continue and accelerate Howard's incredible trajectory." 

–Andrew Flagel, president and CEO of the Consortium of Universities of the Washington Metropolitan Area 
Dr. Vinson's appointment is an inspired choice, one that will be hailed throughout the American academy. Under Dr. Vinson's visionary leadership, Howard University is poised to become one of the leading centers for the study of people of African descent in the United States, in Africa, and throughout the Caribbean and Latin America."

–Henry Louis Gates, Jr., filmmaker, literary critic, and Director of the Hutchins Center for African & African American Research at Harvard University
I am proud to welcome Dr. Ben Vinson III to the HBCU family. I frequently say that HBCUs lead other universities in the world by embedding leadership, excellence, and service in every course and I am confident President Vinson III will continue fostering servant leaders at the helm of Howard University. I look forward to working with him to further Howard University's legacy of cultivating Black leaders and developing Black excellence."

–Dietra Trent, executive director of the White House Initiative on Advancing Educational Equity, Excellence, and Economic Opportunity through Historically Black Colleges and Universities. 
I am very excited for this historic moment for Howard University as it welcomes incoming president Dr. Ben Vinson III. I have always worked hard in Congress to help ensure federal resources for Howard University, and I look forward to working closely with Dr. Vinson in this new phase of Howard's history. Dr. Vinson brings an exceptional personal background to the position and I know will provide solid, historic leadership for this important university." 

–Eleanor Holmes Norton, House of Representatives (D-DC) 
I am very excited for both Dr. Vinson and Howard University. First, Howard will be welcoming one of the most admired academic leaders in American higher education. He is an academic superstar. Second, Dr. Vinson will have the rare opportunity to lead one of America's most admired universities. What an inspiring combination!" 

–Freeman Hrabowski, past president of University of Maryland - Baltimore County 
The news of Ben Vinson's appointment is truly an exciting moment, for Howard and American higher education. I had the privilege of collaborating with Ben in 2021-2022 as part of the AAU Advisory Board on Racial Equity in Higher Education. I deeply admired the creativity, commitment, and good sense he brought to identifying strategies that would enhance our collective efforts to recruit, retain, and support a diverse faculty. I have no doubt he will be an inspiring leader for the Howard community." 

–Claudine Gay, president-elect of Harvard University 
Dr. Vinson is a gifted, deeply humane scholar who exemplifies Howard's core values of leadership, service, excellence, and truth. At a time when the fearless pursuit of truth feels urgent and our world needs compassionate, knowledgeable leaders, Dr. Vinson is singularly equipped to guide this exceptional university into and through the next chapter."

–Carol Quillen, past president of Davidson College 
Given his scholarly expertise, Ben Vinson is attuned to Howard's history and the role that it has played in shaping the next generation of excellence. As an experienced university administrator, he knows how to build enduring collaborations that elevate institutions. And with his selfless, empathetic style, he can inspire others to give themselves for the greater good."

–Jonathan Holloway, president of Rutgers University 
In Ben Vinson, the Howard community will find a leader committed to prioritizing the needs of students, advancing the role and place of research, and pursuing new ways for Howard to influence the affairs of the world. He is smart, personable, hardworking, and eager to build on a legacy born with freedom and spurred by an endless production of national leaders." 

–Earl Lewis, founding director of the Center for Social Solutions at the University of Michigan and past president of the Andrew W. Mellon Foundation
Ben Vinson will bring to his presidency a wealth of experience as a highly-regarded historian and academic leader, as well as an engaging, collaborative, thoughtful style that will support and inspire all of his Howard colleagues. Congratulations to Ben on his new role, and to Howard on having made such a wonderful selection." 

–Vince Price, president of Duke University 
Ben Vinson is a distinguished scholar, administrator, and leader who undoubtedly will guide Howard to new heights of success and distinction. While his talent, vision, integrity, and commitment are unparalleled, he also brings a compassionate heart and a warm sense of humor. The future is very bright with Ben at the helm!"

–Suzanne M. Rivera, president of Macalester College
Ben Vinson is an incredible educator who has been an advocate for students from underserved communities. Howard University is one of countries finest academic institutions and Dr. Vinson is the right person to ensure that Howard will continue to not only build upon that success, but to take it to new heights."

–Gilbert Cisneros, undersecretary of defense for personnel and readiness