WASHINGTON – Howard University Department of Public Safety (DPS) hosted its inaugural Safety Fair during Bison Week 2022. Local organizations, including Howard University Hospital, the United States Capitol Police, and Homeland Security, gathered on the Yard to provide incoming freshman with safety tips for on and off campus.
"It's important to show our campus community that safety is more than law enforcement, but a village of compassion with one goal," said Marcus Lyles, Executive Director of Public Safety and Chief of Police. "We serve as one element of the Howard experience that, much like teaching, learning and training, contributes to the betterment of the community and the world around us."
"The last couple of years have been challenging and there is a need to showcase safety," said Ariel C. Triplett, director of emergency management. "We want our students to know the people and the passion behind our goal of prevention and preparation. Howard student culture is built on nurturing, support and trust; and events like this Safety Fair amplify that we authentically care about their well-being and their long-term success."
Howard encourages a culture of safety where students, faculty, and staff take care of themselves and each other.   DPS offers raining, information and engaging events that foster awareness and collaboration and leads to a safer campus community. Tangible information and readiness tips on safe drinking limits, self-defense, building access protocols, active shooter response, and opioid overdose were readily available for students during the fair. Here are five things we learned at the Safety Fair:
Be aware of your surroundings.
Traveling in groups during evening hours, planning routes and avoiding distractions, such as walking with headphones, are the best practices for personal safety on and around campus. 
"To increase your personal safety, take your safety personal," said Joyce Brooks, crime prevention specialist for the Department of Public Safety.
"Keep your head on a swivel."
Sign up for mobile alerts.
The first step in any emergency is to stay informed. The Bison Safe app is the only app that integrates with Howard University's safety and security systems. The app sends emergency alerts and provides instant access to campus safety resources for students to have a sound awareness of their surroundings at all times. Download the Bison Safe app today.
Take your safety a step further! The district provides multiple resources to get the information out to residents. AlertDC is the official District of Columbia communications system allowing you to pick the type of emergency alerts, notifications and updates directly from the District of Columbia's public safety officials.
When you get a rideshare, remember S.A.M.I.
Seymour and Marci Josephson, parents of Samantha Josephson, created #whatsmyname after Samantha was tragically kidnapped and murdered when she was targeted by a person posing as a rideshare driver. They created #Whatsmyname to educate others on the importance of rideshare safety so that no other family would have to suffer this kind of loss.
When getting a rideshare, remember:
STOP: Plan ahead. Before you request a ride, think about where you're headed and review the safety features in the app so you know how to use them.
ASK: Ask your driver, "What's your name?" to confirm they have booked a trip with you through the ride-sharing app.
MATCH: Match the car's make, model and license plate with the one displayed in the app.
INFORM: Share the details of your trip with a friend. Utilize the "share status" function in the rideshare app.
To learn more about #whatsmyname, visit whatsmyname.org.  
Set up your POM.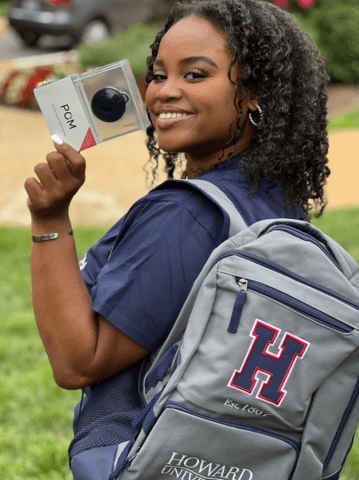 Apart from the campus-wide Bison S.A.F.E initiative, the compact Peace of Mind (POM) Smart Device allows community members to contact and communicate with campus safety officials in case of an incident or emergency. Enrollment in the program provides officials with a profile of the user. It can dispatch support to any location without using a personal cellphone or calling the tower on campus. POM can be attached to a keychain and put in a bag or pocket. It is made of lightweight, durable plastic and packed with safety features. Click here to request your POM today!
The closer to campus you are, the safer you are.
The closer you are to campus, the safer you are. While Washington, D.C. is an extraordinary place to discover and live, the area within the campus borders is statistically safer than areas beyond it. Our administration invests in and promotes safety as a priority, which shows in our reduced annual campus crime rate.
###
About Howard University
Founded in 1867, Howard University is a private, research university that is comprised of 14 schools and colleges. Students pursue more than 140 programs of study leading to undergraduate, graduate and professional degrees. The University operates with a commitment to Excellence in Truth and Service and has produced one Schwarzman Scholar, three Marshall Scholars, four Rhodes Scholars, 12 Truman Scholars, 25 Pickering Fellows and more than 165 Fulbright recipients. Howard also produces more on-campus African American Ph.D. recipients than any other university in the United States. For more information on Howard University, visit www.howard.edu.
Media Contact: Aaliyah Butler; aaliyah.butler@howard.edu